When population in a city like Delhi starts bursting, it invites more amount of risks and vulnerabilities. The management and control mechanism from the administrative agencies has to become harder and stringent in order to avoid big chaos. Similarly, when the traffic on road starts increasing, it needs a better approach to handle it. The same is applicable to the internet. When there is so much of content in shape of text, video, and images growing at a tremendous pace, it needs a regular watch. It was a launch of the International Symposium on Digital Politics in Millennial India. It was at IIIT-Delhi which is in Okhla. The 3-day symposium was from 15-17 March. Its joint organizer was LMU Germany. On the inaugural day, it had a mix of participants. While on one hand, there were media faculties from across the globe. On the other hand, there were students.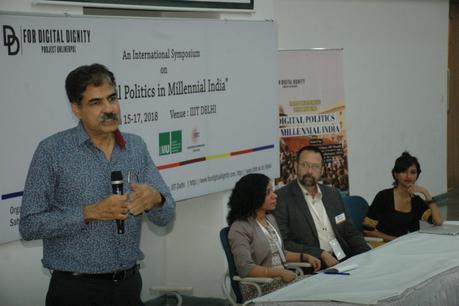 These students at the International Symposium on Digital Politics were from various colleges and universities to learn and understand the crux of the matter. In addition, there were scholars, researchers, digital media enthusiasts, and activists. The sole purpose was to understand the gravity of internet media as a useful and meaningful information resource. Also, it is important how to avoid it becoming a rumor machine. We all are aware that there are a number of vehicles of propaganda transporting on the internet through various means. While there are many effective affinity spaces on the internet that attract masses towards them. Also, it is significantly becoming an object of state policy in a way grooming political presence. The opening introductory speech was by Shriram Venkatraman. He is Assistant Professor at Centre for IT & Society, IIIT-Delhi. Pankaj Jalote, Director, IIIT-Delhi was the next to give the welcome address.
Digital Politics Is A New Power Emerging On Internet
Opening remarks by Sahana Udupa at the International Symposium on Digital Politics were quite insightful and interesting. Sahana is Professor of Media Anthropology & International Studies at the University of Miami. Another interesting session on opening day was by Sofia Ashraf. She is a Rapper, Singer, and YouTube celebrity. Finally, it was Asim Khan, Assistant Professor at Centre for IT & Society, IIIT-Delhi to end the day with his closing note. The Day 2 and Day 3 had a number of interesting topics to cover. Like, Millennials in Digital India, Use and Misuse of Data, Civil Society, and Counterpublics, Negotiating from the Margins, Policing and Violence, Regional Politics and Digital Power, and a lot more.