iOS 11 is here with its launch on September 18. It has many excellent features that make it a class apart. There is a searchable handwriting but it is available currently only for English and Chinese. Apple Pay Cash is available right now only in the U.S. for person to person payments. It is available for iPhone SE, iPad Pro, iPhone 6 or above, iPad (5th generation), iPad mini 3 or above, iPad Air 2, and Apple Watch. Digital payment feature requires account security checks. That may delay in making funds available post registration.  Amount of storage will depend on specific photo content thus giving varying results. If you want to use translation feature, Siri language needs to be set to U.S. English.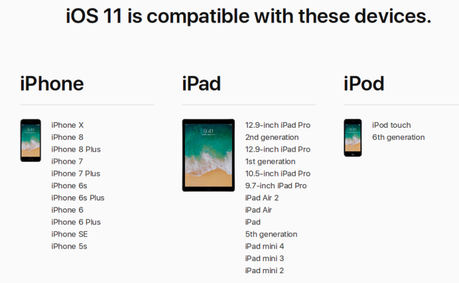 In fact, iOS 11 works on iPhone 6s or above, iPad Pro, iPad Air 2, iPad mini 4, and iPad (5th generation). If you are using AirPlay 2, the device may require a software update to existing speakers or an altogether new hardware that depends on speaker manufacturer. Overall, features, services, applications etc. will vary according to region and language. As a matter of fact, iPhone X is available with version 11.3. The service provider for Apple Pay Cash is Green Dot Bank which is a member FDIC (Federal Deposit Insurance Corporation). Updating is free and easy. You can find guidelines here. For developers there are phenomenal possibilities with the new operating system from Apple. Of course they need to be conversant with ARKit and Core ML.
iOS 11 is easy to upgrade
ARKit enables creating fabulous augmented reality experiences into apps. On the other hand, Core ML makes it easy for developers to use machine learning while creating intelligent apps. To sign in with your Apple ID automatically, you just need to hold new iPhone or iPad near an iOS 11 device. In fact, it quickly and securely imports many of your personal settings, prefrences, and content. It brings quick type keyboard even with one hand. So literally if you want to use only one hand for typing on your iPhone it happens easily and quickly. You simply need to touch and hold the emoji global key, select one-hand typing, and the keys will immediately shift closer to your thumb. our your favorite top stories, Siri helps intelligently in crafting a daily selection of best stories and videos for you to see in Today view.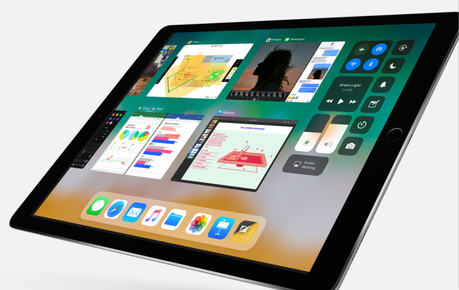 iOS 11 provides many such fascinating features and more. From indoor maps to lane guidance arros to detailed maps of major airports and shopping centres around the world. Do not Disturb mode will let you drive without any disturbance. In fact, your iPhone can now sense on its own when you are driving thus help you keeping you from any kind of distractions like calls, text messages, and notifications. As a matter of fact, people trying to call you or message you can automatically get a notification that you are driving. The lock screen has come with additional powerful features. In fact, to get to all your nitifications, you just need to swipe up from anywhere on the screen. This lets you see both your recent and missed notifications in one place.
iOS 11 Lock Screen Becomes Stronger
iOS 11 lets you change the settings for the things you do most. That means you can easily customize the redesigned Control Center. Like, adding Voice Memos control, dimming the lights in the dining room with a tap, adding Home controls, using 3D touch to unlock, and a lot more. Airplay 2 lets you control your home audio system and speakers throughout your home. For instance, you might like to play a song in the bedroom and your kitchen at the same time. In fact, it lets you adjust the volume in any room. As a matter of fact, you can start music instantly on all your speakers that too in a perfect sync with one another. Your friend can now help you discover new songs and artists in Apple Music.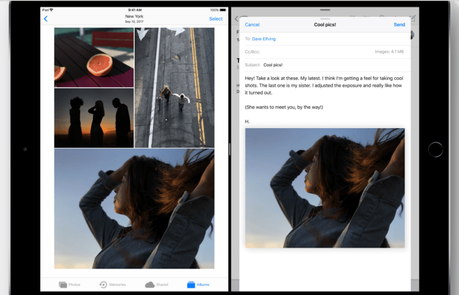 Siri becomes smarter about you and for you with iOS 11. Obviously, it is more than a voice. In fact, it keeps learning from you and is ableto anticipate what you want. Accordingly it makes suggestions before even you demand. All these features float with end-to-end encryption keeping all your personal information private. Siri, in fact, becomes more expressive thus becoming the world's most popular intelligent assistant. With the help of advanced machine learning and artificial intelligence, it is even more helpful and with a new, more natural voice.  Its translation feature is fantastic. Ask Siri in English how to say it in Spanish, French, Mandarin, German, or Italian, and Siri translates the phrase accurately.
Siri with iOS 11 becomes smarter
App Drawer in iOS 11 becomes much easier to handle. App Store too comes with an all-new design and features. Classic photgralhy styles rise to a new level of performance and precision with new filters. You can eperience portrait photos becoming more expressive, skin tones more natural. In fact, its next-generation compression technology cuts the file size to hald despite enhancing quality. Live photos become liverlier than ever becoming more expressive and creative. You can turn live photos into a video loop. In fact, Photos keep suggesting those making great loops. As a mater of fact, you can reverse live photo. Effect library is as versatile and powerful as any DSLR camera.  Apple Pay helps sending money to friends and receiving it as simple as sending a message.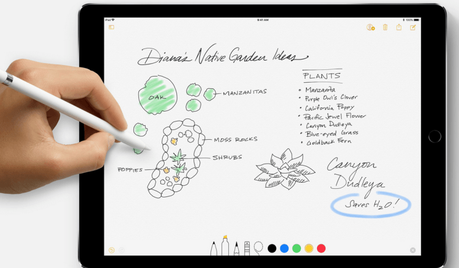 Augmented Reality platform becomes world's largest with iOS 11. Gaming and apps offer matchles imersive and fluid experience that you forget you are on a screen. With the help of the latest AR technology, you can experience a great digital world by redecorating your home, exploring a city where you never been to, and so on. Your iPad with iOS 11 enhance your capabilities with all-new Dock, Files app, multitasking, and more. Quick type keyboard is another excellent feature. Notes app comes with a new Document Scanner that automatically senses and scans a document. Not only that, it also crops the edges smartly and removes any tilt or glare. Write or sign with Apple Pencil. In fact, now handwritten words inare searchable in Notes.
Notes app comes with a new Document Scanner with automatic sensor
Instant notes, drawing, and markup are some other features in iOS 11. In fact, you can add inline drawings in mail. Apple Pencil for iPad Pro is more powerful, natural, and versatile. Now, Drag and Drop comes to iPad. This helps you moving text, photos, or files from one app to another in a magical manner. Multitasking becomes easier and more intuitive. You can open next app right from the Dock. In fact, all apps that you open remain active in Slide Over and also in Split View. App Switcher as usual helps you to get back to your favorite App Spaces. iPad's new Dock is a big change. Firstly, it is avilable form any sreen. That means withjust a swipe you can open and switch apps quickly. Customizing also becomes easier. In fact, rcently opened apps in iPhone or Mac appear in the right side of the Dock.
The new Files app helps you easily browse, search, and organize all your files in one place. These files could be on your iPad, in apps, on other iOS devices, in iCloud Drive, and across other storage services like Dropbox. Finally, iOS 11 earmarks a new standard as the world's most advanced mobile operating system. It promises to make your experience better by enhancing your capabilties beyond imagination.