Blackheads are whiteheads are my mortal enemies. That's why when I saw this in the grocery store, I knew I had to get it.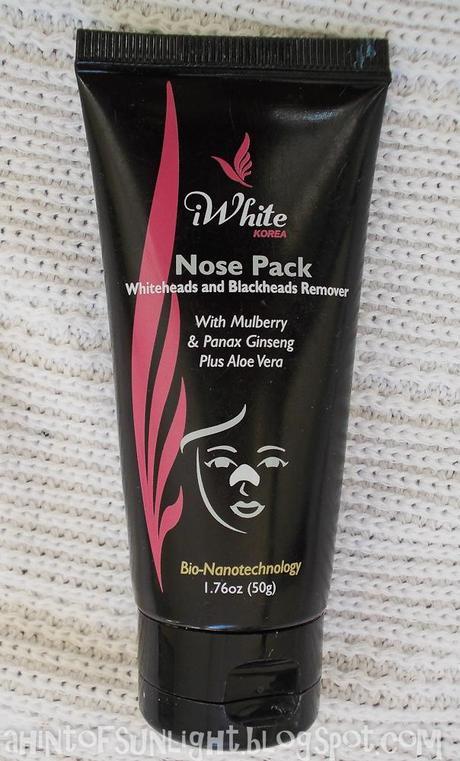 iWhite Nose Pack White Heads and Black Heads Remover
This tube contains 50g of product and costs P189 ($4.65)Normally I would skip a product like this in the supermarket if I happen to see one. There's plenty of reason why. I haven't heard of it in commercials. I don't know if it works or not. It's not a basic need. I wouldn't think it's worth the risk and P200 is no small sum for me.
BUT!
This product also comes in a sachet! It comes in a sachet that contains 3.6g of product for only P18($0.44).Actually that's how I first came to try iWhite Nose Pack White Heads and Black Heads Remover, along with other products from iWhite.  That was a year ago. I kept on buying the sachet over and over again until I finally decided to get the whole tube instead.
So what does this do? 
Effective in removing whiteheads and blackheadsEliminates deep-seated dirt and other impuritiesMinimizes pores and excess oil on the nose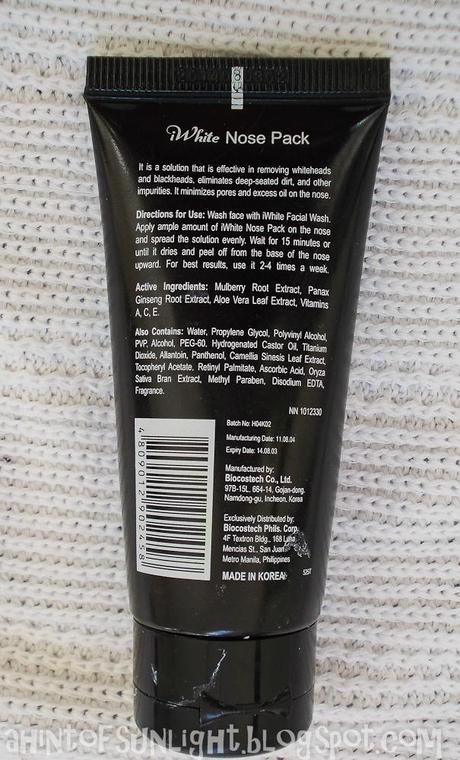 Directions for Use: Wash face with iWhite Facial Wash. Apply ample amount of iWhite Nose Pack on the nose and spread the solution evenly. Wait for 15 minutes or until it dries and peel off form the base of the nose upward. For best results, use it 2-4 times a week.
If you read other reviews of this product online, you'll see that other girls have different preferences in terms of what area in their face they apply this. Some like applying iWhite Nose Pack White Heads and Black Heads Remover on their chin, where they usually get white heads too. As for me, I try to imitate this lady's advice: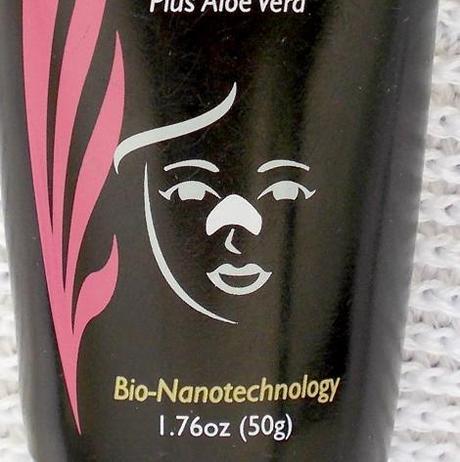 But of course I apply the product in such a way that it covers my nose, and not the bridge of my nose. I don't have a picture, but you get the picture, right?The idea is, you try to cover the parts that has blackheads and whiteheads.
Now these aren't actual claims made by the product but since they mentioned it in their packaging anyway, let's try to examine now what Mulberry, Panax Ginseng and Aloe Vera can do to your skin.
Mulberry berries are said to be packed with vitamins and anti-oxidants. This means it has great anti-ageing properties.Panax Ginseng also has anti-ageing properties. The compounds found in ginseng works by speeding the skin's metabolism so it can replace old skin cells faster, also improving the elasticity of the skin. It also has whitening properties.Aloe Vera has moisturizing properties. It also has anti-inflammatory and anti-bacterial properties. And lastly, it is anti-ageing too.
I don't really know how much these ingredients can do for you when they're in a nose pack but I'm happy to know they're there. 
Packaging:It obviously comes in a regular tube and I think that it's the best way to package this gooey, sticky liquid. I like that it comes in black. It distinguishes it from the iWhite Whitening Face Pack(I wanna try that one too). There is actually a foil that covers the mouth of the tube but I wasn't able to take a picture of that. It keeps the product from drying up while it's still waiting to be picked up from the beauty counter.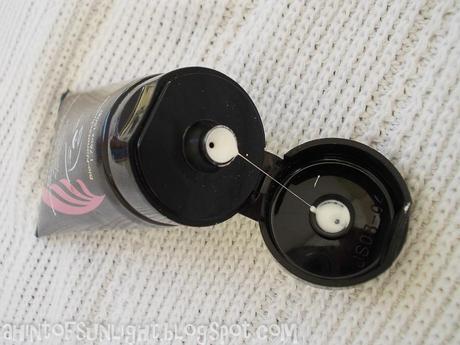 Texture:Very very sticky. You can see it from the picture above. It almost feels like Elmer's glue. In fact I checked the ingredients and they do have similar ones. I'm not worried about that though. Elmer's glue has a variant that is made for kids anyway so I'm thinking if they can manage to make glue that is safe for kids, then obviously they can to that with a skin care product.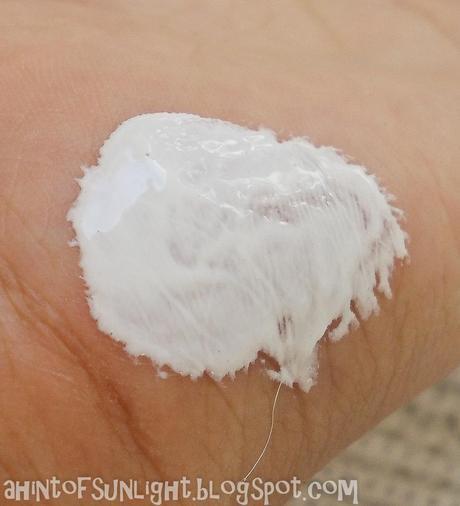 iWhite Nose Pack White Heads and Black Heads Remover on my palm.
I apply it in such a way that the layer of product is thick enough so it's still opaque instead of translucent. If you apply it too thin, you'll have a hard time peeling it off. Applying it too thick would just mean a waste of product. Unlike Elmer's glue that turns clear when its dry, this one retains its opacity.
And when I eventually peeled it off, viola! You can see that the product managed to stick even to the fine lines on my hand.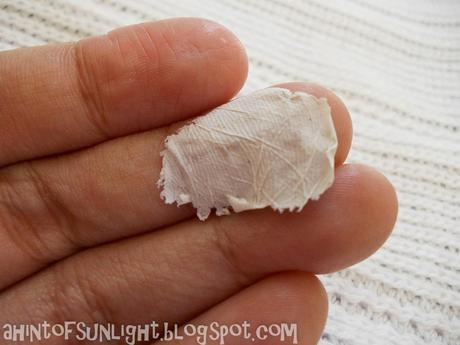 Does is remove blackheads and whiteheads?It does, a bit. It definitely does not remove everything. In fact, it probably just removes about 10% and only those that are already protruding and are a bit loose already. BUT I think at this point it's important to know how much a particular type of product can only do. As far as nose strips go, this one isn't too bad. I haven't met a nose strip or nose pack that is as hardworking as this one when it comes to removing blackheads (disclaimer: I can't afford the more expensive nose strips so I've only managed to try drugstore ones).
So why do I still use it?
Admittedly, this isn't the only anti-blackhead tool that I have. I mainly use this: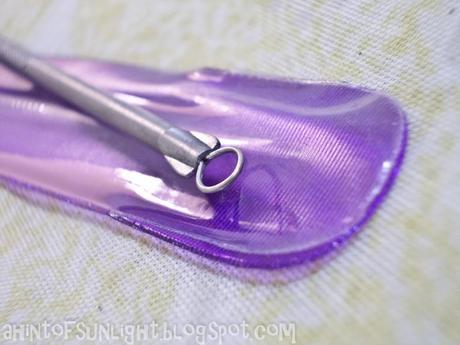 In an online game, this would be my sword while iWhite Nose Pack White Heads and Black Heads Remover is sort of a passive skill, used as support rather than for aggressive attacks. It does little damage on the enemy but it helps and it makes a difference.
Frequent use of blackhead remover isn't really advisable. It's great if you know how to use it since they use the same thing in derm clinics for basic facials anyway. But you can't deny that fact that it stresses the skin.
The nose pack, along with other products, helps keep the blackheads and whiteheads from building up.
Likes:
Easily available-its everywhere!
Helps in keep BH and WH at bay
Comes in a sachet
Cool black packaging
Has anti-ageing ingredients that it doesn't over-advertise
Dislikes:
Smell
Rating:
5/5

Why?
It's relatively cheap and for its price, it works for me.
Recommend:
Yes! But don't have unrealistic expectations. Remember, this is just a nose pack. If you want your nose to clear up, master using the blackhead remover. Or better yet, visit a dermatologist.
Repurchase?
Yes.