Jennifer Hayward has been a fan of romance and adventure since filching her sister's Harlequin Presents novels to escape her teenage angst.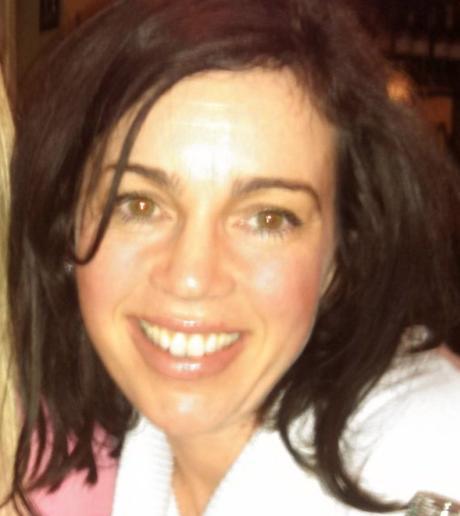 Jennifer Hayward penned her first romance at nineteen. In fact, when it was rejected, she bristled at her mother's suggestion that she needed more life experience. She went on to complete a journalism degree and intern as a sports broadcaster before settling into a career in public relations. Years of working alongside powerful, charismatic CEOs and traveling the world provided perfect fodder for the arrogant alpha males she loves to write, and free research on the some of the world's most glamorous locales.
Jennifer Hayward's debut novel, The Divorce Party, was the winner of Harlequin's 2012 So You Think You Can Write contest. As a matter of fact, Jennifer writes for Harlequin's Presents/Mills & Boon Modern line. 
A native of Canada's gorgeous East coast, Jennifer now lives in Toronto with her Viking husband and their young Viking-in-training. 
You can find Jennifer at www.jenniferhaywardromance.com or on Facebook and Twitter.
Jennifer Hayward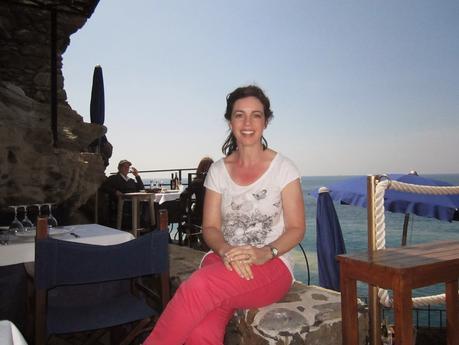 Your real name and pen name? 
Jennifer Drogell/ Jennifer Hayward
Please share some of the best memories of your childhood: 
Playing board games in front of the fire at Christmas, bonfires at the cottage, days at the beach running from sand bar to sand bar and eating fresh fish for dinner
About your education 
I did a journalism degree at the University of King's College in Halifax, Nova Scotia where I'm from.

What career did you plan during your education days?
 Journalism, but I ended up in PR instead after doing some freelance journalism
What is your biggest source of inspiration in life 
Well I have two – my amazing family who are my rock and who are there for me always and my eleven year strong book club made up of ten of the most incredible women I know. We talk books, but mostly we drink wine and enjoy the strong, diverse friendships we've forged over a decade! We even take road trips. One favorite moment for me was cruising the island of Barbados on a catamaran, the wind at our backs, singing eighties tunes at the top of our lungs while we drank rum punch. I'll never forget that moment and how truly lucky I am.
Jennifer Hayward
What hurts you most in this world? 
All the hatred I see these days in conflicts around the world. It hurts my soul that we can't all accept each other's beli Haywardefs and realize that violence is not the answer. It never has been and it never will be.
What is the biggest challenge you have faced? How did you overcome it? 
One of the biggest challenges I've faced in my life is struggling with anorexia in my teens. It is a debilitating, painful disease which affects so many young girls who struggle with the unrealistic images society puts in front of them. The day I stopped trying to live up to those standards I was transformed as a person. I try and talk about this disease as much as I can so other young women won't have to go through what I did.
If you had to live a day of your life as one of the living or dead personality, who would it be and why? 
I think maybe Elizabeth Taylor. She had such drama in her life, so many great loves and so many stories to tell.
What is your favorite genre and why? 
Romance for sure, but I read all genres, many of which I've been introduced to through my book club. I was hooked on romance when I first picked up my first Harlequin Presents at fourteen (filched from my sister of course) and read under the covers
J
When did you start writing? 
What is the purpose of your writing? 
Some people say they write for themselves but that's not me. I write because I love to tell stories that people will enjoy. I began writing fiction at nineteen when I sent my first manuscript into Mills & Boon which was rejected with some lovely advice from a senior editor.
Jennifer Hayward

Which of your work has been published so far? Would you like to share a synopsis of your work? 
I've had four books published with Harlequin Presents/Mills & Boon, including my Delicious De Campos series which began with The Divorce Party that won Harelquin's So You Think You Can Write competition. I have such love for those three brothers!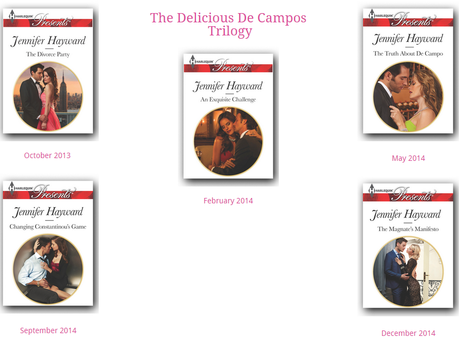 What are your forthcoming writings? 
I am very excited about my new Presents coming out Nov 18 in the US and out now in the UK. It's called The Magnate's Manifesto and it's about a US executive who is Silicon Valley's golden boy and who writes an obnoxious manifesto about women that's made him the most hated man on the planet. He's in hot water and my heroine is the only woman who can save him! I wrote this story before this angle hit the news so it's fun to see life mirror fiction.
What keeps you motivating towards writing? 
All the stories that pop into my head that have to be told!
If Writing a Book is taken as a project, What are the key essentials you take care of in Project Management?
Planning – I know my characters inside out and my key turning points before I begin, as flawless execution as I can manage and follow up – making sure I tie up the book process and get it in front of as many people as I can with good promotion and social media.
How do you plan, schedule and monitor your writing commitments? 
I try and write nine to five to give my head time to process and restore. Often the things I can't figure out while writing come to me when I leave it – in the shower, out for a walk! I also try and write a certain number of words every day to give myself a goal. When my head is in a book, it's often seven days a week for me so I take time off in between books if I can.
What are your future plans? 
To keep writing compelling books my readers will love. I definitely have some single title ideas in my head, but always keeping my series romance front and center because it's my first love.
Jennifer Hayward

What is generally your preference in reading – a paper book or ebook? And why? 
A book for sure. But I do love my kindle.
J
How much real life goes into a fiction writing? 
Quite a bit actually. My PR background working with executives has always inspired the high powered men I write and I love putting amusing incidents from my own experience into books.
Your dream destination on Earth? 
I want to explore ALL of Europe, not just what I have so far…
Your favorite time of the day? 
I'm a morning person for sure, but I love tucking up at night and watching a good TV program. And if I'm anywhere with a sunset, that's where I'll be, hopefully with a glass of wine in my hand.
Your zodiac/ sunsign? 
Sagittarius
What is the last book you finished reading? What is the current book you are reading? 
I just finished reading book two of Nalini Singh's Changeling series and I am hooked! Her characters and world building are amazing. On to the rest..
Your favorite book and why? 
I have too many I can't pick one!
Your favorite movie and why? 
I have so many but Pretty Woman is top of mind at the moment. It's the ultimate romantic fantasy for me – I love how two people from such different worlds can meet and fall in love. There are so many hilarious, heartbreaking scenes in that movie! Also top of mind is Rush. I just saw this amazing movie chronicling the life of two famous race car drivers and it will knock your socks off.
What is the force that drives you? 
I have two: love of the great people in my life and ambition – wanting to be the best that I can
What comes to your mind when you think of India? 
Bollywood
Some quickies: Sun or Moon, Laughter or Smile, Morning or Evening, Coffee or Tea, Mountain or Sea, Long Drive or Short Drive, Silence or Conversation, Water or Fire, Air or Earth, Mars or Jupiter, Tulip or Rose, Red or Blue, Left or Right, Glance or Stare, Fame or Money, Boy or Girl, Day or Night, Tree or Plant, Love or Passion
Jennifer Hayward

First thing you do in the morning after waking up? 
Wake my little boy and check my email
Last thing to do before sleep? 
Read.
If one fine morning you wake up and find your sex changed to opposite, what will be your first reaction? 
Oh hell.
State your signature line/ tagline/ best quote 
– My favorite from the TV show Friday Night Lights – "
Clear eyes, full heart, can't lose."
The last line of your autobiography would be… 
Do what you love. Life is short.
The title of your autobiography would be…
Dreamcatcher
Links & other relevant details:
ISBN-13: 
9780373133017
ASIN:

B00L0XO4V2
Publisher: Harlequin
Twitter handle: jenhayward_
Facebook page: www.facebook.com/jenniferhaywardromance
Goodreads author page: https://www.goodreads.com/author/show/7126728.Jennifer_Hayward
Amazon link: http://www.amazon.com/The-Magnates-Manifesto-Harlequin-Presents/dp/0373133014/ref=tmm_mmp_title_0?ie=UTF8&qid=1415296026&sr=8-1
Barnes and Noble –
http://www.barnesandnoble.com/w/the-magnates-manifesto-jennifer-hayward/1119709628?ean=9780373133017&itm=1&usri=9780373133017
Harlequin –
http://www.harlequin.com/storeitem.html?iid=55079
Mills & Boon – http://www.millsandboon.co.uk/the-magnates-manifesto
iTunes – https://itunes.apple.com/us/book/the-magnates-manifesto/id889919087?mt=11
It was, in fact, an interesting talk with Jennifer Hayward. Moreover, hope everyone reading this post enjoys and learns about her excellent work. Rather, a lot more is yet to come. In addition, I think, writing is more like a passion. That is the reason to bring the best out of you. Rather, that keeps authors keep aspiring to write the best. And hence, they bring out the best.