Kairali Gurgaon is newer and younger than the one they have in Mehrauli. It's just around 4 months old. But that doesn't matter in cases where you carry decades of wisdom, tradition, culture, and knowledge. That is what Kairali is all about. It is a global brand with a great reputation even in the most modern countries of the world. In fact, it has its own signature of quality and service that is matchless. It is more than professionalism only. As a matter of fact, you find a human connect at any Kairali center. The fluency and expertness are flawless. There is a different level of confidence that sparks on the faces of their massager. Every touch is full of respect and perfection. Basically, it is all about the way they perform their job that brings their customers back. So now there are two Kairali centers in NCR.
Having two of them in NCR will thus be sharing the load and at the same time meeting the rising demand in the market. The next to come in the NCR could be somewhere in Noida. The rooms at Kairali Gurgaon are wider than the ones in Mehrauli. The overall space also seems to accommodate more individual rooms for the various massage therapies. A full-time doctor is available for attending the people and solving their queries regarding health, lifestyle, food, massaging therapies, etc. Actually, Kairali Centers all across the globe have a good reputation and branding. In fact, whenever you talk about body massage in a graceful manner, Kairali comes to mind automatically. Here, every therapy has a meaning in depth that relates well with Ayurvedic therapies that come along with a legacy of wisdom and knowledge.
Kairali Gurgaon Rejuvenate Body, Mind, and Soul
After my recent visit to Kairali Gurgaon, I was thinking about human nature. Most of the time we are busy either in work, eating, or resting. When do we take out time from our busy schedules to refresh our mind, body, and soul? Okay, some of us play games like volleyball or cricket occasionally. But that is only a physical exercise. Going to the gym is another way to burn your calories, increase blood circulation, and form some kind of discipline in life. But is that enough? In my opinion, nothing can match what you get at Kairali. Hence, spending a day in a week is what I feel is ideally good to keep yourself happy and healthy. In fact, it impacts a lot to the whole family. If you are happy, you will always tend to keep your surroundings and people around happy and healthy.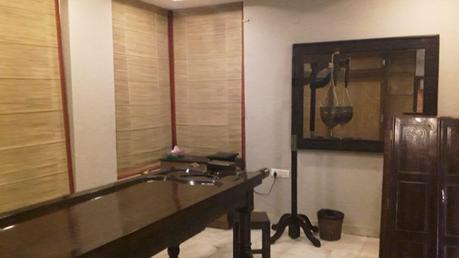 My first visit to Kairali Gurgaon was for Royal Makeover. This is really a royal treatment in a very special manner with a perfect combination of 7 therapies. It begins with head massage, foot massage, body massage in one round. Next round comprises of powder body massage, face massage, eye massage, and steam bath. It takes around 2 and a half hour for this special therapy. The therapies that it includes are Pada Prashalanam, Shrio Abhyangam, Abhyangam, Twak Shodhana with Kaya Lepam, Kesha Lepam, Mukha Abhyangam, Netra Thrapanam, and finally steam bath. Be kind to yourself sometimes to go for such rejuvenating therapies that not only make you feel good but also enhance your health and lifestyle.