Karbonn K9 Kavach 4G targets smart youth who are an integral part of Prime Minister Modi's dream of Digital India. Imagine you start doing your money related transactions without using physical currency. It not only increases safety but also reduces a lot of expenses and logistics burdens. That is where Karbonn comes out with a brilliant and first-time idea by any mobile manufacturing company in India. To pre-install BHIM (Bharat Interface for Money) in their new series of smartphones. The K9 series not only comes with BHIM app but also a number of security features. It thus gives it a complete protection shield (Kavach). As a matter of fact, Karbonn is the first smartphone brand partnering NPCI (National Payment Corporation of India) to integrate BHIM App in its devices.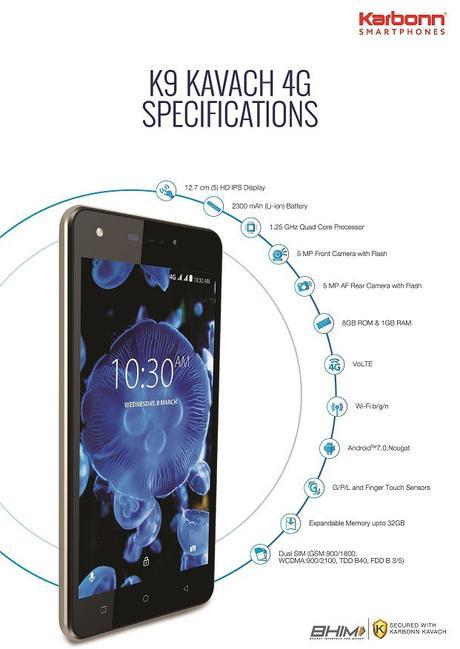 While this integration of BHIM in Karbonn K9 Kavach is an intelligent initiative, Karbonn goes a step ahead. In addition, to strengthen it, it introduces a state-of-the-art finger touch sensor security feature. This feature is Kavach that aims to provide 360-degree safety of the device including all banking transactions. In fact, this launch will not only boost Karbonn sales, it will also help NPCI to achieve their targets. As a matter of fact, on one side it is strengthening its service portfolio. And on the other hand, it is also contributing towards Digital India Mission and Cashless (or a less-cash) economy. Kavach, in fact, is an additional security feature to create a high level of consumer confidence in using banking transactions and other financial transactions thereby increasing volumes of such transactions in the country. The handset comes with a price tag of INR 5290.
Karbonn K9 Kavach will cost INR 5290
The new Karbonn K9 Kavach 4G will, in fact, motivate a large segment of mobile users who are still averse to digital transactions due to security concerns. A. P. Hota, Managing Director & CEO, National Payments Corporation of India says, "With this association lakhs of customers will be greeted with BHIM App in Karbonn smartphones. Availability of BHIM in multiple languages will cater to people from distinct regions with ease. This strategic partnership is a significant step towards providing acceptance tools for facilitating digital payments in India."
L-R_Shashin-Devsare-Executive-Director_Karbonn_Ashish-Aggarwal-Director_Karbonn_A-P-Hota_MD-CEO_NPCI
Pardeep Jain, Managing Director, Karbonn Mobiles comments on the association with NPCI and the launch of K9 Kavach 4G, "We, at Karbonn, are immensely honored to have an opportunity to partner with NPCI to integrate BHIM in our devices. This partnership is an epitome of two 'Made in India' entities joining hands to enable digital Indians with smart telephony solutions. Through this partnership, our aim is to promote a cashless economy empowering and educating more and more people in tier 2, 3 cities and rural areas about digital transactions and benefits of the same. The volume of the digital transaction has increased by 80% in the last quarter and is slated to increase even further. Hence, our aim is to reach out to the next billion users and continue to contribute to 'Digital India' initiative through smart and simplified technology which has always been the core of our business."
Karbonn K9 Kavach is there to promote Digital India Mission
Shashin Devsare, Executive Director, Karbonn Mobiles says, "I feel India is a very unique market. There is a rural consumer in the urban landscape and an urban consumer in the rural landscape. This divides the population not demographically but psycho-graphically. This initiative will benefit different segments of the Indian population catering to daily monetary transaction needs of the consumers. With this new initiative, we plan to bring the benefits of smart telephony to the masses in a way that they are able to join the league of the digital Indians."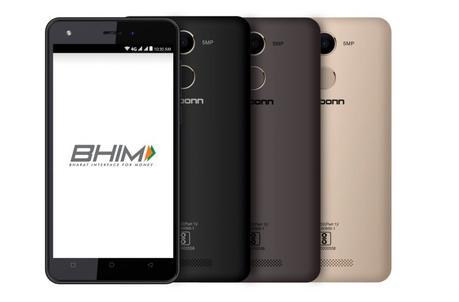 It is important to understand what exactly you get in Karbonn K9 Kavach in terms of its configuration and features. I feel the target audience of this smartphone is the youth. Irrespective of living in rural or urban, Metro or B-Class city. But this youth is positive about using the smartphone for digital transactions in M2M, M2B, B2M, and Digital Payments. Though the phone will not be good for heavy apps users and multitaskers because it comes with 1 GB RAM. But it is good for people who are serious about Digital transactions without compromising safety and security. That too in a low price band. In fact, 2300 mAh battery may not sound but then it is not about using the phone heavily for videos and social media. 1.25 Quad Core Processor is a good deal in this price band, in my opinion.
Karbonn K9 Kavach has advanced Security features
Karbonn K9 Kavach comes with 5 Megapixel front and rear cameras. Both are with flash. 8 GB ROM is good enough to ensure hassle free digital transactions using BHIM and in-built security features. It comes with latest Android Nougat. Finger Touch Sensors are for those additional security features that we have been talking about above. It is a dual Sim phone and memory is expandable to 32 GB. Overall, Karbonn K9 Kavach is a new generation phone that comes with a promise to promote Digital India mission of Government of India.