Kent RO launches Kent Noodle and Pasta Maker. The machine is quite sturdy, unique, advanced, and innovative. In fact, after going through its exhaustive demo at their head office in Noida, it seems to be a must-have device for every Indian kitchen. Because it is not only noodle and pasta maker. It has a number of other important functionalities that every woman dreams of. Probably it is a dream cum true for them. With this, Kent RO now debuts in small kitchen appliance segment. Now Indian families can enjoy fresh homemade noodles & pasta. The whole process of nodle & pasta making takes not more than 10 minutes. This is because of the automation and latest technology functionalities. And this is the most healthy way to cook.
Kent Noodle and Pasta Maker is a strong contender to be a part of your kitchen if you keep hygiene, freshness, health, and time as your top priorities when it comes to food. Obviously with the changing lifestyles, time has also become a constraint when it comes to cooking. But then you can't compromise with the untrusted brands in the market and buy unhealthy food for your family. In addition, nothing can beat the food that you prepare and cook at home. In addition, you have an option of preparing Noodles and Pasta in various shapes and sizes. So prepare and cook in your individual style rather than going for the readymade solutions. That, in a way, gives you a lot of independence and freedom in terms of healthy and hygeinic food.
Kent Noodle and Pasta Maker Is Quite Innovative
Mahesh Gupta, Chairman, Kent RO Systems says, "Noodle, pasta and momos are favourites amongst all age groups, and kids just love them. With news reports about presence of chemicals in the most reputed instant noodle brands making headlines, consuming them is a health compromise. That is where this easy to use, modern day smart kitchen appliance, KENT Noodle & Pasta maker comes in. It allows you to make all your favorite snacks, hygienically at home, without use of any preservatives or any other chemicals. Moreover you can make noodle or pasta from all types of flour and customize the taste by adding juices or egg." The Kent Noodle and Pasta Maker emerges as a true winner.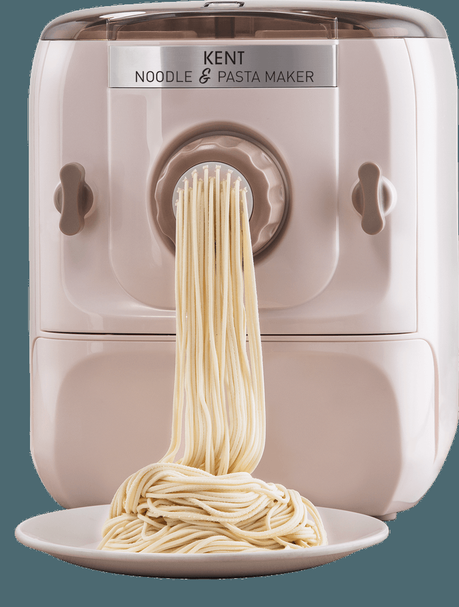 Since the Kent noodle and pasta maker is an automatic mixing, kneading and extruding machine, it is easy to manage. In fact, all it needs is to select a program, feed the raw material, and relax. You can easily dismantle and assemble the device. Hence it is quite easy to clean and wash. Its high technology, simple operating mechanism, and quality results make it quite user-friendly. In addition, its shape makes it completely easy to use and operate.
Kent Noodle and Pasta Maker has a Smart Design
Kent Noodle and Pasta Maker comes with 7 different shaping fitments. Each fitment has a meaningful purpose. In fact, now you can make noodles, momos, pasta, and gujia of your choice and shape in a custom manner. As a matter of fact, it has 3 shaping attachments each for making noodles and pasta with an option of making 3 different shapes of noodles, 3 different shapes of pasta and a single shaping die for momo/gujia. The same goes true for ingredients. Now since you are making the food of your choice at home, you can add various ingredients as per your liking. Like flour, flavour, colour, herbs, vegetables, etc.  Now the taste, shape, and design of your favorite food is in your hands.
Kent Noodle and Pasta Maker has a smart drawer design that helps you easily store all the accessories including the shaping dies and the cleaning tools. This avoids misplacing of any shaping dies and other accessories. The drawer is spacious and smart enough to keep your dies and cuters in a systematic manner that helps to locate them easily. The demonstration of this device clearly proves that its cleaning is extremely simple. The credit of this no maintenance device goes to its fabulous design. It comes along with a special cleaning tool with bristles and pins which ensures cleaning in an easy and time efficient manner. It also ensures least wastage. With a price band of INR 12,000, it seems to be a true value for money.