India needs more institutes like Khazani Women's Vocational Insitute that aims to empower women from lower and middle economic segments. The purpose is clear. Talent doesn't lie only with the people belonging to the rich class. Those who can afford to pay a hefty fee to study in premium institutes across the nation or even abroad. The real power of education is to make a deserving child stand on his feet in a graceful manner. That too by polishing his or her talent not bartering against money.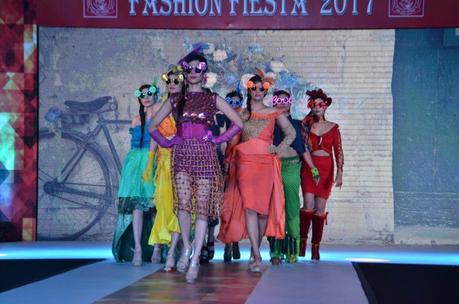 Models showcasing the designer attires at Fashion Fiesta – Khazani
Obviously, Khazani is not a not-for-profit organization and hence there is a fee structure to make some profits. But there is a policy to educate free of cost to deserving students from lower segments of the society not capable of paying even that nominal amount. When a student from such institutes rises to an extent challenging students from premium institutes, that becomes the real win.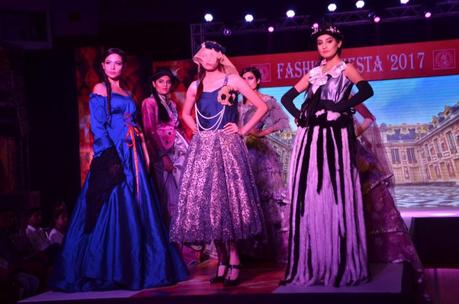 Models showcasing the designer attires at Fashion Fiesta – Khazani
That win is not only for that student who reaches to such a high level in life with the help of his or her talent and an institute like Khazani but also for the society and that institute. This, in fact, should be the real purpose of education. Identify the right talent in a child right at the beginning of the ladder and then provide right steps to rise well in life while breaking all barriers of poverty. Otherwise, so much of talent goes waste thus impacting the growth of our society and nation. The institute came into existence well before our government initiated Skill India during Congress rule. Growing to more than a dozen institutes under its banner, Khazani group keeps taking new initiatives in this regard. The course duration ranges from two to twelve months. And the fee structure is around 25% of what premium institutes charge.
Models showcasing the designer attires at Fashion Fiesta – Khazani
Khazani Institute Khanpur Is The Oldest And Largest
Obviously, it takes a lot to match the infra and other facilities. But Khazani aims to keep it no-compromise in quality of education and discipline. Their website is quite professional and delivers most of the information one would require. Such events definitely fill students with a fresh amount of energy and enthusiasm to showcase their talent and gain recognition. Such life transformations are the need of the hour to be there in every B and C-Class cities of India.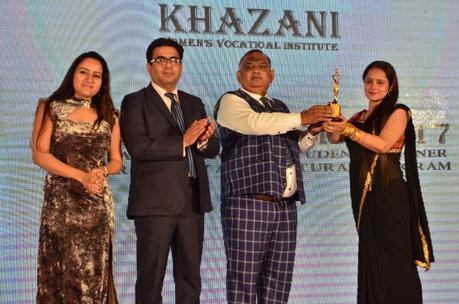 Bhavna Sharma, Designer, Pancham Bhatia, CEO- Khazani, Bijender Choudhary and Rashmeet (Faculty, Khazani)
It was the grand finale of their 14th Annual Fashion Fiesta at Talkatora Indoor Stadium. The zeal and enthusiasm among students running the show were enough to show their passion. Along with the fashion show, there were quite a good number of cultural programs including music and dance performances. Srishti Rana, as a symbol of encouragement to the young girls, was the chief guest at the event. Bijendra Chaudhary, Chairman, Khazani Education Society, says, "We strongly believe that we need to empower women with the right knowledge and tools to build up solid foundations for themselves starting at an early age. This event is a platform to influence and transform budding designers to engage with fashion right from its designing, making to wearing."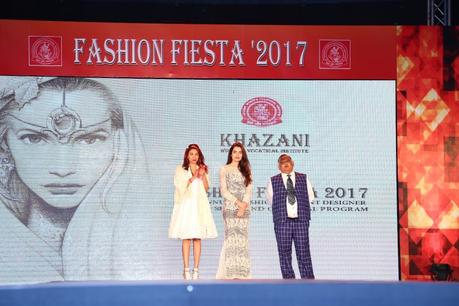 Sanjana Jon New York-based fashion designer, Srishti Rana, Bijender Choudhary
A number of celebrities graced Khazani event
Srishti Rana, Model and Beauty Pageant says, "The generosity and commitment of Khazani Women's Vocational Institute are indeed worth laurels. This well-organized event gave visitors an experience to enjoy the world of the fashion industry. I am honored to be a part of an institute that is inspiring countless graduates and young designers on a path leading to a myriad of creative futures."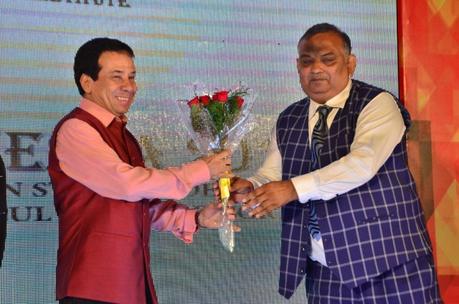 Ezekiel Isaac Maleker- Head Priest of the Jewish Temple in India and Bijender Choudhary, Chairman, Khazani
Pancham Bhatia, CEO, Khazani says, "We have actively been working towards women education, empowerment and upliftment since 2002. With the massive expansion of our centers, today we are imparting vocational courses to over 700 students per year across its centers.The fashion fiesta 2017 brought out not only the impeccable look, style, and taste of our emerging designers with a passionate zest and zeal but it was a stepping stone into preparing them for the real world. The quality of our education makes sure our students they are ready to face the 21st Century economy."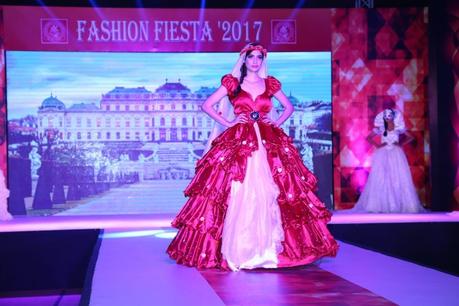 Other celebrity guests present at the Khazani event were Fashion Designers Manish Tripathi, Fashion Designer from New York Sanjana Jon, Fashion Photographer Rohit Suri, Wrestler Tajender Bansla, Head Priest of the Jewish Temple in India Ezekiel Isaac Maleker, celebrity fashion designers and entrepreneurs Rajdeep Ranawat, Niket Mishra, Bhavna Sharma, and Kappil Kishore.