Knott's Scary Farm is Infected!!
By Erin
Disclosure: All opinions in this article are my own. I do not work for, or with, any brand mentioned in this article, nor do I have any official relationship with them. I have a relationship with GigaSavvy, for whom I create original editorial content.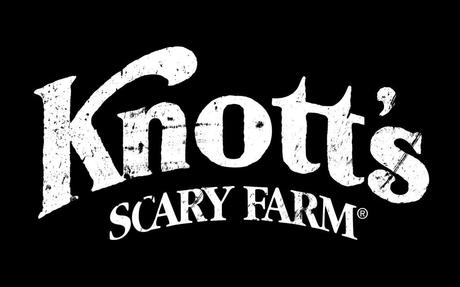 It's HERE! Knott's Scary Farm is here in full scare mode for the Halloween season. This year's Knott's Scary Farm is stirring up unique and freakish experiences along with show-stopping entertainment, and the all new, not to be missed Special Ops: Infected, where guests fight zombies in an interactive six acre war, and the return of Elvira – Mistress of the Dark in an all-new stage show. Knott's Scary Farm is Infected!
But first, I want to show you a little behind the scenes look as last week I was able to get a sneak peak at the monsters, zombies and all the rest at scare school, practicing getting their moves down just right to be the best they can be for all of us mortals.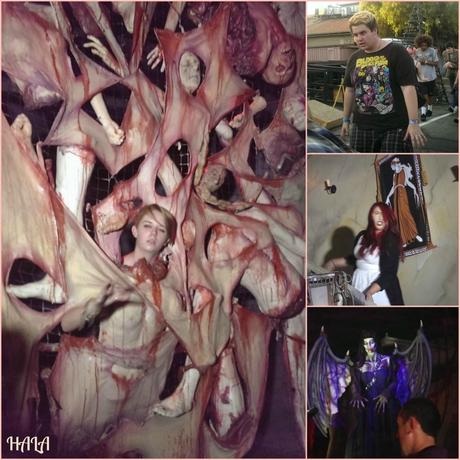 Scare School for Knott's Scary Farm!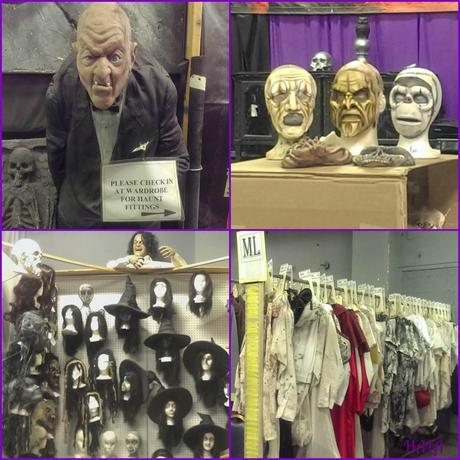 We also got a peek into where the monsters all go to for all of their haunt fittings.
A lot of hard work goes into bringing Scary Farm to us each year, which is why it just keeps getting better and better! Now, what's new for this year you may ask? Lots of awesomely scary and interactive delights!
Hunt Zombies in an All-Out War in Infected!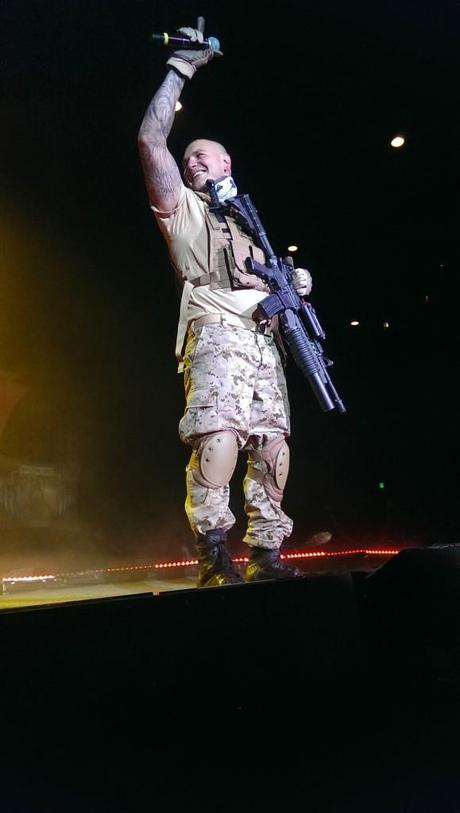 There is an infestation of zombies who threaten mankind's existence in Infected. It is up to YOU to help save mankind! You will be armed with specially designed laser guns, as you travel along with a brave group of souls and embark on missions, led by  a Squad Leader – a loud mouthed, take-no-prisoners commander charged with turning guests into soldiers. You must work together to fend off zombies and complete various missions before time runs out. If zombies drag their bodies too close, the un-infected's guns temporarily deactivate, compromising the safety of the entire team. Soldiers with the deadliest aim will be celebrated with a tally of the number of zombies killed on a display board for other survivors to see each night in base camp. Missions will take you through a variety of wilderness terrains, including the unpredictable barrel bridges across the rushing river, through the dark caverns, and through mysterious backwoods. Six acres of the beloved theme park is now home to mutinous, scream-inducing zombies, and the time has come for a harrowing Special Ops survival mission! Are you up for the challenge?
The Return of Elvira – Ring-Mistress of the Park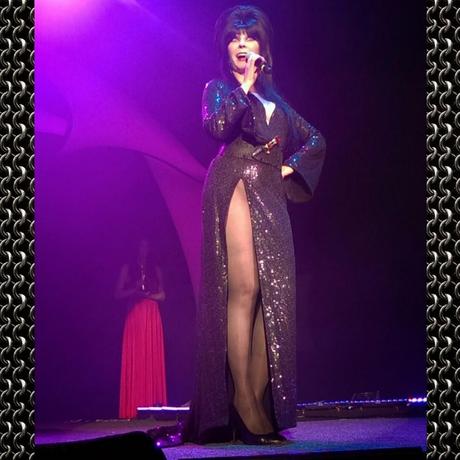 The legendary Mistress of the Dark Elvira is back with an all new show. She will headline her new show: Elvira's Big Top, in the 1,800 seat Charles M. Schultz Theatre twice nightly for the entire run of Knott's Scary Farm. In her new show, Elvira becomes the Ring-Mistress of the Park. She is running a three-ring circus full of macabre freaks and sinister side show acts. The show also features explosive dance performances by The Academy of Villains, who return to the stage in 2014 fresh off their appearance on Fox's So You Think You Can Dance?
You also have a chance to meet her this year! In honor of Elvira's return to Knott's Scary Farm, the Ride Warriors merchandise shop will temporarily become Elvira's Boo-tique, where fans can purchase stylish apparel and sinfully fun products featuring and inspired by the Legendary Mistress of the Dark. Each night, a limited number of guests who spend at least $50 at Elvira's Boo-tique during Knott's Scary Farm will get a chance to meet Elvira between performances of Elvira's Big Top and collect her signature on one of the purchased items. Knott's Scary Farm is the only place Elvira can be seen this Halloween season, and Elvira's Boo-tique offers fans a once in a lifetime meet and greet opportunity!
NEW Haunted Attractions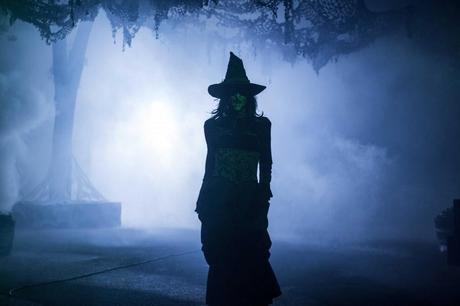 Three new terrifying attractions will debut this year, Voodoo, The Tooth Fairy, and Trapped: Lock and Key.
Voodoo:
Trudge cautiously through the cursed swamps of the Deep South, where creatures search the murky bogs for their next bloody sacrifice and demons curse the innocent with Voodoo hexes. Guests must choose their path from a number of foreboding choices, resulting in a different terrifying outcome with each journey into the swamp.
The Tooth Fairy: 
This isn't your ordinary tooth fairy…The joy of hiding a lost tooth under the pillow becomes a complete nightmare of pain and blood in this new maze that will leave your teeth chattering. This twisted tooth fairy steals more than just baby teeth as he drags his victims out of their bedroom window and into a world of deranged dentistry.
Trapped: Lock and Key:
Trapped returns with more rooms, more intricate puzzles and a shocking finale more extreme than any experience ever presented at Knott's Scary Farm. You become part of the terror and are forced to face your darkest fears, confront your inner terrors and descend into the madness of a maze with no way out. Trapped is not for the squeamish or faint of heart as the challenges are darker and more terrifying than any that have come before.
Returning Favorites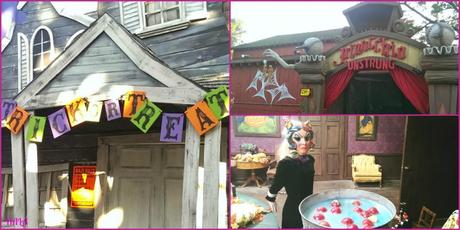 Of course, Scary Farm also has many beloved favorites returning as well, including, Trick-or-Treat, Black Magic,
Forevermore, The Gunslinger's Grave, Dominion of the Damned, Pinocchio Unstrung,  The Witch's Keep, The Hanging® – Everything is Gruesome!, and much more! Who will be hung this year?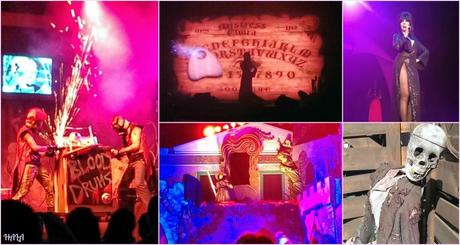 All of the shows and mazes you have come to love and be scared of, are all back for your halloween haunt delight. I cannot wait to go myself and I hope you will follow along with me as I share all that Scary Farm has to offer this year on Instagram and Twitter.
Be sure to be following hashtag #ScaryFarm for all the latest info and Scary Farm offerings for this years haunt!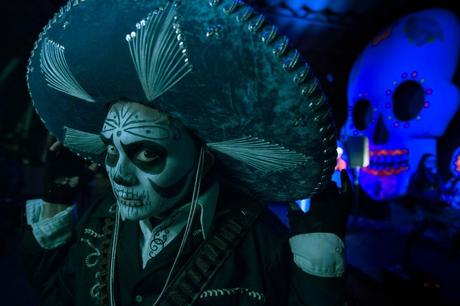 One last thing I wanted to share with you! Have you ever wanted to come back again and again to Scary Farm, with only one pass? And not having to keep buying a ticket for every night? Well, now you can! Knott's is debuting the Knott's Scary Farm Pass offering unlimited visits to all 24 event nights. Only a limited number of passes are on-sale to current 2014 Knott's Berry Farm Season Passholders for $65 (plus tax) or$75 for non-passholders.
If you're just looking for single night tickets, those are $39 – $49 depending on the event night when purchased online. Tickets purchased at least 24 hours in advance at the theme park ticket booths are $49 for all nights, and day-of-event tickets purchased at the ticket booths are $65.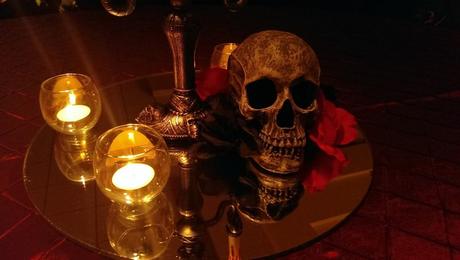 Boo-fet dinner offers seatings at Chicken Dinner Restaurant and Spurs Chophouse invites guests to feed the beast before Knott's Scary Farm each night. All meals include a collectible 2014 souvenir cup, which includes unlimited complimentary refills on the event night and $0.99 refills for the rest of the 2014 season! After dinner, enjoy early entry into Knott's Scary Farm a few minutes before it opens to all  other mortals. Boo-fet dinner is $25.99 +tax when purchased online and $31.99 +tax when purchased at the door.
Scary Farm parking is $20 per vehicle and can be purchased online or at the parking booth upon arrival.
Be Sure to check out the Knott's Scary Farm website for more info, ticket packages and deals,  dates and hours!
Happy Haunting at this year's Knott's Scary Farm!!