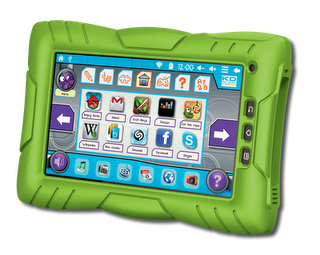 I had my first proper play with the
Kurio
android tablet last Tuesday at the
mi-comms PR
Christmas Open House and I have to say I was hugely impressed by it. The Kurio from
InspirationWorks
which is tipped to be "the" hot gift for kids this Christmas really is something special. It is more than just a kids toy to play games on, but a tablet which will appeal to the adults too with it's multimedia and entertainment technologies, not to mention the security features which make it truly safe for kids.
The Kurio is a tablet which the whole family can use and allows up to eight user profiles to be added, each of which can have their own individual time management settings and web filtering. As a result, kids use of the tablet can be restricted to a certain amount of hours and times per day along with restrictions put on their web access with four different internet access points which are complete internet block, Whitelist and Blacklist options or full access. Kurio have worked with
CronLab
, who are experts in the field of web filtering and security to ensure that it's web filtering system is truly safe. CronLab's Guy-Edward Waterland, who was at the Open House told us that, "There is no fool-proof option, we're not sure there ever will be, but we believe this is the best option out there." As a parent this is massively reassuring to me as I am sure it will be for all the mums and dads out there who are worried about the things which kids can accidentally stumble upon if they have access to the internet.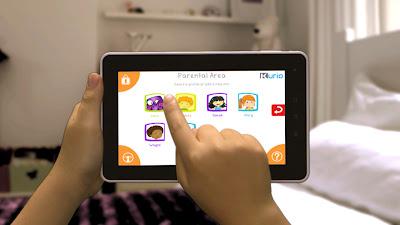 Parental Area
When handed the Kurio, the first thing I did was check out some of the pre-loaded apps which include Angry Birds, Fruit Ninja, Cut the Rope, Where's My Water, Doodle Jump and World of Goo and I can verify that they ran just as well as they do on my iPad. I then had a go at loading one of my son's favorite sites,
Magic Town
and as the Kurio supports Flash I was able to navigate about just as I do on my MacBook Pro. It was responsive and the touch screen reactive so it definitely gets a thumbs up from me.  I was given a demo on setting up a profile which includes specifying the web access and time management controls which are specific to each individual profile, the interface is user friendly and it was quick and easy to do. I love the fact that you can set the times that the Kurio can be used for and the session length, as it takes away the"mean mummy" factor when you want to enforce specific times and usage limits for your child.
The Kurio will be available in two sizes, a 7 inch version which is available now with a RRP of £150 and a 10 inch one which is due to launch in the autumn with a RRP will be £200 and will be stocked in a various retailers including Argos, Debenhams, Early Learning Centre, JD Williams, John Lewis, Shop Direct and Toys R Us. It comes with a drop-safe protective bumper which is great for when the kids are using it but the bumper can be removed if preferred. It has front and rear cameras, an integrated microphone, built-in Wifi, a mini USB drive which allows a camera to be connected and your photos accessed or downloaded easily, a micro SD card slot which enables you to extend the 4GB memory to 32GB, a HDMI connection which means it can be used as a mobile HD video player, a headphone jack and support for multi languages. The Kurio comes with a selection of it's own built-in apps but any android application for tablets and smartphones can run on it.

L-R: Speaker, Micro SD Card, DC Input, Mini USB, Mini HDMI, Headphone 3.5mm Jack, Microphone
I am an Apple fan true and true and love my iPad so it was going to take a lot to wow me, but I can honestly say that the Kurio did impress. It is a great choice for families as it will meet both the children and adults requirements alike at an affordable price. The Kurio is definitely one product that is going to be in high demand this Christmas.