Lady Baga is the first Goan food restaurant in Delhi NCR. You can locate is easily on the left of the outer circle of Connaught Place. It is at the end of Baba Kharak Singh Marg where it merges with the outer circle. In fact, it is just opposite to PVR Rivoli. Another nearest popular spot is Khadi Gramodyog. It is in P block, above Subway. Floor one and two have different significance and hence choose your table according to your mood. The lift is just on the left once you enter Subway outlet. Floor one has a complete Goa theme. Loud music, a lot of movement, a number of lively activities depending on the time and day of the week. A beach like simulation where your table is just in front of the beach.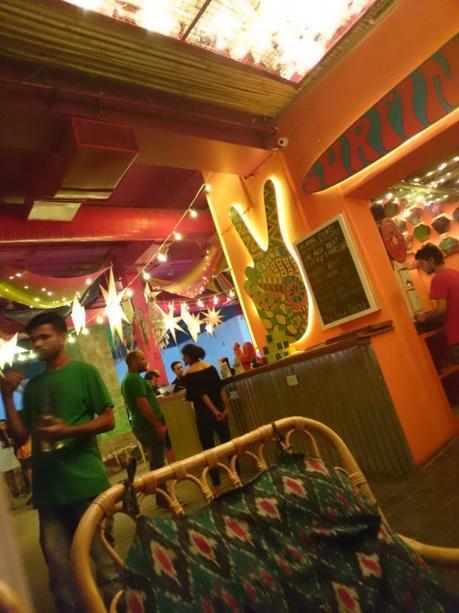 And if your table is on the right side of the entrance along the wall you can see the vehicle movement in the outer circle. The bar lounge is right in the center of first floor of Lady Baga. Life, joy, and music are at peak here. In fact, you will have to jump in the sea if you want to use restrooms. Rather, there is a small smoking zone also with no indications publicly. And if you want to enjoy your food without music, in a silent atmosphere, then get a table on the second floor. The decor and ambiance are totally different on both the floors. Chef Rishi belongs to Delhi but is now expert in Goan food. He feels food is the USP of really unique Lady Baga. And in fact, it is. Music is in the air at this place.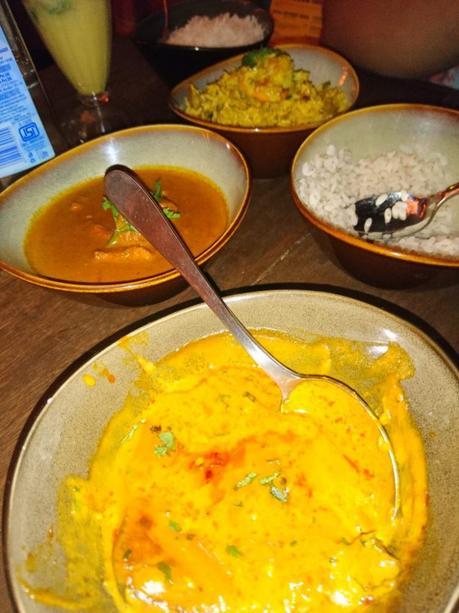 Lady Baga Is A Vibrant Place
And that is not the only reason to fall in love with Lady Baga. Fabulous authentic food is the another strong reason. We were discussing with the chef Rishi about this vibrant and young place Lady Baga. People who have been to Goa some time in their life would like to relive those days here with the authentic Goan food and design. Another set of people is those who have never been there and want a glimpse of Goa would visit here for food and feel. And the third kind of people who are planning to visit Goa for the first time to experience mini Goa at Lady Baga. For the time you spend there, you actually forget you are in Delhi. It totally takes you to Goa for a while.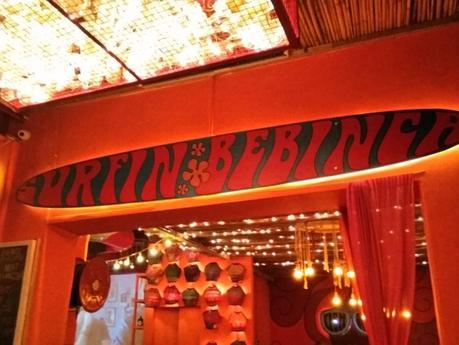 We had Lady Baga Bubbly, Fresh Watermelon juice, and Hey Fonzie in drinks. Watermelon Juice was quite fresh. Hey Fonzie is something everyone should try if you like thick shakes. In Appetizers we had Crunchy crapes, Fantastic Fish Rava Fry, Popular prawns with butter garlic, and Crazy calamari with Richado masala. In fact, you have various options for sauce and preparation for most of the starters. Hence, order your dishes according to your best liking. All the four starters were fabulous. Expecially Calamari and Fish. In the main course, we had Goan red rice, Prawn with love, Surmai with love, Prawn pulao, Rice, Chicken xacuti, and Paneer filled aloo. Prawn, Paneer and Surmai vegetables were extra salty.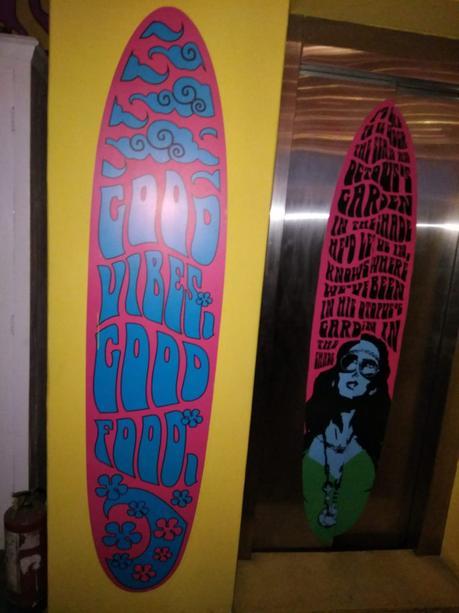 Lady Baga Promises Authentic Goan Food and Culture
Extra salt in these vegetables could be because we were going to have it with plain rice. Both Goan Red Rice and Normal Rice are without any spices, chilies, or salt. But even after mixing vegetable in rice the salt was in excess. Rishi was around to take feedback. Chicken Xacuti comes with extra chilies but normal salt. Hence if you like chilies then go for it else Chicken Lickin is there. Overall, Lady Baga is a place full of good music, great activities, superb food, decent atmosphere, excellent service, and complete satisfaction.