We recently received the LEGO duplo Photo Safari set to review which has been a massive hit with Ben. It is packed full of imagination inspiring pieces and is the perfect set to keep kids (and adults) entertained.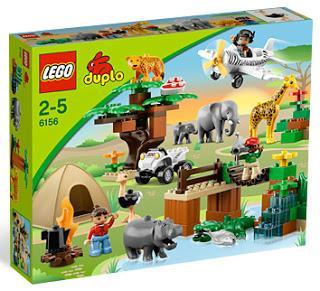 The set contains a leopard with a tasty piece of steak to chew on, a crocodile and a hippopotamus with working jaws to eat the little fish, a giraffe, an ostrich, a very cute mommy and baby elephant, the crew and their camp which consists of three people, a video camera to catch all the action, a safari vehicle and a plane, a tent and campfire complete with kettle and a bunch of Lego blocks which allow you to make bridges, trees, buildings and whatever else your imagination desires.
Ben has been playing with this set every day since he got it and each day there is a new story to be told in Lego. Yesterday the plane had to swoop in and rescue the video camera from the jaws of the crocodile who sprung from under the bridge and frightened the camera man while filming - it was all very dramatic. I wonder what today's adventures on safari will have in store for us.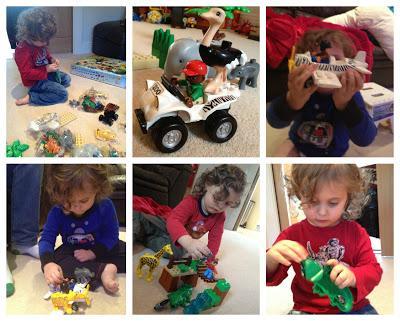 Fun on Safari!
One of Ben's favorite iPad apps is the LEGO DUPLO Zoo app which features the animals from this set along with the plane, vehicle and camp. He instantly recognised all the characters and on seeing them and was off recreating the story the app tells. It was very interesting watching him recreate the virtual play of the iPad app in real life.
The RRP for the set is £49.99 and it is widely available from a range of stores including Toys-R-Us,
Amazon
and Argos and would make a perfect
Christmas
gift for boys and girls aged 2-5 alike We were also sent a  super cute DUPLO plush bunny toy which is free from Toys-R-Us stores nationwide when you spend over £25 on LEGO DUPLO and I have to say it is one adorable little bunny which is a fantastic little festive bonus.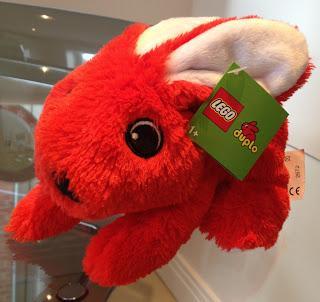 Cute little DUPLO bunny!
*Disclaimer: I am part of the LEGO DUPLO panel and received the LEGO DUPLO Photo Safari set and DUPLO bunny for free in exchange for a review but this has in no way biased my opinion.