The Story of a Suicide by Sriram Ayer is a story of love and despair. When you are in deep trouble, the first person for seeking help that comes to your mind is the one who is quite close to your heart. And as a thumb rule, that person will never refuse to help you how so important work he is engaged into. That is what happened when Sam had food poisoning. And in reciprocation of love, the moment Charu got to know about Sam she left the most important and dearest thing in her life and drove back to the hostel to attend to him. This is love. Then there are misunderstandings in life that can ruin your love depending on how much weightage you give to such negative things in life.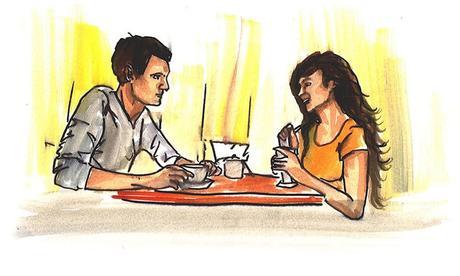 These frictions in life start deviating you from your common goals. You start questioning yourself if you really love your partner. A sense of unhappiness starts lingering around in life. You start feeling as if you two seek different things in life. And then the friction keeps increasing. Eventually, the gap between the two starts widening. Probably Sam realized it at some moment of time in his life and there was a feel of repent in him. The feel prompted him to connect back to Charu. The circle of love and despair has taken a full turn by now.
Love and Despair are two sides of the same mirror
Eventually, you have no other choice than coming back to each other. And then there is a gay couple whose video goes viral on the internet. As a result, it brings in a lot of repercussions from various people in various forms. As a matter of fact, the video got uploaded by Sam by accident.
Charu is in trouble. Someone is stalking her continuously. Finally, Alex and Anwar decide to help her in nabbing the culprit. Will they be able to nab the real culprit? Will it bring in a lot of shocking moments for the both? You need to read The Story of a Suicide by Sriram Ayer. The story is gripping and is relevant to modern day lifestyle. Once you start reading it, there will be many moments to correlate it with your life. In fact, at times you will find yourself in place of a character in the story. It could be Sam, Alex, Anwar, Aditya, Mani, or Hari. There are six powerfully drawn characters that lead the story.
While they are coming from various directions but all get connected to each other in one way or the other. That is all possible in love and despair. Gradually, it leads Hari to decide to suicide. Will Charu be able to convince Hari to revert this idea? Will they find out a solution to their individual problems? Finally, will they come back on track to lead a normal life? Charu was quite a complex character for Sam. In fact, was it only Sam who was in love with her or it was both sided?

Love and Despair are two main streams of life
The story is quite intriguing and introspecting. While such things are happening around in real life that makes this story more implicative. There are hackings and stalkings happening all around. Gays is not a small problem in the society. There is no substantial and concrete solution to this problem so far. Love is not smooth in any couple's life. It could lead to an extent of separation and divorce at a lightening speed. And then there are live-ins and the issues similar to it or as an outcome of it. There are parental pressures that could either force a youth to revolt against them or suppress in an extreme manner.
To summarize, we all need to connect to each other in a responsive manner. Everyone need some space in life. Trust and faith are the key factors. There needs to be a helping attitude that works in the direction of normalizing life. There needs to be a respect for passion and love. For instance, this passion could be theater or music or anything else. There has to be a key differentiator among lust, infatuation, love, and temptation. The complexities in life need to handle properly.