Yesterday Ben excitedly said to me "Mummy I have good news. I found your laptop, let's go to Magic Town!".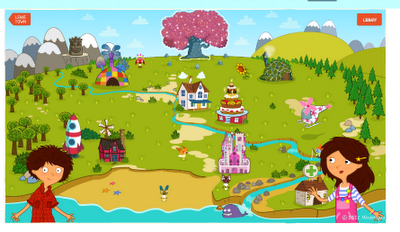 Izzy and Max greeting children as they arrive in Magic Town
For those who are not yet familiar with
Magic Town
, it is best described as a virtual world of picture book characters, with houses to explore where books await reading and puzzles and matching games playing, not forgetting the cute little critters to play and interact with while you are there. It has been created by Mindshapes who have brought us many educational kids iPhone and iPad apps including Hickory Dickory Dock and Jack and the Beanstalk and is designed for kids aged 2 to 6+. Magic Town has quickly become Ben's new "favourite thing" and as a result we have been reading far more books than ever before. His current favourites are the Aliens in Underpants series by Claire Freedman, Dig, Dig Digging by Margaret Mayo and Look Out Stripy Horse by Giles Andreae.
There are four reading modes to choose from for each live book which are Explore Mode where interactive tasks and questions built into the narrative and mirrors the way a teacher shares stories with students; Read Together Mode where you can read to your child or if your child is able they can read themselves; Watch Mode where the story auto-plays and is narrated and Play Mode which is narrated but has interactive touch points. So far Ben and I mostly use the Read Together mode which is great for sharing reading time and Play mode which comes in handy to keep him entertained if I need a little time to get something done.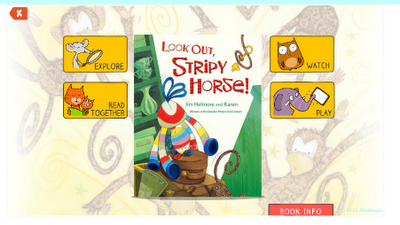 Magic Town - Four Reading Modes
I was first introduced to Magic Town at the end of 2011 and I was instantly impressed by the concept and excited to see how it would develop. Now it has been launched, I am happy to say that it is everything I thought it would be and more. There are so many nice touches to it with the little critters who dance about and play, Izzy and Max who greet children when they arrive and show them around along with the colourful graphics and excellent narration. My favorite thing about Magic Town though, is Louis the Storyteller and his background story, he is a wise old lion who traveled the world collecting stories and arrived in Magic Town where he planted his staff causing a tree bearing stories to grow.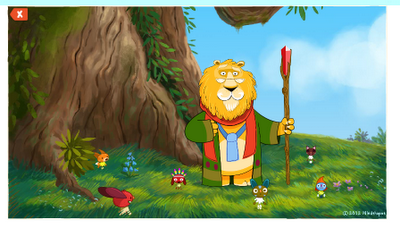 Louis the Storyteller
Before letting Ben, 2.5 years old, loose on Magic Town my only concern was how he would handle the laptop as while he is a whizz on the iPad, he rarely uses a laptop or PC. I was worried he would just bang on the keyboard and mess with the buttons but as it turns out he gets so engaged in the stories, he happily watches and listens while we read together or listen along. We have also played with some of the puzzles and matching games which he needs a little help with as he hasn't quite got the grasp of using the track pad on my laptop but I'm sure it won't take him long to get used to using it.
From a parents point of view, I like the fact that we have a vast library of books available to choose from and it really does seem to be encouraging us to read together more often. It is fun picking new books to read and go back and visit old favourites. I see it as another way to share reading time with Ben and it adds a different dimension, bringing books to life in a very special way that is effectively achieved by merging the words and illustrations from the books together with narration and interaction.
The real test of Magic Town for me, was observing how Ben reacted to it and it couldn't be clearer that he loves it. The experience goes beyond screen time as Ben loves retelling the stories we have read while out for a walk or during mealtimes. He has even has gone as far as explaining Aliens Love Underpants to his Nana on a recent Skype call, needless to say she was a little confused but has promised to keep an eye out for those thieving aliens.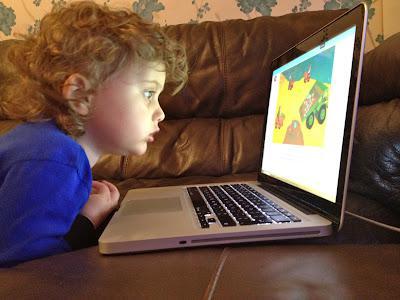 Magic Town - Ben enjoying Dig Dig Digger
Magic Town
is available online now with an iPad version due for release in a few weeks time, followed by versions for the iPhone, iPod Touch and additional mobile devices. There are several pricing options available with one month costing £7.99 / $11.99 / €9.99, six months £39.99 / $59.99 / €44.99 and one year priced at £49.99 / $74.99 / €59.99 and each subscription allows up to four profiles and provides access to the entire site with a new, free story added every day.
*Disclaimer: I received a free subscription in exchange for reviewing Magic Town but this has in no way biased my opinion - I think it is truly a magical place for kids that is sure to inspire a love of books and reading.