The Fidget Spinner which pretty much became a household name overnight now has a new rival in the form of the
MOKURU
, a handheld wooden fidget toy which has originated from Japan. At first glance it looks like a wooden cylinder and you could be forgiven for thinking what is the big deal all about it but give it a go and you will realize just how addictive it is.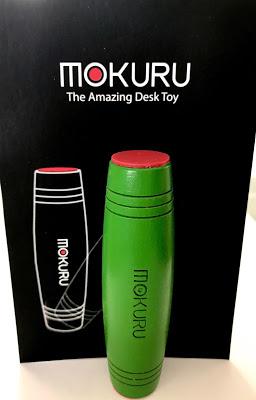 When it first arrived I started rolling it back and forth but after watching a YouTube clip and seeing some tricks I progressed to making triangle and square patterns with it but have yet to master flipping it up on my hand.  I will get there though as this innocent little wooden toy is seriously addictive and I find myself drawn to it every time I see it. It has that therapeutic factor, a form of stress relief as you flip it back and forth and makes you want to keep practicing. Check out some of this very cool tips and tricks video I found on YouTube below.
Get Ready for the MOKURU Craze
My entire family have gotten on board with the MOKURU craze, even the dog who is desperate to get in on the action. I think the big thing about this fidget toy is it's appeal to all ages from the little ones like my 4 year old twins who love playing with it on the kitchen floor and flipping it back and forth between each other, to the kids like my 7 year old whose obsession with his fidget spinner has been replaced by the MOKURU and he is loving flipping and tipping and spinning it with his friends in the playground (who are all desperate to get their own), and then of course there are us big kids who like the challenge and competitiveness of learning new tricks not to mention the stress relief of simply rolling it back and forth. I really fancy getting hold of another one and trying to more complex tricks. The twins are determined to be MOKURU Masters one day, maybe I can be too.
Design
I love the simple design of the MOKURU which it's designer Masakazu Node worked hard to 'create the perfect size, shape and materials' and took inspiration from a fountain pen lid which he had noticed children playing with during class. It is crafted out of beech wood, small enough to fit in your pocket so has the portability factor and comes in black or, as the Japanese say, Genbu, green (Matcha), orange, (Kirin) white (Byakko), red (Suzaku), blue (Seiryu) and yellow (Inazuma).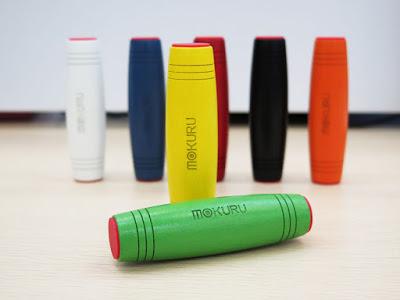 Make way for the MOKURU
Already a big hit in many markets around the world, including Japan and Hong Kong,  beginners can simply tip over the toy, let it flip and catch it with their fingers or flip it to draw a triangle or square.  MOKURU masters can use five MOKURU at once with one hand. Claimed to help focus and concentration, imagination and alleviate stress, MOKURU fits into your pocket. The MOKURU is available to buy from Amazon and Smyths Toys, word of warning though there are fakes out there so make sure you get a genuine one.