Hello everybody!
I honestly feel horrible right now for neglecting this blog for a long time. As usual, I've been busy busy busy with lots of stuff. Good for me, but bad for this blog. 
Moving forward, I got Maybelline Clear Smooth Extra Shine Free Powder Foundation during my haul here. I've been using it consistently for two months now and though I haven't hit the pan yet, I think can already come up with a sound review for this product.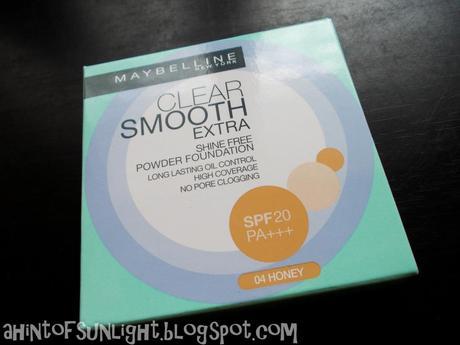 As I mentioned in my haul here, I wasn't really planning on getting this one. I know it's really popular but somehow it hasn't reached my radar yet. That is why when I tried this product out, I was pleasantly surprised. I will tell you why in a short while.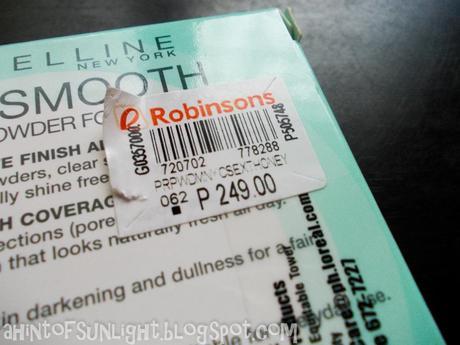 Price: P249 ~ $6.0901
I got the shade honey. I was in a hurry and when I asked the SA what shade matches my skin tone best, she instantly said " Kaning light kay puti man ka". Pick light because you are fair. 
I told her "mangabang ko ana". I'll look like a ghost with that.
Needless to say I did not follow her advise. I picked honey because it appeared to have the most yellow pigment among the shades when I swatched them. I'm probably slightly fair but I'm not porcelain-white fair. My roommate is and I can tell the difference between our skin color. 
Actually I understand where the SA is coming from. Most Filipinas want to look fairer, hence the abundance of whitening products in the market. Even Michelle Phan said the same thing although she was referring to Asian women in general. I had nothing against using whitening products but when it comes to picking a foundation, I would still highly advise everyone to work with their complexion instead of trying to make it lighter with make-up.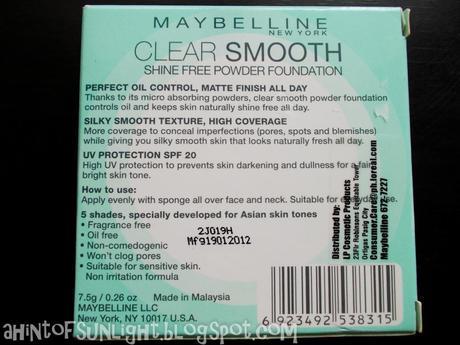 Claims:Long lasting oil control, matte finish all dayHigh coverageUV Protection SPF 20Fragrance FreeOil FreeNon-comedogenicWon't clog poresSuitable for sensitive skinNon irritation formula5 shades, specially developed for Asian skin tones.
I still find 5 shades too few though.



Ingredients. I'm too lazy to type it down but let me just mention that it is not organic and it contains parabens.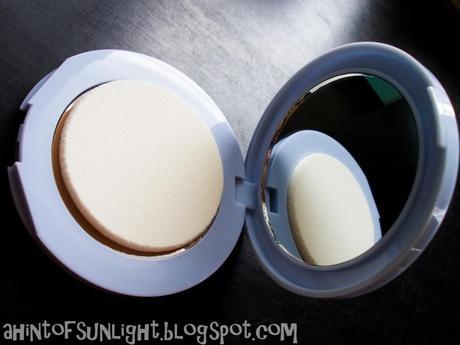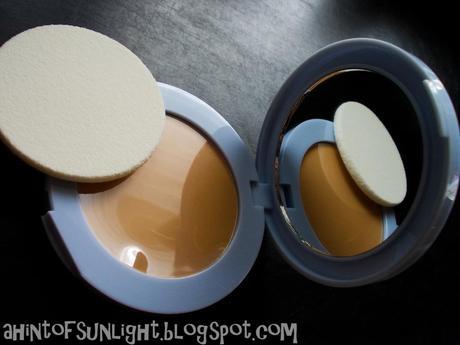 It comes with a mirror and a sponge, which I like. Makes it very convenient. But the sponge isn't that great. Personally I have no problems with it because of the way I apply this product but I read a lot of negative reviews about it.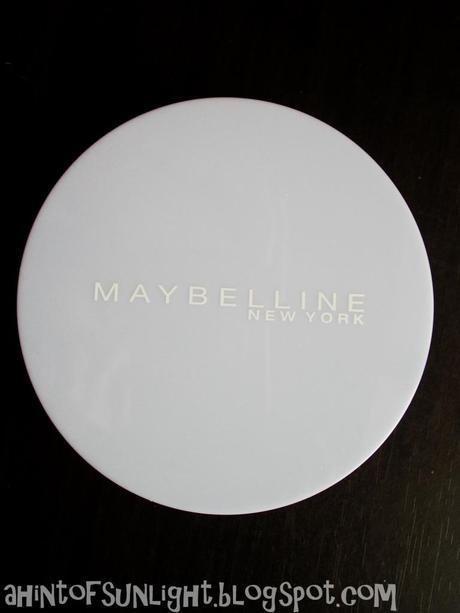 I've read a lot of reviews complaining about the packaging, claiming it looks cheap. As for me, I love the packaging! It's super thin, perfect when I'm only carrying a small bag. There are other reviews that said that it breaks easily. Mine felt sturdy enough. But I only used it for a couple of months and hasn't dropped it yet so I can't tell. The print eventually fades.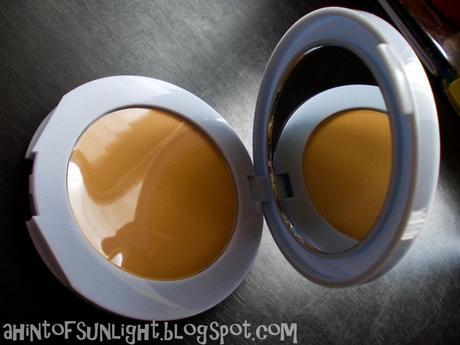 In the pan, Maybelline Clear Smooth Extra Shine Free Powder Foundation looked too dark! I almost regretted not getting the lighter shade but then I remember I decided on this shade by swatching.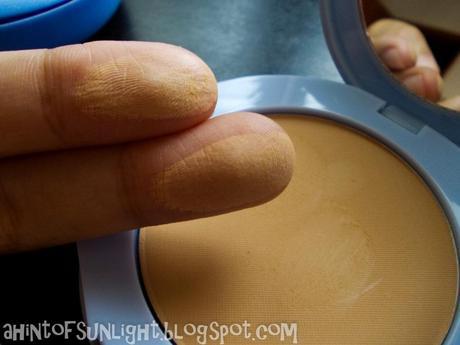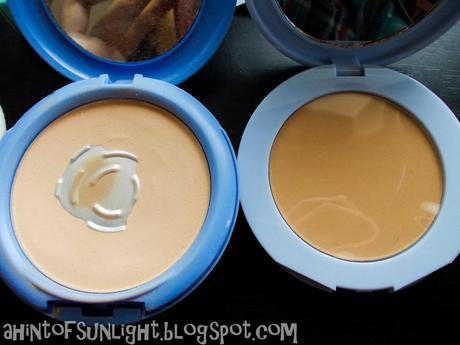 Placed it side by side with my former foundation,  San San 2-way Cake Foundation, which is also yellow-based but is lighter.
In the pan, Maybelline Clear Smooth Extra Shine Free Powder Foundation looks much darker!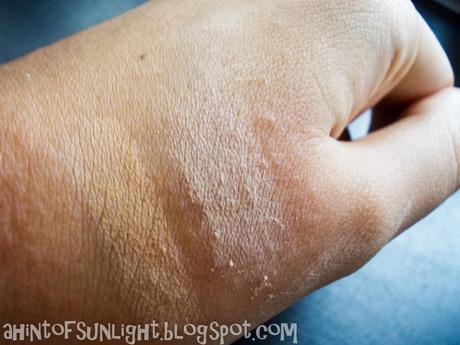 (my hand is still suffering from allergies and mosquito bites)
Even when you swatch them, it's apparent that Maybelline's  has a darker shade, although the difference is less striking than when they are still in the pan. Both foundation claim to have high coverage and because San San's matched my complexion well, I was worried that Honey would be too dark for me. 
But that isn't the case.
When I first applied it on my face, I did so the same way I did with San San's. San San 2-way Cake Foundation sort of  sticks to my face well. I can build it up and I can go for heavy coverage without it looking cakey despite the matte finish. I was expecting Maybelline's to perform the same way. But it didn't. It looked chalky on my face! I feared that it would be too dark for me, but when it's already on my face, it appeared too light! 
I want to point it out here that San san's is a two way cake foundation, which is why I was able to build it up well. Maybelline Clear Smooth Extra Shine Free Powder Foundation is not. When I use the sponge applicator, it also looked streaky and cakey..Obviously it's formula isn't the type that easily blends on your skin when you are applying it.
I was almost dismayed with the product. But I hang on to it and thought of changing the way I apply it. So I tried to go with a lighter application and was instantly happy that I did. I pat the sponge on my face this time, applying a thin layer of the product. I found out that the coverage is good enough and I only need to apply a little. After a few hours, when my face started producing natural oil, the product help keep it at bay. After about two hours, my face looks slightly dewy instead of oily and by then I just love how the this shade blends with my skin (it's claim to give you a matte finish all day long is a failure though). Because the foundation is yellow-based, it gives color to my face. That's a big help as without foundation, my skin sometimes look pale and ashy, which I don't like
Now for more swatches!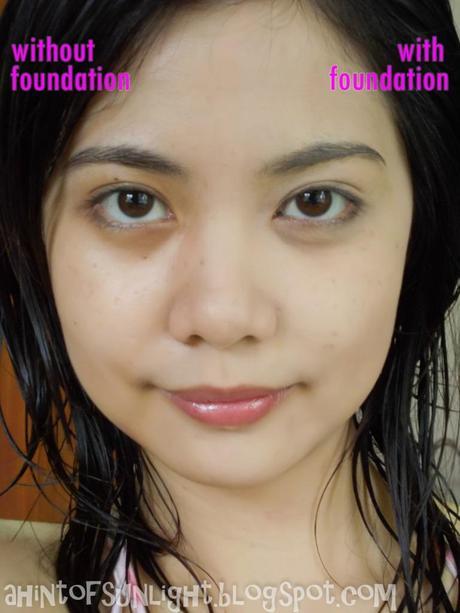 It took great pains for me to capture the details on my face this time. I'm only using a regular digital camera and in the past , it wasn't able to show the details on my face. Some of you commented in the past that I have great skin. But the truth is, I don't! I have freckles and I have tiny pimple marks! Admittedly, I'm not that conscious about them too so I don't use concealer, even for my dark under eye circle so a good foundation really helps.
Anyway, as you can see in the pictures my freckles aren't totally covered but are only minimized.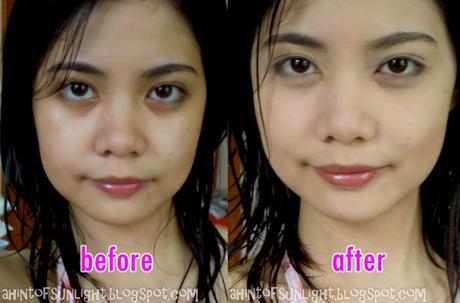 High coverage for a matte finish and an even complexion! (My dark circles aren't usually this dark but there are special days when they are.)If you have oily or combination skin (I have combination skin), it starts getting just a little bit dewy after a few hours, which is even better! For me the slightly dewy effect stays for about 6 hours, sometimes longer! Usually I don't reapply except on my nose but that depends on the weather.
Likes:Great for everyday Affordable: P249 ~ $6.0901Has SPF 20 and PA+++Good coverageEasily AvailableThere is a slight smell but it doesn't bother meI like the way it blends with my skinDoes not break me outNon-comedogenic which means its great for sensitive skin.Does a really good job in controlling oiliness.Improves my complexionEvens out my complexionLasts for months!Lasts for a long time on my face and I don't have to reapply the whole day except on my nose
Dislike:Read a lot of negative reviews about its spongeChalkyHas the tendency to become cakeyLimited shade to choose fromBecause of the SPF, it looks awful in flash photography!

Recommend?Yes
Repurchase?Theoretically, yes. But I really want to try Fanny Serrano's Two-way cake foundation.

Over-all Rating:4/5
Final thoughts:In terms of use, it has some limitations. It gets cakey when I apply it in the morning when my face is already a bit sweaty(I tend to sweat a bit right after taking a bath and this happens a lot in Cebu because of the weather). I can't use it when I know we're going to take pictures with flash later. But in terms of functionality, I like having it around. I always have it in my bag and is slowly making it's way on becoming a staple.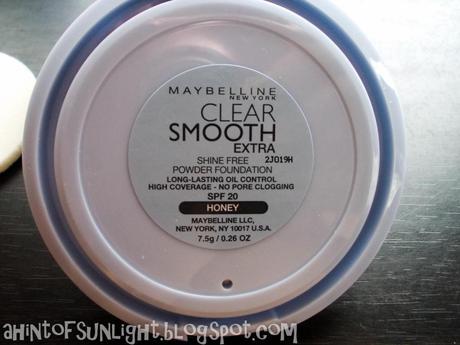 Further thoughts:I think it's a bit expensive for most students, especially where I came from (Iligan City, the most humid city I've ever lived in). Or at least I know I wouldn't have bought this when I was student, especially when I just came from the baby powder stage and had this habit of piling up powder on my face just to feel fresh. For a while, my face powder had been San San's two way cake foundation and it served its purpose well when I was in the university. It was inexpensive, great for humid places and has SPF. Tip: if you're fair or medium-fair, always go for the shade 01 as it is yellow-based .
But I remember when my roommate back then had the same compact foundation and hers fell from the upper deck around two days after she purchased it. The mirror didn't break but the powder did. She didn't know how to fix it, (although I already said that she can using alcohol) .. and in the end , the product went to waste. 
My point is, most students are still in their experimental stage and have the tendency to be clumsy. They buy things that they'll probably forget about using. So while P250 is a small  investment for this product, if you're not sure that you're capable of keeping it until you finish it, and you still rely on your allowance, and you have the tendency to use too much product, then it's best to skip it.
That's it!
Yours truly,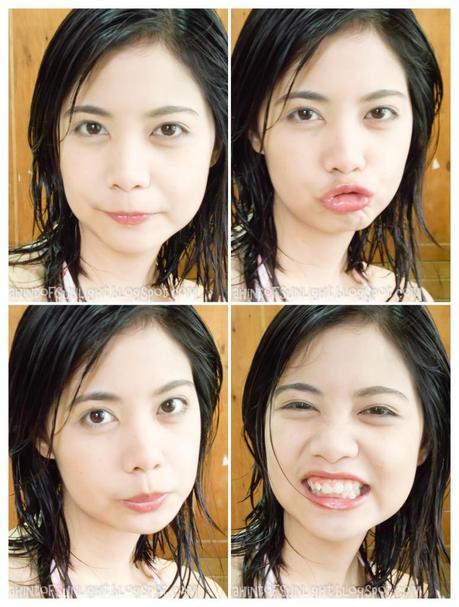 Thanks for reading!