This guest post is by M K Tod. It is about Millennial Readers. Millennial Readers is a topic of interest worldwide. There are studies going on all across the globe to understand the reading behavior. Focus is on reading behavior in general, and of millennial readers in particular.
The folks at GBrief, a group that studies have this to say about their reading habits. Millennials are the youth those born between 1982 and 2004:
"Millennials have demonstrated the tendency to read more—and buy more books—than other generations. In fact, Millennials buy 30% of books, compared to the 24% purchased by Baby Boomers. They even go to the library, with an estimated 61% of Millennials still carrying a library card. This growing generation of readers is becoming the biggest target audience of publishing companies. They are all trying to catch the lightning rod that might become the next Hunger Games."
And if you aren't convinced, a 2015 Pew Research Center survey, as reported in the Chicago Tribune has interesting facts. It says: "data about book reading suggests … the youngest demographic, 18 to 29-year-olds, the demographic most tied to their smartphones, report[ed] the highest rate of having read a book in the last year, at 80 percent."
Huh! Who would have known?
And that's not all we know. Reader surveys conducted by author M.K. Tod, who blogs at A Writer of History, offer other insights into millennial reading habits.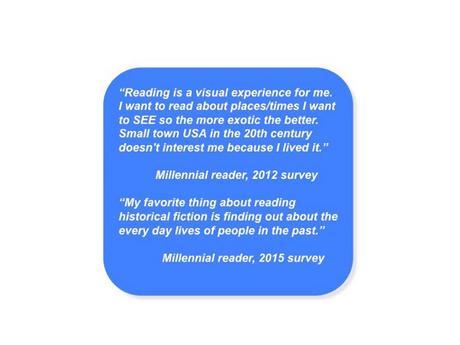 Insights into Millennial Readers
Social Media:
Not surprisingly, this age group is keen users of social media for reading purposes. More specifically, they are more likely to track their books, consult reviews before purchasing, look at comments others have made and add their voices to book ratings using social media than all other age groups. Additionally, agreement with the statements "social media makes it easier for me to find books" and "social media gives me a voice concerning the books I've read" is highest among millennials.
This demographic is more likely to get their recommendations from Facebook, Goodreads, book blogs, and other social media than all other age groups. On the flip side, they are less likely to find book recommendations from the newspaper and other print media.
Factors affecting book selection:
People under thirty are more likely to be price sensitive and more likely to be influenced by a book's cover than other age groups.
Book clubs:
Millennial readers are just as likely to belong to book clubs as other age groups.
Historical fiction:
In the realm of historical fiction—a focus for Tod's surveys—millennial readers are more likely than other groups to choose widely among historical time periods. They prefer romance in higher percentages than other age groups and are particularly keen on strong female characters. (The surveys attracted roughly 85% female participation in all age groups.) Another favorite type of historical fiction for millennials is fantasy.
Number of books read per year:
Of those who participated in the surveys (over 5,000 readers collectively across three surveys), millennials report reading the highest number of books per year except for readers over 70.
Publishing Technology and Millennial Readers
In early 2015, Publishing Technology conducted a study of millennial readers. "The survey, which polled 1,000 US consumers between the ages of 18 and 34, found that in the last year, nearly twice as many respondents had read a print book (79%) than an ebook on any device – the closest being a tablet (46%). Showing no strong allegiance, young Americans also reported reading e-books on personal computers (37%), mobile phones (36%) and dedicated e-readers (31%). And, 36% of those polled even spent more money on print books in 2014 than they had the previous year."
The difference between millennials and older generations seems to be that this younger cohort, who has grown up digital, integrates digital aspects into their lives more seamlessly. Sure they browse for books online, but they also discover books through word-of-mouth and by browsing stores and libraries. Unlike older generations, millennial readers expect to read "when and where they want regardless of platform."
The report concludes by saying millennials "are interested in great content, ease of use, authenticity, personal connection to writers and brands, and a trusted brand/site/bookstore/person to help curate that content for them."
M.K. Tod writes historical fiction and blogs about all aspects of the genre at A Writer of History. Her latest novel, TIME AND REGRET will be published by the Lake Union on August 16, 2016. Mary's other novels, LIES TOLD IN SILENCE and UNRAVELLED are available from Amazon, Nook, Kobo, Google Play and iTunes. She can be contacted on Facebook, Twitter, and Goodreads or on her website www.mktod.com.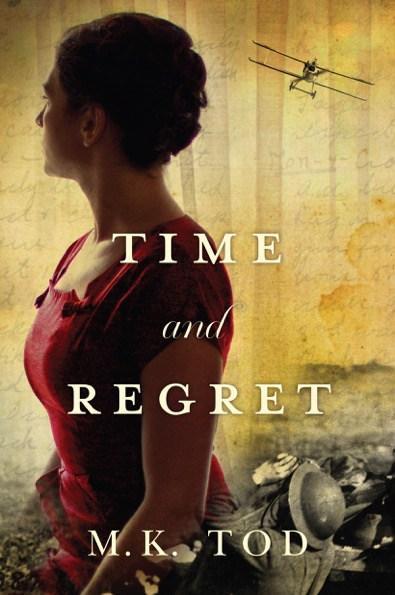 M K Tod's insights on Millennial Readers
Time and Regret: When Grace Hansen finds a box belonging to her beloved grandfather, she has no idea it holds the key to his past- and, to long-buried secrets. In the box is his World War I diaries and a cryptic note addressed to her. Determine to solve her grandfather's puzzle, Grace follows his diary entries across towns and battle sites in northern France, where she becomes increasingly drawn to a charming French man—and suddenly aware that someone is following her.