I wasn't going to do a post about my graduation because, um, I don't want it to read like I am boasting. But on reflection, I write this blog for myself, so I can share exactly what I want and am creating an archive of 'cool happenings' that I can look back on one day. My degree will probably be the best academic achievement of my life, so why not feature it on the blog?!
Also, I have at least four other posts planned for the near-future, so I really need to get this one checked off!
290 students graduated from South Essex College (Southend campus), with 28 achieving first class honours, ahem. On the night I found out that I was also selected as an award winner for outstanding commitment & achievement in animation and had to go up on stage twice, oh joy!
Even better, I'd say around half of the graduates also getting awards did a no-show so I ended up being the last graduate to receive the award. It was nice seeing my group again even though it was cut short for me because I was ushered to another area to join the other awardees who I had not met before.  We shared quizzical glances and stifled laughs when the Jurassic Park theme song randomly started playing everytime another award winner went on stage. Before I knew it I was standing by myself, like a lemon, just looking around at everyone whilst waiting for my announcement, no pressure then.. & it actually felt good. I think I usually brush off compliments, but I really did work hard for this and … Blah blah blah, someone tell me to shut up! I could have breezed through the first year without trying because it doesn't count towards the degree, but I didn't take the easy route. Just as my twin said to me, not everyone is acknowledged for their work so I appreciate this award. I am also thankful to have very fond memories of my graduation which will stay with me!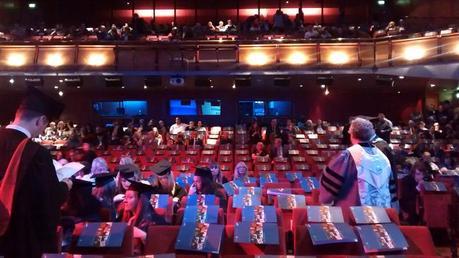 PRE-GRADUATION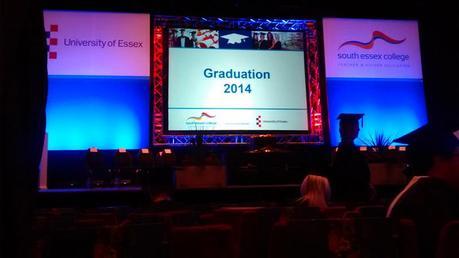 .T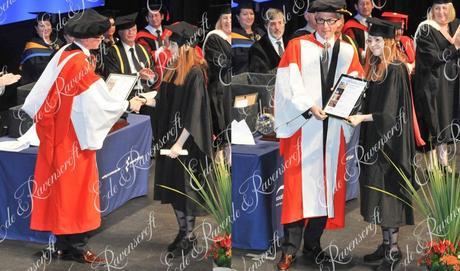 .T
 My university/ college also ran stories on their 'case-studies' & here's mine: http://www.southessex.ac.uk/article/graduation-2014-lara-king
Look forward to my posts on Japan and Hong Kong, as well as Noise Festival part 2!
Follow @larlarcharms