Speaking of blockchain technology, it never stops to bring new and innovative products to makes our life easier and fun. Thanks to the father of Bitcoin, who found it and then finally adapted to a lot of sectors.
Day by day, a lot of new ICOs with brilliant ideas appear before our eyes and one of them that I'd like to share with you, called DataBlockchain.io that I am also very excited about.



I am sure you were already familiar with this name, especially if you are blockchain enthusiast. If you haven't heard of DataBlochain, familiarize yourself by visiting their website here (https://www.dbc.io/) and don't forget to download the whitepaper here (https://www.datablockchain.io/pdf/whitepaper.pdf).
So, what is DataBlockchain.io? According to the whitepaper, DataBlockchain.io, in association with Media Direct, Inc. aims to democratize big data and level the data playing field by providing the most comprehensive marketing data solution to all businesses and individuals.
DataBlockChain.io will provide a robust interface between the business or individual and the data sources. The backend systems will ensure full confidence in data quality for the end user as well as transactional finality for the data providers.
DataBlockchain.io main objective are:
1. To empower Data Source Providers to provide access to their data and monetize it
2. To provide full transparency, traceability, and auditability to the data providers
3. To build confidence between the end user and data sources
4. To give Businesses and Consumers quality verified data
5. To give End Users a simplified easy-to-use interface with a quick payment system
DataBlockChain.io will comply with applicable privacy rules and regulations including the General Protection Regulation Act. DataBlockChain.io will not offer financial data covered in the Graham Leach Bill.
What I love about DataBlockchain.io, their project is truly different and even with additional useful features to make it even more valuable for investors. It can facilitate transaction between Business and Consumer using their native token DBC based on ERC20  (with ERC-677 functionality) that is implemented on the Ethereum blockchain. DataBlockChain.io utilizes Smart Contracts written
in Solidity for transactions, auditing and payments. The DBCCoin tokens will be used for  transactions on DataBlockChain.io and be used to remunerate Data Providers. The DBCCoin token will also function as an essential marketing tool for DataBlockChain.io as it will serve as the basis for the Rewards Program as well as incentivizing partners through a Promotion Program. These functionalities will be fully supported in the Smart Contract using Solidity.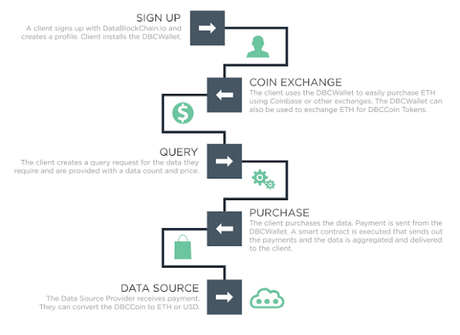 DataBlockchain.io can function as Google to find specified data under DataBlockchain platform based on user need. Besides that, you can buy data provided in DataBlockchain.io marketplace using DBCWallet. Awesome right? DataBlockchain.io also help Data Provider to monetize their data. It is amazingly a complete data service that helps Business and Consumers to engage with each other.
So, what are you waiting for? Don't miss out this chance! Participate in DataBlockchain.io ICO (Initial Coin Offering) before 21 July 2018.  This is another gem you should never miss. Visit their official here (https://www.dbc.io/) and download the whitepaper here (https://www.datablockchain.io/pdf/whitepaper.pdf). Join DataBlockchain.io Telegram Group here (https://t.me/DBCIO).
This review was made with love by myself Arwin Kim. You can contact me in Telegram @arwinss or Bitcointalk here (https://bitcointalk.org/index.php?action=profile;u=1303409). ETH Address: 0x1551d1E584234e8D388a0e74Ef1fFf55b89aEBE0.