Online.io ICO Personal Review: A comprehensive and analysis on Online.io, which aims to disrupt the internet to become completely safe from ads, malware, and tracking software.

Probably, this is what FBI and NSA hate because this platform is not only protecting you from anyone who tries to invade your privacy but it is also faster to access and without malware, spam, annoying ads, and tracking software. Honestly, I've never seen such concept since I started being crytocurrency enthusiast and this is the game changer and first of the kind.
The founders of Online.io develop this platform to reinvent the WWW (World Wide Web) experience by placing people's privacy as their top priority, thus offering a more secure, non-trackable, without malware and ad-free internet. 
Mission behind this ambitious project to invite people together to stop the government agencies and big internet companies tracking our move every time. Absolutely, you will be angry if your personal data being sold right? If it is not a big deal to you, I think you should Google about Cambridge Analytica scandal.
How Online.io Platform Works
The financial rewarding basis for website operators will be the proof of online, namely a number that quantifies the time spent by users on each website. Most importantly, everyone will benefit from an ad free, secure and private browsing experience. Also, the end users will be able to rank each website based on their experience, by using a voting system based on 1 to 5 stars. The stars will then be converted based on an algorithmic formula in Trust Rating which will be an indicative of each websites' quality, awarded by its visitors.
Online.io Ecosystem Overview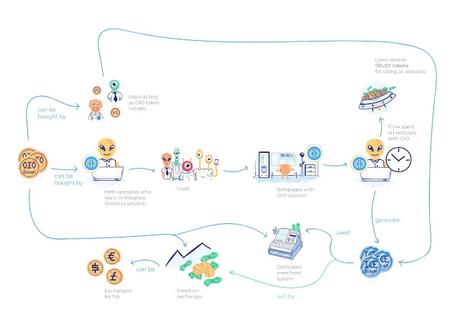 Online.io Strength and Opportunities
Online.io has taken a big opportunity to create an enjoyable experience browsing the internet by eliminating spam, malware, and tracking software, which has resulted a significant progress on its ICO (Initial Coin Offering), especially for an early stage. Online.io has raised more than $45m to date successfully with more than 3k contributors. Online.io released their
demo
, with full details available here
https://demo.online.io
. 
In today's interconnected society characterized by increased capability of everyday devices to connect to other devices and people through the internet infrastructure, the high degree of connectivity raises a myriad of consumers' privacy and data security concerns.  The advertising industry enjoyed a negative attention both from the large public and the authorities because of its less transparent practices of online tracking and behavioral profiling.
Following technological developments, online tracking became increasingly sophisticated, thus itis no longer limited to the "cookies" installed on the user's devices in order to monitor websites auser visits, but it can track real-time data accessed by a user and triangulate that with informationstored about that user's location, financial data, health records, etc. These results are thencomplied into complex and rather comprehensive consumers' profiles that are sold to digitaladvertising companies for better targeting their promotional campaigns. 
Very sensitive information is often collected thus violating consumer privacy. Moreover, theconsumers do not have access to the data collected about them and consequently cannot correctany inaccuracies.  
The Internet of Things provides a handful of opportunities for cybercrimes aiming at gathering dataregarding intellectual property, confidential personal information, financial data, etc.Consequently, the cybersecurity market is on a continuous upward trend, being driven bycybercrime. Since, there is a dramatic rise in cyber-attacks, creation of malware software both forPCs, laptops, but also for smartphones and tablets, both the companies and the end users arebecoming increasingly focused on safeguarding their personal data and thus enhancing the cyber security.
Online.io (OIO) Token
The Online tokens (OIO) are generated once and sold at the Token Generation Event. Out of the maximum number of tokens generated, 15% of the OIO will be reserved for 1 year by the company and will not be available for sale during that time.
After the Token Generation Event the OIO tokens will be available on various exchanges. The purpose of the OIO tokens is to bootstrap the development of Online.io platform.
The OIO tokens will also function as a proof of stake and generate ICE Tokens, 20% of all generated ICE Tokens will be distributed to OIO token holders who keep their tokens on a special wallet. The website operators that implement the Online.io solution will have to possess OIO tokens to be able to receive ICE tokens based on the time spent by their visitors on their webpages. The OIO tokens required to manage the websites, will be kept on an Ethereum smart contract.  

Online.io Weakness and Threat
The adoption of Online.io platform will depend on their team delivers their product to be acceptable and understandable in the market using high-throughput solution. The team has made clear which use cases they are targeting first, information on solution which is designed for different types of users provided as follows.
Visitor

. The Internet end user who is browsing the web for his own needs. 

Webmaster

. The one who owns a website and wants to monetize on the time spent by his visitors on the webpage by earning the ICE tokens. 

Infrastructure Operator

. The organization which maintains guardian, security rules and token issuing procedures.
Technical Overview
The component of Online.io include:
Online Ethereum token (OIO)

. OIO Tokens are the key element in the ecosystem. The web operators will be required to stake OIO Tokens in order to use our technology andmine ICE tokens. (through Proof-of-Stake and Proof-of-Online algorithms). 

ICE Ethereum token (ICE)

. The purpose of the ICE coin is to be used formicropayments and daily use.

Trust token (TST)

. Exists only within the private Blockchain. It is used for stimulating users to rank websites and for ranking gamification.
Further Information
Interested to learn more about Online.io platform? Visit their official and community links below.
Official Website: 
https://online.io/
Online.io TGE: 
https://tge.online.io/
Online.io Demo: https://demo.online.io/Bitcointalk ANN: 
https://bitcointalk.org/index.php?topic=3452258
Telegram Community: 
https://t.me/OnlineIO
Article Author
Name
:
Arwin Kim
Bitcointalk: 
https://bitcointalk.org/index.php?action=profile;u=13034090
Telegram:
@arwinss
Email: arwinkim [at] gmail dot comETH Address: 
0x1551d1E584234e8D388a0e74Ef1fFf55b89aEBE0