I am now seventeen weeks pregnant. Since my last update it feels like my bump has grown loads, it is as though it is getting bigger by the day. I read that babies double in size between sixteen and twenty weeks so I guess it is no surprise that I am feeling this way. According to the iPregnancy iPhone app at seventeen weeks they are approximately 13cm and weight 142g and they are developing the startle reflex which will cause them to jump at loud sounds, that is one thing they will have plenty of with Ben and Coco around.
Last week I had my first appointment with the consultant at my new hospital which was for my sixteen week checkup. My appointment was at 3pm, I was seen just after 6pm. Disaster, especially as it only lasted about five minutes and consisted of the consultant scribbling away in my notes, no check up or anything. I left feeling like it was a total waste of time. The staff blamed
Christmas
time and having to bring appointments forward so I hope that it's not always going to be like this.
I have been feeling the babies move and wriggle about for a few weeks now but last night something pretty awesome happened, my husband felt one of the babies kick for the first time. I had my hand on my tummy and felt a really strong kick, grabbed Chris's hand and a few minutes later he felt the little kicker too. Both the babies were really active all night after that and I could feel the other twin moving about as though he or she was twisting and turning around. I think they are going to be night owls just like their big brother. One thing is for sure, they are definitely getting stronger and I can't wait for another scan in the New Year to see them again.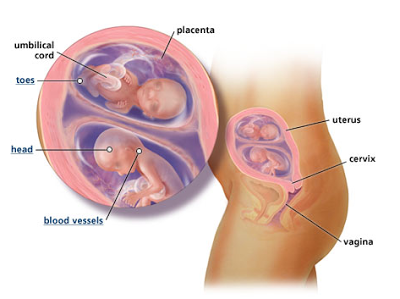 Twins - fetal development at 16 weeks (picture courtesy of BabyCenter)