Ugh, it's Monday. I hate Mondays. Like the weekend is so good. Just duvets, sweets and having the hubby around all the time. I miss him when he is at work, like I know it's just 9-5 but it's I get all 'meeeeeeeeeeeehhhhh... I don't like this'. On t.v when I see couples kissing or like in music videos ( I have MTV on all day) I'm like *sigh* I want kisses now. Is it me or after a bad day you just want to fall into you man arms? I always used to say that a guy is the perfect height when- a girls head is in line with his chest and when she wears heels her lips are in line with his. I got my wish. OMG!!!!! The mister has told me I grew!! I have been like 5'3 since I was 16! I took to wearing heels after I got married just to feel a little taller. So yeah... I'm really happy... T-T"
Sundays are kinda awesome. Baths, cooking, clean sheets and the best bit... NEW NAILS!
Nail polish has been around since the Incas -they would decorate their nails with eagles and The Egyptians would use red henna. In the 19th century cookbooks had how-to-make tutorials in them for housewives. Actual polishes originated from China and were made of a number of natural substances. Nail polishes first as per tradition came in pink, clear, red and brown. French manicures were at their height in 1920-30s, black nails were adopted by goths and emos in the 70s. Nail stamps and stickers are a quick, easy and they last for ages.
From perfectly preened manicures to the super sexy chipped red or hot pink nail. Nails can be super simple, bold block colours or deadly detailed Nicki Minaj-esque ones. Nails are now seen as a form of self expression.
My nail obsession started just after my little sister was born. She was always a super girly girl so I would paint her tiny little nails. I first started painting my own all white apart from my ring fingers which I painted bright hot pink; as I got older my nails got more elaborate. I went through different coloured manicure, band initials on each nail in black over white paint, block colours and so on and so forth. I never really tried nail stickers or fake nails. I grow my nails long enough for them to constantly be mistaken for fake nails. I'm lucky.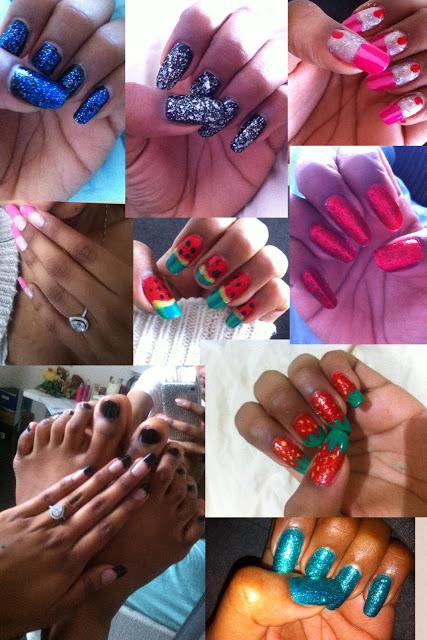 Just a few examples!
Currently I am rocking the strawberry nails! I love doing them myself. After my nice long shower, I put the t.v on and the heaters then I lovingly paint my nails, taking as much time and as much effort as a man does whilst servicing their cars whilst my husband watches me over my shoulder. I spend hours trawling the Internet looking for new designs to do.
Youtube beauty channels cutepolish, SimpleLittlePleasues (yes I know it is spelt wrong- that's how they spell it) and Pixie Polish as far as I am concerned are the best. The tutorials are easy to follow and the designs are just so cute.   
Nail polishes and which are the best depends on who you talk to. I have a like modest 20 bottle strong collection of polishes, I love them all but they are all from different brands including Models Own, Nails Inc., Rimmel, Barry M, Revlon, Maxfactor and Boots' Natural collection.
Whats your favorite nail polish/colour?

Anywaaaaaaaaaaaaaays... I think you can tell I'm a bit meh... so yeah better go and eat gherkins... 

Oh yeah and sorry but the weekend is mine! So, no posts :(




Monica

         xxx