The romance was in the air all around. We are at the residence of Alexandre Ziegler. Nidhi Dalmia is on stage with Vaiju Naravane. He is talking about his debut novel Harp. And she is asking him some very interesting questions about the book, story, and its point of origin. Harp is, in fact, is a refreshing love story with a twist. It is not like any regular love triangle. Though most of the sequences happen in Europe, there is an Indian touch to it. Two of the three leading characters are Indian. Is it an autobiography under a beautiful cover of a fictional love story? Well, the story is quite heartwarming. When the leading character Ashok travels to Europe, you automatically become a part of his romantic journey. Ashok, with an industrial background, travels to Europe to learn about the dairy industry.
Nidhi Dalmia seems to have a mastery in writing. Ashok meets Lauren and it is love at first sight kind of instance. Though this might be his first love but not the last. He falls in love with Aparna as the story moves ahead. Aparna is of Indian origin. And then you realize the mastery class of the author that brings a classy touch to this romantic story. Nidhi Dalmia is an alumnus of St Stephen's College, Delhi University. After completing his graduation he moves to Oxford University for postgraduation. And then the Sorbonne and Management education at Harvard Business School. His business responsibilities drove him to the manufacturing sector to start the professional career.
Nidhi Dalmia
Vaiju Naravane is a legendary journalist. She was in Paris for 20 years as The Hindu's Senior Europe Correspondent. In fact, she, like Nidhi Dalmia, wears multiple hats. She was a lecturer at the Sciences Po Paris School of Journalism. In fact, she was also the Foreign Fiction Editor with the French Publishing house Albin Michel. That is where she had a chance to publish some great authors like Vikram Seth, Alan Hollinghurst, Manil Suri, Daniel Alarcon, Esther Freud, Anita Brookner, and so on. Currently, she teaches at Ashoka University in Haryana.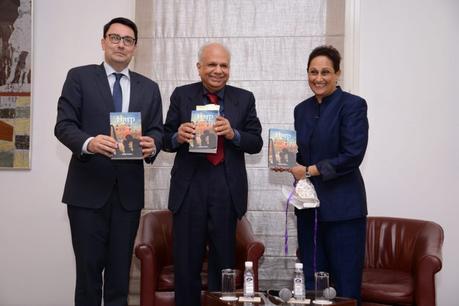 First, the engrossing discussion about Harp between Nidhi Dalmia and Vaiju Naravane. And then, the book launch by French Ambassador to India Alexandre Ziegler. It was now the right time and atmosphere for a wine party. Speaking about the launch Dalmia says, "It is truly an honor to be here and to have my book launched by H.E. Mr. Alexandre Ziegler.  Harp is a romantic novel which speaks a lot about travel, music, and culture. The book is partly set in France especially Paris – The City of Love. It is fitting that it is being launched at the French Embassy Residence." Finally, it was a lovely evening.