I've been busy reading the latest Horoscope forecast for my sign this 2012 ... browsing a couple of websites and OMG! why it all says that its definitely not a good year for me. Duhh..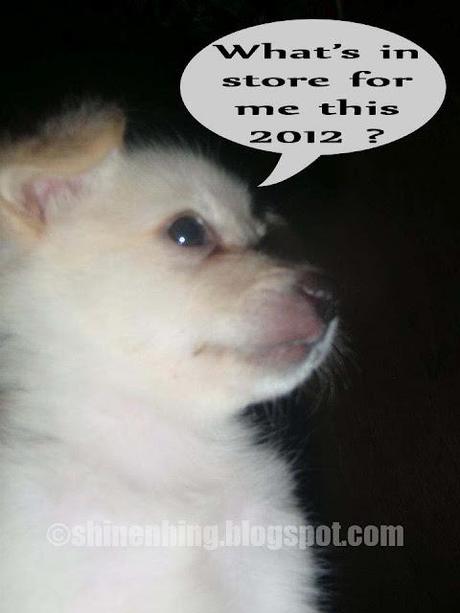 Knowing the fact that I'll be facing a rocky boat this year, I'm still positive to move a little way UP anyway.  Giving me the idea on making my own 
Top 10 Ways To Be Happy and Lucky.
SET PRIORITIES

 - You wouldn't have a clear plan without knowing your priorities whether its career, studies, family, business or anything that interests you.  

Set and make a plan for it.

GET AN INSPIRATION

 - I'm not kidding on this ... having some sort of inspiration would drive you to continue with your plans prior to my Rule No.1

BE PROUD

 - Believe in your own skills.  Don't give that sole job to your mom.. We already know that they're our No.1 fan.  Confidence is the Best convincing tool I swear! 

Give it a try.  Show them what you've Got and Let your hidden talent comes out.

BE CONTENT

 - It's the secret to be totally HAPPY.  Strive for Today,  Look forward for Tomorrow & Always be Thankful for the Future.  Wish for ENOUGH but not for TOO MUCH.

SMILE

 - Do things that could draw smiles to your face.  Try to eat your favorite dessert without thinking how many calories you could get from it.  Play with your pet til' you both get tongue-out exhausted.  Go shopping galore..just don't mind having bill shock after a few days.  Sing like a rock star and annoy everyone with your hilarious singing voice.  Haha.. I know you somehow smile! What I mean is 

Just Be Yourself and Don't care much 'bout what the whole world says.

PAMPER YOURSELF - Its not a baby's thing... like sleeping for long hours, breakfast in bed, taking a warm bath.  Grown-ups like us truly loves all that stuff!  Take time to visit the salon or spa to have a nice hair-cut or make-over.  That refreshing feeling transform us in to our favorite icon like Tom Cruise or Angelina Jolie.  Hey, 

sometimes we really need to treat ourselves like a God/Goddess! ooh..wow!

LIVE WITH NO REGRETS

 - Reminds me of the saying 

"Life is too short to live with regrets"

, "What's done cannot be undone", "Truth hurts".. and on my own version 

"C'mon Wake Up!"

 Forget about the "I should have been", "If only" and whole drastic story.  If not now? When??  Men, don't just be a SHADOW with no perspective, Step forward! Lead your life! and everything good will follow.  I know its a long process but it must start the soonest you CAN.

LET IT ALL OUT

 - Don't be ashamed to Cry.  It's not just a childish thing... It's the Normal Thing.  Do CRY when you're sad to let all the pain comes out.  

Take time to Heal.. But don't take a Lifetime for it.

LOVE - 

Meet people halfway and Be thankful for those who loves you.

 It's not an obligation... It's a Privilege... Make them feel that you're WORTH of their Love for they chose you to be part of their lives.
If all else fail, PRAY - Always remember that 

Miracles do Happen Everyday

 and you're a living proof of it.  We're on to an endless journey and everything happens for a reason.  

A

ccept the fact that Life isn't fair.  No Stop...No Pause...No Rewind...nor Fast Forward.

  The world has its own system and we are a part of it.  

Take CONTROL and Hold on to HIM.
While scribbling the notes above, I realized...Hey! I'm ten times (10X) as lucky as the Water Dragon.  
There's still more to
Celebrate in Life No Matter What
Comes Along 
J