A busy, but very fun afternoon was had here today as I was a #DocMcStuffins Twitter Party host. Before the party I was sent a special box full of everything needed to throw an amazing Doc McStuffins party which you can read about here.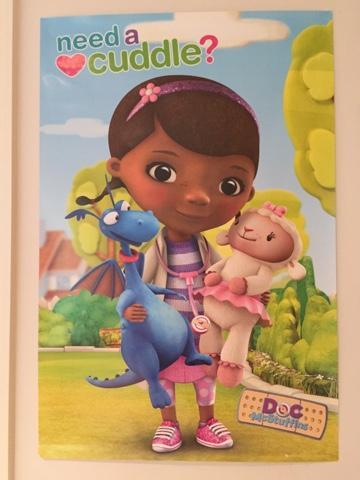 Need a Cuddle?
Party Games & Activities
We were sent a list of activities and party games to keep the children entertained and having fun with the fantastic Doc McStuffins toys. First up was Speed Scrubs Dress Up which was a spin on pass the parcel where the children passed around a Doc McStuffins Doll and when the music stopped they had to quickly get dressed in the Scrubs Set and Light Up shoes (I wish those shoes fit me). 
Dressing up proved to be serious fun and all the children loved donning it, with the shoes being a massive hit!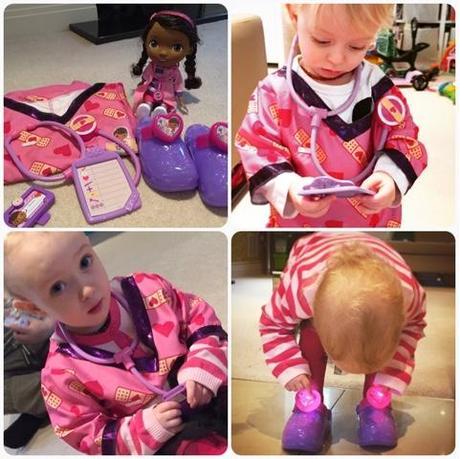 Speed Scrubs Dress-Up
Next we played Dentist Tic Tac Toe using dentist instruments instead of the usual noughts and crosses.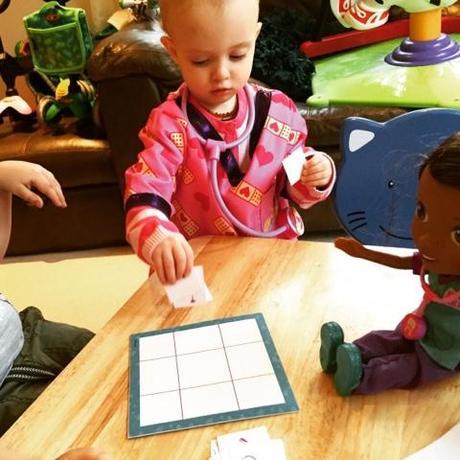 Dentist Tic Tac Toe
This was followed by lunch and free play time where the kids enjoyed yummy Kiddylicious milkshake melts and Wrigglys, Ella's Kitchen cookies amongst other treats while playing with the Doc McStuffins toys and colouring in some
Doc McStuffins colouring in sheets
which you can download for free.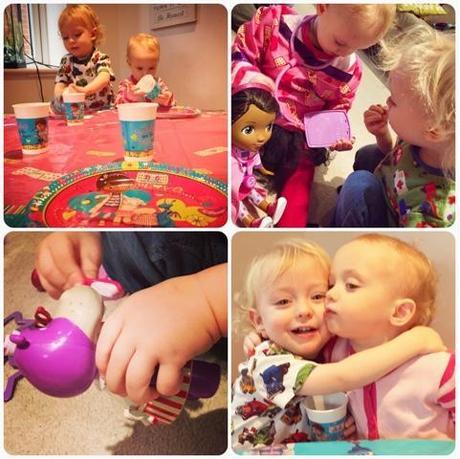 Lunch & Free Play Fun
Next it was Eye Test time. We were provided with a very clever eye chart using Doc McStuffins characters which the children could identify. They also got to test out the fantastic Doc McStuffins Eye Doctor Bag. The kids had to form a line and take turns reading the eye chart while also using the doctors equipment to check their eyes. They loved this game and the light up head band was definitely in demand with lots of happy smiles when they got their certificates. Another fab game for little ones and really helps them to understand what happens when you go for an eye test.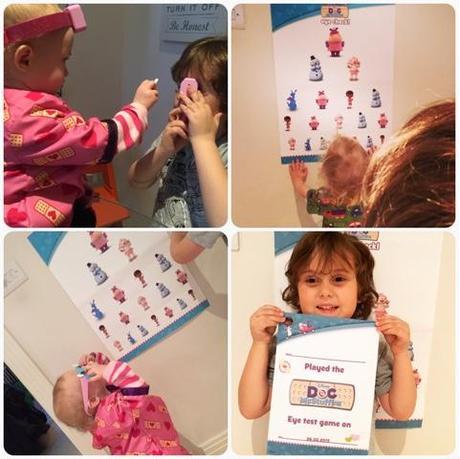 Test your eyes with Doc Mc Stuffins
Finally we got our craft on making up our own eye test charts with lots of cutting, sticking and glueing involved. I was very impressed with the end product.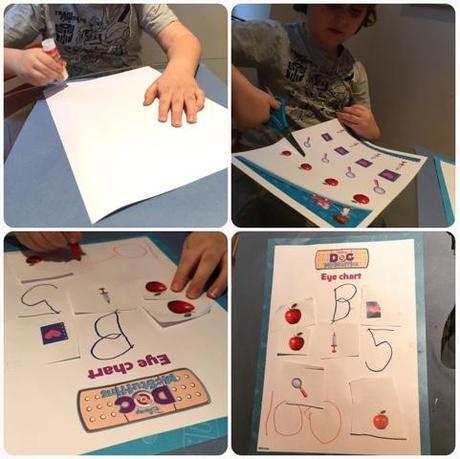 Make an Eye Chart
I have to say we were very sad when the party drew to an end, it was hectic tweeting and keeping all the activities on the go but it was serious fun from start to finish and there was a definitely sense of accomplishment to see #DocMcStuffins trending on Twitter. The children thoroughly enjoyed themselves and were very happy with their party bags as they headed home.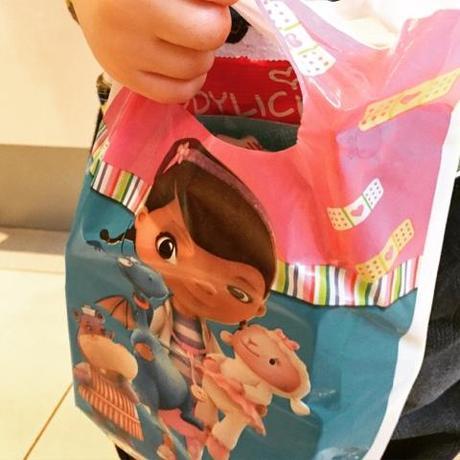 Goodie Bag Time!
What we thought of the Doc McStuffins toys
Well if the children's reactions are anything to go by, they get a massive thumbs up, they (both boys and girls) loved playing with them all from the role play dress up Scrubs Set and fantastic Light up Shoes, the Eye Doctor Bag Playset to the Doc McStuffins dolls themselves.
The toys are really well designed with excellent details such as Hallie's retractable teeth which comes with the Dentist Doc McStuffins doll and accessories including a tube of toothpaste and toothbrush which the children really enjoyed using and allowed them to carry out their dental examinations. Similarly the Eye Doctor Dottie Eye Specialist Doc is fantastic and comes with glasses, eye drops and instruments to examine Hootsie's eyes which are cross eyed without the glasses however when you pop them on they magically straighten up which was a source of much amazement to the little ones.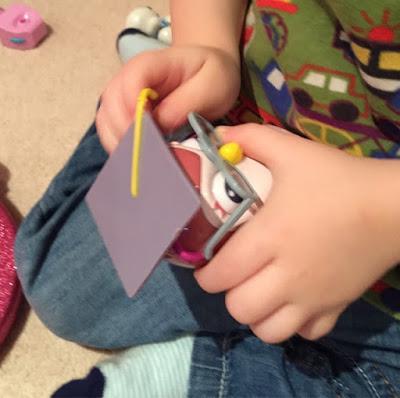 Glasses magically make Hootsie's eye straight
One thing that I took from this party and getting to see the children play with them is how great the Doc McStuffins toys are for helping to dispel any fears little children may have about trips to the doctor or dentist. By role playing and using the various doctors instruments they can be prepared for, and understand, a whole host of medical scenarios they may have to face. I can definitely recommend them. You can check out the full range of Doc McStuffins toys at
Smyths Toys
.
I want to say a big thanks to
UKMums.tv
and Smyths Toys for inviting us to host this #DocMcStuffins Twitter party - it has been awesome fun!
*Disclaimer: I received a box of Doc McStuffins goodies including toys and the materials needed to host this party.