Papa Buns is a new age and just a 2-month old cafe in GTB Nagar in north Delhi. Since it is a cafe, it is a good place for quick bites, cool drinks, hot beverages, desserts, and a lot more. That means, in terms of variety, there are a lot of options. As the name suggests, Buns is a specialty here. In fact, anybody can correlate the first dish here with childhood. It is Classic Bun which is nothing but a Bun with a filling of butter. Chocolate Bun is an exception in this category. Because it is sweet. Rest buns like Vegetable, Paneer, and Chicken. The concept is good. A bun is cut from one side in half and the respective filling is done.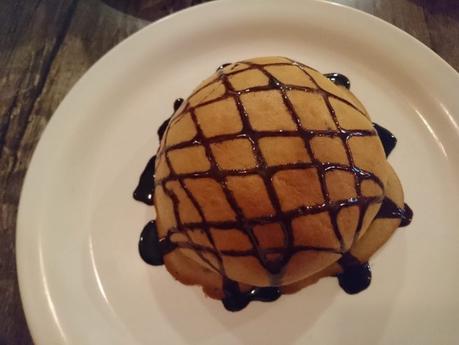 We had chocolate and Chicken Buns to start with. Both are good in their respective zones but I think there is a room for a little more filling. And that is fine. Since Papa Buns is very new, it will evolve to optimization gradually with experience. As far as experience goes, it belongs to the same group that has Mr. Brown in Indirapuram. And if you compare the two, the former has a long way to go to reach par with the latter. It is in terms of cleanliness, hygiene, and cooling. But then, since it is a fresh start, it will surely pick up fast. There were flies around in the restaurant. A flycatcher device at the entrance and another in the kitchen might resolve the issue. That will take care of cleanliness and hygiene. Cooling was not perfect that might need some redoing.
Papa Buns
Otherwise, the food quality, seating, and ambiance are fine at Papa Buns. Tomato Cheesy Pasta is quite unique. Instead of Tomato Sauce, they can also try Tomato Puree. Veg Supreme Pizza had an extra punch of red sauce. I think the staff here needs to visit Mr. Brown Indirapuram to taste the benchmark and then align all energies to achieve it. But I am sure, Papa Buns will achieve the level in no time since the management is same that is taking care of both the locations. Did I tell about some fabulous range of pastries and cakes? Better you experience them on your next visit!