Paw Patrol is definitely very big in our house so I knew the kids would be extremely excited to get their hands on the wonderful Weebles version of their favorite pups. We were sent six Paw Patrol Weebles  from the Nick Jr show,  Marshall the Firefighter, Chase, Zuma, Skye, Rubble and everyone's favorite bulldog, Rocky.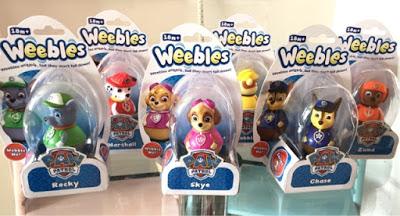 Paw Patrol Weebles 
I think most parents of young kids who watch childrens tv will be familiar with the adverts for Weebles and the jingle "Weebles wobble but they don't fall down.." The good news is that they really don't, you can knock them, throw them roll them and so on and they will always wobble their way back upright. A very clever design indeed.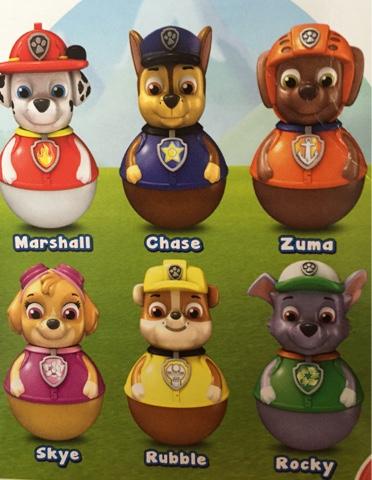 I love the fact that they have teamed up with Nick Jr to create Paw Patrol versions which are instantly recognisable especially as they are attached to their own shield shaped base.
Our Verdict
The Paw Patrol Weebles were an instant hit here. Zoey instantly took ownership of Skye her all time favorite pup and Zachary was chuffed to see Zuma and Chase. The twins already have a Peppa Pig Weebles playset so they decided the Paw Patrols pups had to go on their first mission to save Peppa who was stranded on a rooftop. It was quite amusing just listening to them play and hear their imaginations come to life as they rescued Peppa and then had fun playing with her on the slide and swing.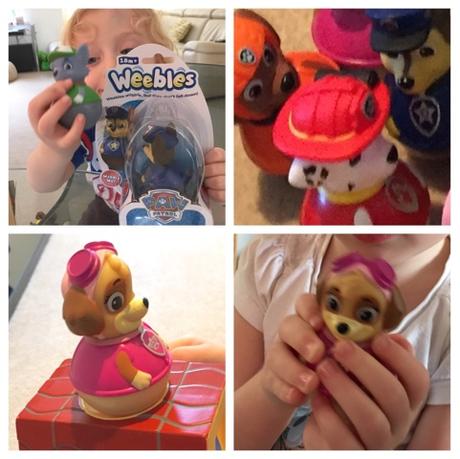 We can definitely give these Paw Patrol Weebles a big thumbs up and the exciting news is that we've heard there's a great play set coming in summer too, we can't wait to get our hands on it
Paw Patrol Weebles are available to purchase at all the usual toy retailers and online from Charater-Online priced at  £4.99. 
*Disclaimer: I received a set of six Paw Patrol Weebles in exchange for a review. All views and opinions are my own and unbiased.