We love Peppa Pig here, a day never goes by without Peppa and friends making an appearance in this house so the Classic toys we were recently sent to review have definitely been nothing short of a hit. We were lucky enough to receive Peppa Pig Air Peppa Jet and Peppa Pig Peppa's Home and Garden Playset which are fantastic fun and perfect to keep little Peppa fans entertained.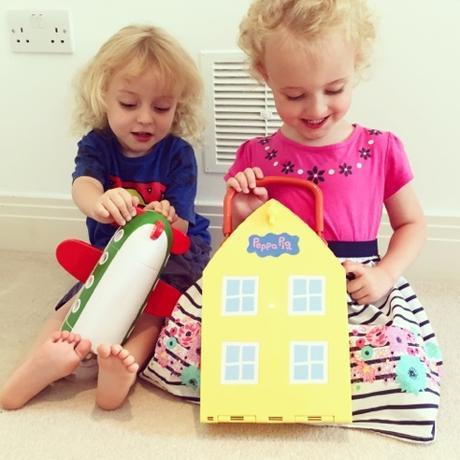 Air Peppa Jet
The Air Peppa Jet is perfect for taking Peppa on adventures, ours is so awesome it can even fly to the moon. It is full of great features and details including a pull down stairs, a rear storage compartment where you can pop Peppa's luggage in before taking to the air, and an openable cabin for children to move the Peppa Pig character that comes with it around the plane. The pilot, Miss Rabbit sits in the front and there is even enough room in the cockpit for Peppa to come and help fly the plane, apparently she is a fantastic co-pilot (according to Zachary).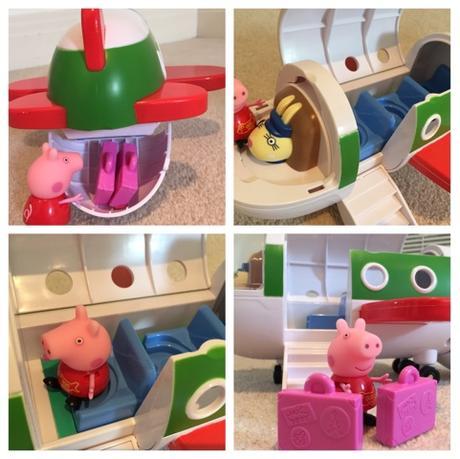 Home and Garden Playset
Fans of the show will love this as it is instantly recognisable from TV. The house opens up to reveal four rooms and an attic for storage. The rooms are all decorated just as in the show and it comes with accessories such as a fridge, bed, sea-saw and tree to complete the garden. Both Peppa Pig and George are included and this is one toy which really does lend itself to hours of play as children recreate the stories they have watched on tv and even go on to make their own. The playset folds up neatly for storage and the great thing is that your little ones never need to leave it behind as it comes wth a little carry handle which allows them to take it wherever they want.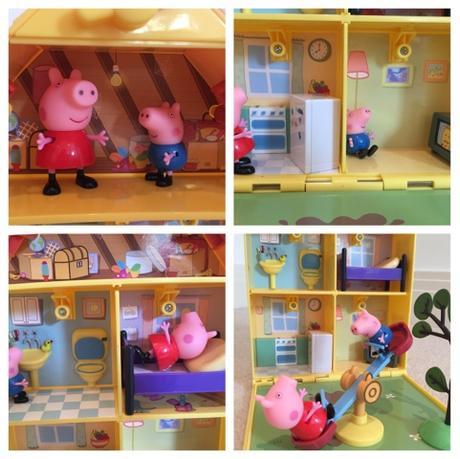 Our Verdict
My three year old twins and even their six year old big brother have had so much fun playing with these two classic Peppa Pig toys. The playsets are perfect for imaginary play and I have witnessed some amazing adventures unfold in my living room since it arrived - I actually think I should submit them to the writers of the show. The detail and quality are all fantastic and the toys are robust enough to stand the demands of preschoolers play. The figures which come with the set are great as they are poseable and so can go on the see-saw, lie on the bed and co-pilot a plane.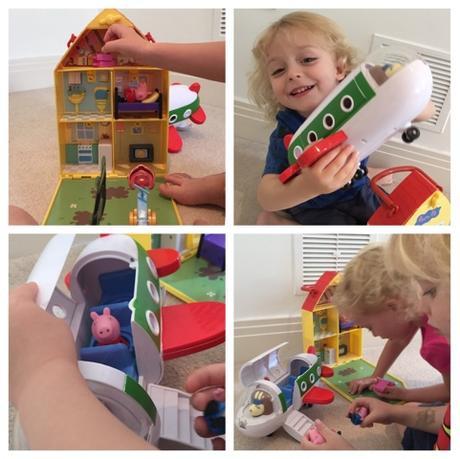 Your kids will not only love playing with their favorite  Peppa characters but will also develop fine motor skills as they open the door on the plane, unlock the Home and Garden set and help Peppa and George play on the see-saw. For me though it is hearing the little stories and adventures that are told as their imaginations ignite that I love so much.
I can definitely recommend both these Classic Peppa Pig toys along with the others in the range, they are perfect for new and old Peppa fans as let's face it kids can't get enough of the little pink pig. You can purchase the Air Peppa Jet playset and Home and Garden playset from Argos and the usual toy retailers. Finally I leave you with a video of the Classic Peppa toys - enjoy!
*
Disclaimer: I received the Peppa Pig Air Peppa Jet and Peppa Pig Peppa's Home and Garden Playset in exchange for a review. All views and opinions are my own and unbiased.