weiDex is a new player in Decentralized Exchange (DEX) that protects your privacy. Personally, I believe this exchange will be the game changer because you don't need to use your name, email and other credential information to register. This decentralized exchange relies on smart contract logic to process all logic. So, no third party involved because this idea what makes weiDex different. Therefore, only users have liability to control over their assets to avoid any human mistakes possible.
Using the best and user-friendly weiDex exchange, you can make live Multiple Orders Fulfillment that charges you with just one transaction! You can find no other decentralized exchange that offers this feature. It is extremely important if you are a heavy trader to manage all your transactions easily. This innovative feature helps you to avoid expensive cost and long time consuming transactions.
weiDex has experienced technical teams to handle blockchain tokens to get listed faster within 24 hours after submitting request. After paying listing token fee, weiDEX will also provide an airdrop of your fresh new tokens for their loyal costumers. weiDex supports all Ethereum based tokens and fortunately they will also support NEO based tokens by the end of the year.
Now, let's take a look at weiDex user interface.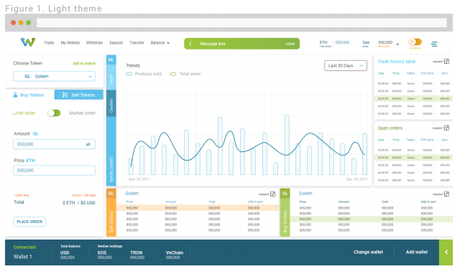 weiDex has developed a working platform that enables users to feel a great experience. The developers are working hard to create a successful user-centered design encompassing the principle of human-computer interaction (HCI) and providing the exact needs of the customers. It doesn't stop there. weiDex will keep providing simplicity and elegance that produce product to meet customers needs effectively.
Furthermore, you can also use weiDex for initial token distribution following your own rules. The platform can list and distribute it which is more cost-saving and time-saving . This beautiful feature will make crowdsale contract possible to get replaced by exchange service thereby giving you the opportunity to make any bounty programs with their built-in referral system.
weiDex is a fully featured decentralized exchange with a lot of advantages over centralized exchange. Most of them undeniably are about security, privacy, availability, and transparency.
Competing with other decentralized exchanges, weiDex has powerful advantages that you should consider about.
1. Referral System Program
2. Low Fees
3. Multiple Order Fullfilment
4. Tokens Airdrop
5. Cross-Chain Transactions
Are you interested to learn more about weiDex and participate in the crowdsale? Please, take a look at the token specification below.

Token Name: weiDex
Token Symbol: WDX
Token Supply: 50 M WDX
Token Type: ERC827 (extended ERC20)
Token Decimal: 18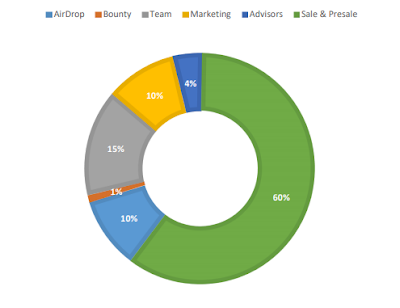 Please, note that weiDex maximum cap is just $15,000,000. The total amount of token sold will be only 30,000,000 WDX from allocation pool. So, make you sure you grab this opportunity right now. For further information, visit weiDex official website here (https://weidex.market/) and download the whitepaper here (https://weidex.market/images/whitepaper.pdf).
This review was written with love by myself, Arwin Kim. You can contact me in Telegram @arwinss or Bitcointalk here (https://bitcointalk.org/index.php?action=profile;u=13034090). ETH Donation: 

0x1551d1E584234e8D388a0e74Ef1fFf55b89aEBE0