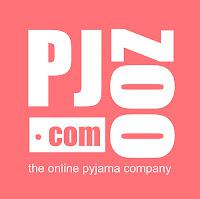 I instantly loved the look of the pajamas from pjzoo.com with their cute animal prints as soon as I saw them online and was delighted when we received a gorgeous set of the Little Dino ones to review. I can honestly say that out of all the many pajamas I have put on Ben, these are easily one of my favourites not just for their cool design, but their excellent quality and the clear comfort factor. As for Ben's verdict, being more than a just little dinosaur obsessed, his eyes lit up when he set eyes on the print and I do think he would wear them all day and night if he got half a chance.
The pajamas are made from lovely soft cotton with a short sleeved jersey top and three quarter length striped jersey bottoms. I like the fact that the bottoms are three quarter length as opposed to shorts as they are not too warm or cold which is ideal given the summer we are experiencing in the UK so far. Boys and girls alike will love the fantastic selection of animal designs which include a panda, rhino, turtle and monkey to name but a few.
The story behind the origins of pjzoo.com is definitely an interesting and unexpected one. It all started when a film director and a financial director met and took inspiration from a vast collection of artwork which had originally been created for books, animation scripts and film ideas. Among these illustrations were a series of animals drawn by artist Ben Wiseman which somehow went from being film ideas to fashion inspiration and resulted in pjzoo.com being born. The outcome is a bespoke collection of novel children's pyjamas each featuring it's own animal design. Pretty cool isn't it to think that the animals on your child's pajamas were originally designed for film.
It is also worth mentioning that pjzoo.com have a
facebook page
where you will find a number of downloads such as this print out colouring in picture and fun games along with information on how you can get involved in a program for the world wildlife fund, which involves using the Facebook Like function to help adopt some of the animals of the amazon rainforest.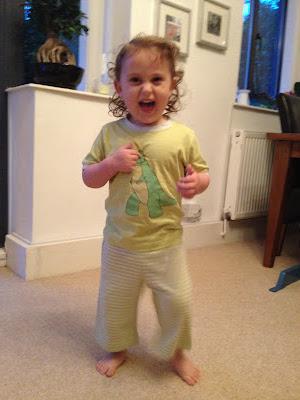 Ben loves his little dino pjzoo.com pyjamas!
pjzoo.com pajamas come in sizes suitable for little kids aged two to six years and big kids aged seven to twelve years and are available to purchase online with little kids priced at £18 and big kids costing £20.
* Disclaimer: I received little dino pajamas free in exchange for a review but this has in no way biased my opinion - we love these pyjamas!