A couple of years ago I made a little sweater for the telephone pole outside of my house. It was nothing fancy just a nice little cozy that I looked at while leaving or coming home and sometimes I saw people take pictures of it or touch it and it made me feel so happy to see people interacting with it. The other day I came home, and it was cut down the middle and thrown on my front garden!!! How rude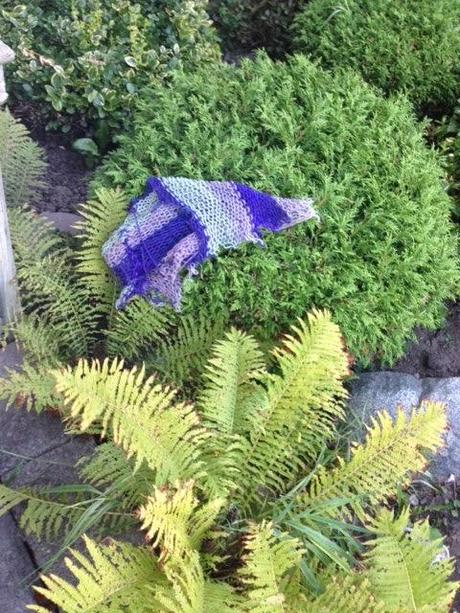 sad little pole sweater
I was already having a bad day and then this. Sigh. Who would even do such a thing?? I guess it was getting really old and ratty but I saw someone take a photo of it LAST WEEK. Anywayyyy I decided to not let it get the best of me, and instead I wanted to make an even BETTER pole sweater! After all, I have an entire closet of yarn that is getting a little out of hand. 
I found some yarn that I bought last year that I absolutely love but haven't found a project to use it for. As I cast on I guessed at how wide I should make, and thought it would look nice with a heart in the middle so added that in too. In the end it fit perfectly!! And now I can share the pattern with y'all. Here it is.
Materials:
- 1 ball of Super Bulky yarn (I used - Red Heart Vivid yarn - this stuff is EXTRA bulky fyi)
- some excess yarn in a different color (I used Wool-Ease Thick & Quick - not as bulky but still fine)
- 1 pair of US size 19 (15mm) knitting needles (I like to use circular needles)
- 1 tapestry needle
- scissors
Pattern:
Cast on 23 stitches
Rows 1-5: knit 
Row 6: purl 
Row 7-17: use stockinette stitch (knit odd rows, purl even rows) while working in the heart pattern with your contrast colour
Row 18-21: continue in stockinette (your heart should be complete)
Row 22-27: knit
Row 28: bind off with a long tail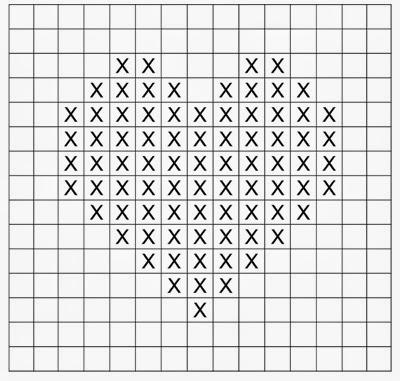 heart pattern from Craft Passion
Assembly: 
- Using your tapestry needle, sew the sides together with the telephone pole in the middle. To have extra security, sew it up and then back down again
- Cut any extra yarn and hid the ends on the other side of the sweater
Finished!! Enjoy your little sweater pole, and hope that no one cuts it down the middle, at least not for the first 2 years ;)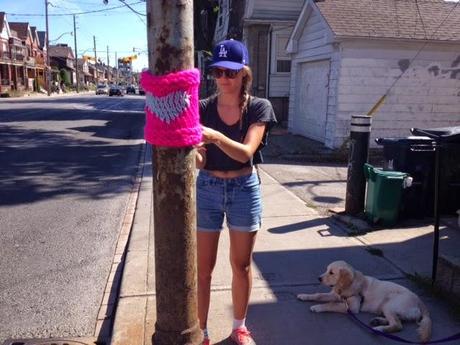 Goldie guards to make sure no one will cut it off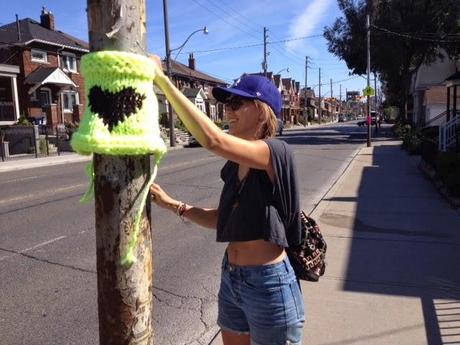 neon + heart yep yep yep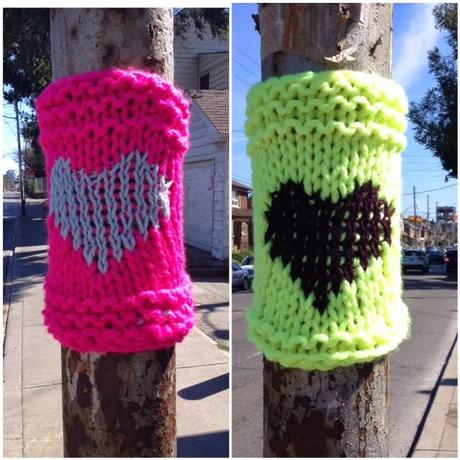 yay!! finished pole sweaters!!
Let me know if you make one!! I would love to see it, share it on instagram and tag me. 
xxxx