Recently I made the amazing "Oh my bear" sweater from Tiny Owl Knits, but it turned out looking more like a cross between a wolf and a bear because of the colours that I used. Coincidentally my DIYBFF and her husband to be's spirit animals are a wolf and a bear! After making the sweater I knew I had to incorporate this pattern into something for them. I decided on pillows and bought a second pattern set from Tiny Owl Knits - The Woodsy Association for the actual wolf pillow.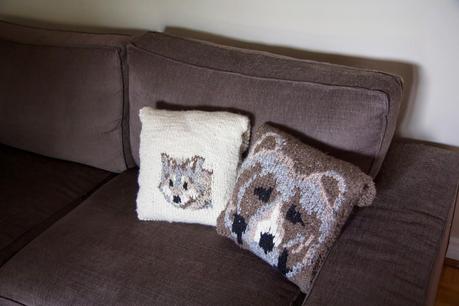 I used super bulky wool (Lion Brand Wool Ease thick & quick) and size 10 needles. 
Cast on 37 stitches 

Knit row 1

Purl row 2 

Knit 2 stitches and work in pattern, knit last 2 stitches

Work in pattern until bear is complete

knit next row

purl next row 

Add one stitch and knit in seed stitch for about 4 inches, include three evenly spaced button holes

pick up stitches at bottom and knit in seed stitch until length matches length of stockinette stitch on other side

sew up sides of pillow and add bottons to back

insert pillow form

repeat with Wolf pattern - being sure to center the pattern appropriately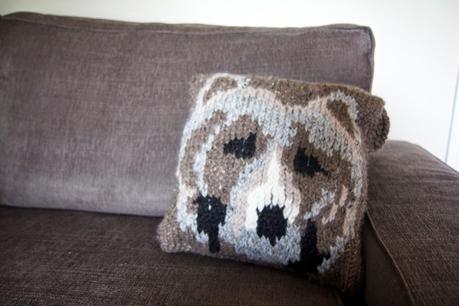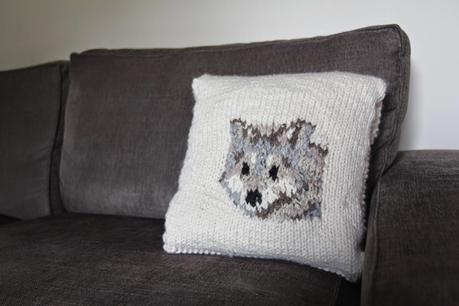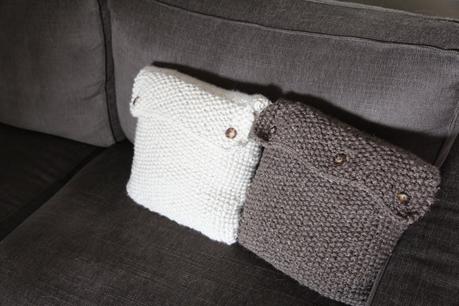 And there you have it!!! Let me know if you end up making them. They look difficult but were sooo fun to make and once you get the hand of color work aren't too difficult. I tried to draft a wolf pattern that was as big as the bear but I didn't have enough time and didn't want to risk it. So I just gave up and did the pattern in the size given by TIny Owl Knits. I mean it's a homemade gift so can't be perfect right? 
xxxx