And we're done with the seminar. Yey!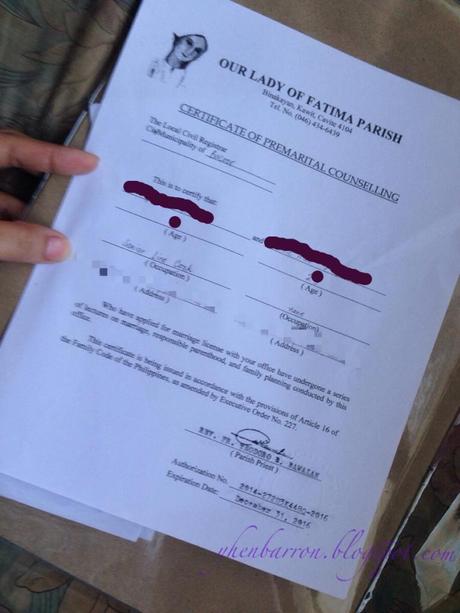 It's a two consecutive Saturday seminar at OUR LADY OF FATIMA PARISH(where we will be getting married.). The seminar is from 8am to 12nn. There are 5 other couple with us during the seminar. Some are getting married this July and some are on December
pa
. There is this speaker who asked us to introduce ourselves.
Kaloka pero enjoy. hehe!
We have a total of 4 speakers who discussed different topics such as Christian marriage, Christian family, the Sacraments, and communicating.
I'm going to share to you some of the things we have learned (and realizations) during this seminar.
Christian wedding is different from civil wedding. In christian wedding, you are confessing your love and commitment to your spouse AND to God. In civil wedding, you are confessing your love and commitment to the Judge or Mayor.
The W.E.D.S.S approach when you have a misunderstanding:
W-writing. Write a letter about how you feel and what you are thinking.
E-exchange. Exchange letter with your spouse before you go to sleep and read it alone.
D-discuss. Discuss the letter, your feelings and whatever that is included in that letter.
S-select. Select your options and decide on what to do with your problem(s).
S-sex. This one is optional. :)
Marriage is not all good and happiness. You must learn to accept and love the person even beyond his imperfections.
Wives should take good care of their husband and kid(s) as husbands should provide for the family. Though, this day, there can be an exchange of roles.
Always put God in the center of your relationship and family.
Remember Him not just during your "down" moments but also during your moments of joy, accomplishments and success.
The three vices everyone should have:    
ALAK- Alalahanin Lagi Ang Kapwa
BABAE - Basahin Ang Bibliya At Ebanghelyo
SUGAL - Sa Umaga Gunitain Ang Lumikha
The catechist also discussed with us the Sacrament of Marriage and the meaning behind the symbols we used during the ceremony.


Candle - symbol of lighting our path.
Veil - the veil is put in a way that the bride's head is covered and on the groom's shoulder. The groom's head should not be covered. It means that the groom is the head of the family. The husband should be God-like. As God is the Head of the Church, the husband is the head of the family.
Cord - the bride and groom is united as one. Thus, no man can separate what God has joined together.
Arrhae - symbolizes the ability of the groom to support his wife. During the ceremony, the groom hands the arrhae to the bride. It symbolizes that the groom should provide for the family and the bride will be the one to manage whatever the husband will give.
Ring - it is circle because our love for our husband AND God is never ending. It is forever. It is a lifetime commitment.
We also learned..


If your first marriage is annulled, the Church cannot marry you. Because you are still married in the eye of our Lord.
Church don't allow rings that are not square-shaped. I don't know if all Catholic church have this kind of restriction.
There are surely more learning and realizations during this seminar than what I can write.
 I realized the impact of this decision, to get married. But I'm also happy that we chose to have a Church wedding rather than civil wedding which is our original plan.
 I realized that my partner have imperfections and shortcomings, but I also have those. Marriage is a two-way street.
The most remarkable words for me during this seminar from one of our speakers:             
"Tignan mo ang kapupunan ng partner mo. Hindi yung kakulangan nya."

And then we ended the seminar with a very beautiful song...                       
"When there's no getting over that rainbow                                                                                                   when my smallest of dreams won't come true.                                                                                              I can take all the madness the world has to give.                                                                                         But I won't last a day without you."