I recently received the Philips H2020 400W Blender from Littlewoods and I have to say I absolutely love it. It is powerful, functional and compact which makes it an essential in any kitchen, big or small if you ask me. I have tried other blenders in the past but the attraction always wore off pretty quickly due to the hassle it takes to get them clean and store them. This is not the case with the Philips blender though, it is easy to clean and I love the fact that the large 1.75 liter storage jar fits over the base which makes it small and easy to store.
We have had a lot of fun making a variety of yummy smoothies with the blender which has definitely meant an increase in our daily fruit intake. Ben loves picking what fruits go into his smoothies and thankfully hasn't come up with any strange requests just yet. We haven't just stuck to smoothies though, as this blender is great for crushing ice and whizzing up soups too. To make soup just throw in a variety of vegetables, a selection of herbs, one and a half to two cups of water and let your shiny new blender do it's magic for you, then pop your blended soup in a saucepan on the hob and heat it - beats opening a can or a carton any day! I found some great ideas on the net too such as Blender Potato Pancakes which are top of my list of things to try.
So now for a closer look at my new kitchen beauty, here are some photos as I unpacked it from the box.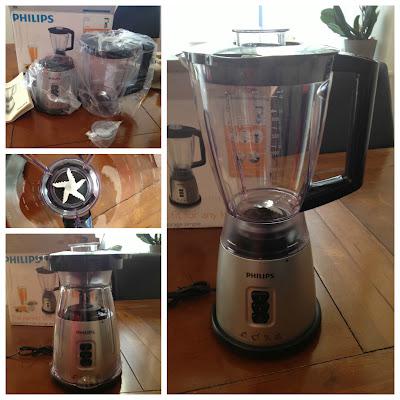 Next to show you it in action. This morning Ben and I whipped up some pear and apple smoothies in seconds, we used two apples, a pear and a splash of apple juice. Ben couldn't get enough of it and kept asking for more.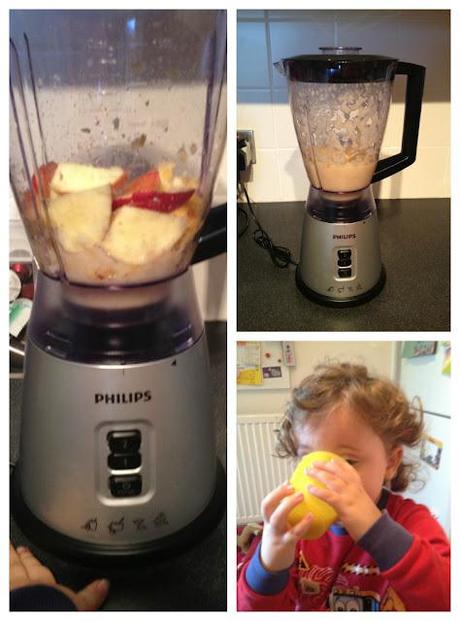 I like the fact that the base of the blender grips to the surface, the 400 watts and the five star serrated blade means it can easily crush ice and tackle any hard fruit or vegetables you pop in it. It has two speed and pulse action. I can highly recommend this blender, it is easy to use, powerful, sturdy and compact to store yet not skimping on size or performance. The Philips H2020 Blender is available to purchase from Littlewoods and costs £45. 
* Disclaimer: I received the Philips H2020 Blender free of charge in exchange for a review. All views and opinions expressed are my own.