With the launch of QuietComfort 35 (QC35) the future has become present. You can now perform the activities of both the buckets – Imagination and Beyond Imagination. Well, there are a lot of things that we keep imagining. Right since our past. That keeps creating components of imagination bucket. And imagine, if someday that imagination bucket becomes empty all of a sudden. What that means is that all that imagination things become points of reality. You find them in real. Right in front of you. That is what is true for QC35.  Its cost is within INR 30,000. But that is worth. It is something the best for life kind. You buy it and then you forget something in near future will be able to match it. Or even something will be able to surpass its quality, features, and service. Companies like Bose are the creature of benchmarks.
QuietComfort 35 Wireless Headphones have become a legend for others to follow. You own it and you feel proud of yourself. You own it and you become a creature of your ideal world of sound and music. It is the best from Bose. And it will remain best for the whole world. Not only for now but for time to come. It comes with Google Assistant built-in. Bose products are truly the frontrunners and unbeatable. They are true leaders in their field. Now you have a virtual personal assistant (VPA) with you. All the time. In fact, this is something you need to experience. On your own. Only then you will get to know its great features. The headphones come with world-class noise cancellation. Rather you can set your desired level for noise cancellation depending on the environment around you. That is fabulous by all means.
QuietComfort 35 From Bose Come With A VPA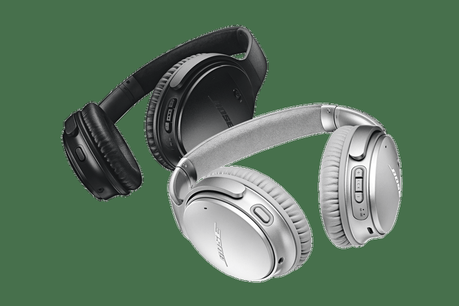 So with the help of this VPA Google Assistant, you can play the music of your choice by just commanding with your voice. There is no need to browse, search, and glance at your phone for all this. That makes it a great time saver. Not only that, it also gives you a peace of mind. In addition, you receive texts and get answers without any hassles of using your fingers or glancing at your phone screen. Because all this happens with your voice. QuietComfort 35 II is simple to operate and manage. Just by pressing hold and action buttons, your conversation with Google Assistant begins. And there is nothing to worry even if you are not a Google user. Just by using the Action button you can adjust noise cancellation level. There are three settings for these levels. And that is not all.
There is a lot more in store for you with your QuietComfort 35 II. Now you are the creature of your own world where it is just you and your favorite music. The music that melts into your ears with best of quality and performance. Just with the help of QC35. Its state-of-the-art Acoustic Noise Canceling technology keeps active all the time in measuring, comparing, and reacting appropriately to outside noise. It smartly cancels the outside noise with the opposite signal thus optimizing the quality and performance to its best. In fact, with QuietComfort 35 II, you take your music anywhere. These headphones have world-class quality. Like, its impact-resistant materials, corrosion resistant stainless steel, and glass filled nylon to bring in a comfort to wear it all day. It is beyond softness. It is, in fact, a luxury to ravish. That is what it is.
QuietComfort 35 II Is A Luxury To Ravish
The soft covering material of QuietComfort 35 II is Alcantara. It is the same material that you find in yachts and high-end vehicles. Its plush ear cushions won't let you feel as if you are wearing any headphones. These are made from a synthetic protein leather. Thus are environment-friendly too. It works with and without battery. The battery runs for up to 20 hours. The quick recharge feature loads it for another 2 and a half hour just with 15 minutes of charging. And even if you are without battery at some moment of time, just use its cable. Plug it in and keep it running for hours. Its equalizers give you the same world-class performance whether you are listening at low volume in a quiet environment or at a noisy place like in a market.
Now, you won't have a fight at home for forgetting to bring something from the market while coming back from office. Built-in Google Assistant in QuietComfort 35 II will remind you of all important things in life. Bose Connect App let you manage the headphone quite easily. Now, forget your past. You are in a world of clear calls, clear music, and best of the quality. You have become a creature of your own world of music and sound with QuietComfort 35.