Zachary adores puzzles. At least one day a week he gets it into his head that it's a "puzzle day" and then requests puzzle after puzzle until he has pretty much made all of the ones we have in the house. He was therefore one very happy little boy when I produced two more by 
Ravensburger 
for him to do, he was extra excited when he saw they were based on the Julia Donaldson books,
The Gruffalo My First Floor Puzzle
and
Stickman 4 in a Box Puzzle
which are much loved here.
The Gruffalo My First Floor Puzzle 
We are massive fans of The Gruffalo here so I knew this puzzle would instantly be a hit. Zachary and Zoey got to work on it straight away and were chuffed with themselves when they had finished and saw the result.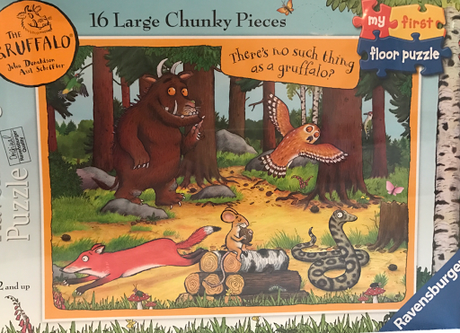 This fun-to-learn jigsaw puzzle is made of really good quality super-thick, double laminated card so robust enough to stand preschooler play.  It is suitable for children aged 2+  and with 16 large, sturdy pieces it is definitely just right for the age group. The bright, vibrant and fun illustration shows The Gruffalo, Mouse, Fox, Snake and Owl in the deep dark wood. A great introduction to puzzles and a must for all Gruffalo fans. 
You can find The Gruffalo My First Floor Puzzle on
Amazon
priced at £8. I can definitely recommend it given the amount of times the twins have built it in the past week. 
Stickman 4 in a box Puzzle
This Stickman puzzle which is based on the book of the same name written by Julia Donaldson and illustrated by Axel Scheffler is perfect for little kids aged 3+. I love the fact that the four puzzles piece together the story of what Stickman has to do to get home. Each puzzle has a  different number of pieces too, 12, 16, 20 and 24 pieces which is great as little kids can build up their confidence when it comes to doing puzzles starting with the easiest and moving up to the next. This was certainly the case with Zachary who independently did the 12 and 16 pieces ones and then with my help did the next two puzzles on his first attempt. Now he can do them all himself and even helps his twin sister do them now.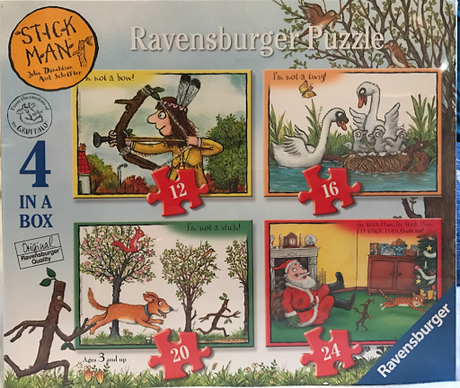 For those not familiar with Stickman, he lives in the family tree with his Stick Lady Love and their three Stick Children. As you might imagine it is rather dangerous being a Stick Man who ventures out on adventures. These puzzles tell the story about how a dog wants to play with him, a swan builds her nest with him, and he even ends up on a fire. It is definitely a puzzle for fans of the popular book and the TV animation which is by the same people who brought us the Gruffalo.
You can find the
Stickman 4 in a Box Puzzle
on Amazon priced at £5.99 which would make a lovely Christmas present.
*Disclaimer: I was sent two Ravensburger Stickman and Gruffalo puzzles to review. All views and opions are my own and unbiased.