This is phenomenal. Prime Minister Narendra Modi is really working for the nation the way nobody has ever done so far. In fact, this is the first Prime Minister of India who is working tirelessly day in and day out for all-round progress of the country. As a matter of fact, if someone like Modi was our prime minister right since independence, we would have been the top economy of the world. The tragedy is that the more he works towards the progress of India, the more people start expecting from him. He is, in fact, continuously raising the bar thus making it difficult for the lethargic political opposition parties. RO RO Ferry service starting tomorrow between Ghogha and Dahej is a great achievement in this regard. RO RO stands for Roll On Roll Off. Initially, in the first phase, it will begin between Ghogha and Dahej in Gujarat.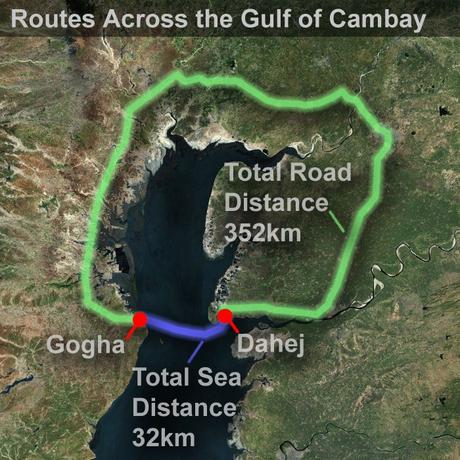 Source: Ro-Ro Ferries in the Gulf of Cambay
Tomorrow is the launch of phase 1 of this RO RO Ferry Service. Narendra Modi will be in Gujarat tomorrow for this purpose. The inauguration of phase 1 will happen at a public meeting in Ghogha. Why this ferry service is fantastic is because it will reduce the travel time between Ghogha which is in Saurashtra, and Dahej from 7-8 hours to just a little above an hour thus reducing the travel time by more than 85%. Initially, it will start with passenger movement but gradually it will also cater to the movement of vehicles. In fact, prime minister will be among the first few to travel at the inauguration of this service. People who have seen the progress of our country at a snail speed during pre-Modi era would now be feeling the difference. Probably that is the reason that it has shut the mouth of all opposition parties.
RO RO Ferry Service Is A Great Achievement For India
This is just the inauguration of first phase of RO RO Ferry Service in Gujarat. A lot more is yet to come in subsequent phases.