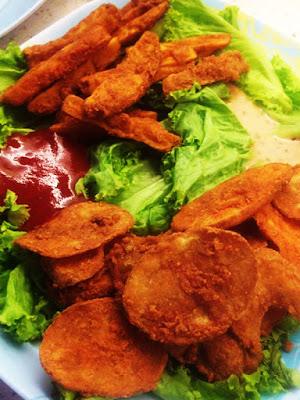 Salad Potato Fries & Salad Potato Mojos
I will be honest in here that I do not cook a lot. I can only bake or make foods which are easy to do and follow.. and that is the main reason for me which I think makes this a great thing to share. For my case, I generally like either sweet or salty foods really (how healthy right? Haha!). I usually crave those foods on rare moments especially when they are hard to have. Thinking of saving costs and preferring a specific taste when I eat them.. I had the urge to learn on how to make them. That is what life teaches you when you are in desperate moments (lol).
Here in the Philippines, french fries is commonly available almost everywhere. As in anywhere. Almost all fast food chains and even restaurants carry them here plus all the food carts scattered at schools, malls and even on roadsides.. However potato mojos are a rarity. There is one specific pizza chain here though that carries it here and is quite known of having one of the best in the country. One time while being on a diet, I ordered mojos and a salad for a change. I thought of covering a piece of it with a salad leaf (just like what we do in
samgyupsals
) with bit of its dressing and then dumping it in ketchup.. Man,
it tastes sooo good!
 From then on, I never looked back on eating rice every time we dine there. I even ordered the same combination thru their delivery service a few times after that even if it really costs a lot. But then I thought, "
I think it is do-able to create my own version of it since we are living near a great supermarket at home..
" With that in my mind plus the thought of saving more money if I do it that way, thus the history of this snack begun!
My personal goal on doing this was to
eat some when I crave for them
and of course
spend less
since it is only a
want and not a need
.
Here is the video for the actual process of making your own salad potato fries and mojos:
(You can press the full screen mode to enlarge the video or double tap for mobile users - landscape  mode)
Ingredients:
(Brand is optional, I will mention important factors when necessary)
- Oil (enough for deep frying)- Egg(s)- Potatoes- Salad greens (lettuce)- Breading mix / Breadcrumbs
Optional for the dip:
- Ketchup (tomato)- Dressing (roasted sesame)
Kitchen utensils:
- 1 Cooking pot (where you can deep fry)- 2 kitchen bowls (1 for the egg mixture and 1 for the breading mix)- A mixer (a spoon or fork will do just for the egg)- A cutting board- A knife- A kitchen tong- A plate with kitchen tissues on top for the newly cooked pieces
Step by step process:
1.
Start heating the cooking pot with the oil inside (again deep enough for deep frying)
2.
Crack the egg and mix it in the kitchen bowl 1
3.
Place a good amount of breading mixture in the kitchen bowl 2
4.
Cut your potatoes on your desired shapes - fries and mojo shapes, don't forget to wash them first(
The cuts of the potato mojos in that pizza chain I am referring to were thick. I wanted it a bit thinner
)
5.
Dip the potato cuts in the egg mixture
6.
Roll the potato cuts over the breading mixture
7.
Toss them in the cooking bowl once the oil is hot enough
Optional: You can start preparing the dip by mixing your preferred taste on combining the ketchup and the dressing
And just after a few minutes, get the potato cuts using the kitchen tong inside the cooking pot if you see them
float on the oil
. It means they are already cooked. However for me, I let them stay a little longer since I want them crispier! The color also helps us distinguish if they are ready. Yes, it is attaining the golden brown color but keep in mind that they are still being cooked (may be up until a minute or two) after taking them out of the bowl since the hot oil is still in them. So for me, taking them out a bit earlier than the desired outcome is recommended. Again, this is just for me - we have our own tastes ladies and gentlemen haha! 
8.
Place them on the plate with the tissues and let them dry there until some of the oil is absorbed. You have the option to transfer them to another container or eat them there directly once they are crispy enough. They are delicious enough for me on this plain state.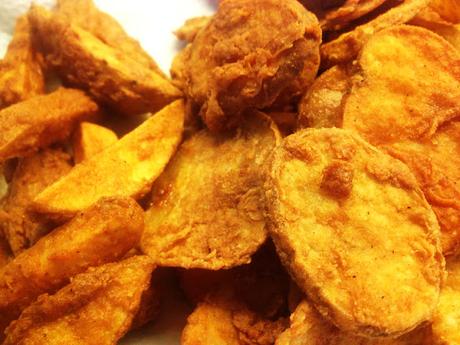 DIY crispy fries and crispy mojos
The way I eat them: As mentioned above, get a piece of a fries or a mojo, wrap it in a lettuce leaf and drop it in the dip. It creates a balanced sensation of chewiness and crispiness with a delicious taste.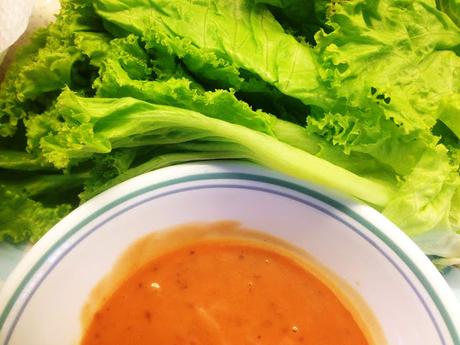 Salad greens and The dressing
And just to add (even though I am unsure if this is true), I have known that eating a lot of potato fries and potato mojos are bad for the health especially it is cooked deep fried with all the oil there.. is countered by eating them with these greenies that absorb oil. And since these leaves go out fast from our body, oil does not stay long anymore..
So if there is any food tech, nutritionist or specialist that can help us clear this,
feel free to comment down below.
It has been my reason from the start on preferring this thinking that this is healthier than that of eating rice Haha!
And if anyone have tried this already, make sure to let me know what you think! It would be interesting to know how did you find it.