See's Candies Opens First Concept Store at Tustin Marketplace!
By Melody & Erin
Everyone knows with See's Candies you are going to get great candy in every single bite.
When I was first invited to the 'See's Candies- Chocolate and Wine Tasting Night' I was thinking… Did I just win the lottery?? What more could a girl want than to mingle, midweek amongst chocolate royalty (Brad Kinstler, the President of See's was there) while indulging in savory chocolates and delicious wine? This event was to celebrate the grand opening of the first ever See's high volume concept store and it did not disappoint! We even recieved an amazing bag of chocolates and swag to enjoy at home (see pic at the end of this post, if you want to see all of those goodies!) =)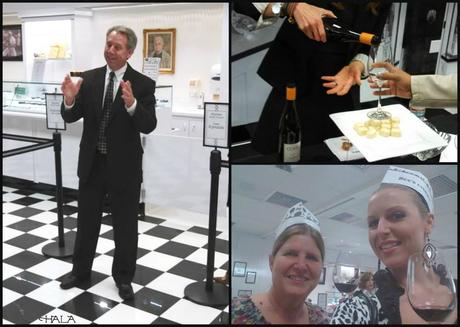 The first thing you notice when you walk in to this brand new spacious shop is the smell. A rich warm chocolate aroma that fills the air and wraps itself around you like a hug. It smelled absolutely amazing in there! Sorry, I'm getting side tracked. I can't focus when there's chocolate around. Not only was the store a feast for your taste buds, but it was a feast for your eyes as well. This store contained an extremely easy to find what you're looking for shelving layout, the simple black and white checkered motif floor inspired by Mary See's own kitchen floor, and a floor to ceiling wallpaper print of an old time See's Candies shop that invokes you with a sense of nostalgia.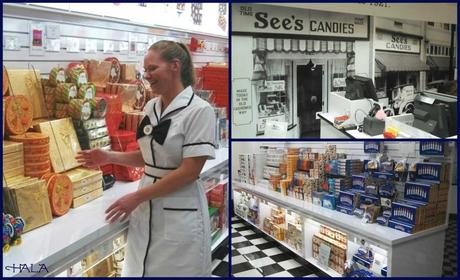 When you think of See's Candies, that's really what comes to mind classic, vintage, wholesome, and above all quality chocolate. Why is that you ask? That's because See's Candies is the only chocolatier that still ages their chocolate. Yes! Chocolate like wine, needs to be aged to get that rich, smooth, melt in your mouth texture! I had no idea! Of course, that is just part of the reason See's chocolate has a reputation for quality. The other part is that See's Candies still makes some of their chocolates by hand. Yes, some 'chocolate angel' as I prefer to call them is taking the time to make that specific piece of chocolate you're about to devour perfect. See's Candies also has a specific way of handling their chocolates to keep their flavors uncompromised. Each and every employee cannot wear any sort of perfume or lotion because the chocolate will absorb the fragrance and damage the delicate taste. So before you pop that little piece of heaven in your mouth, know that a lot of care went in to making that perfect chocolatey moment just for you.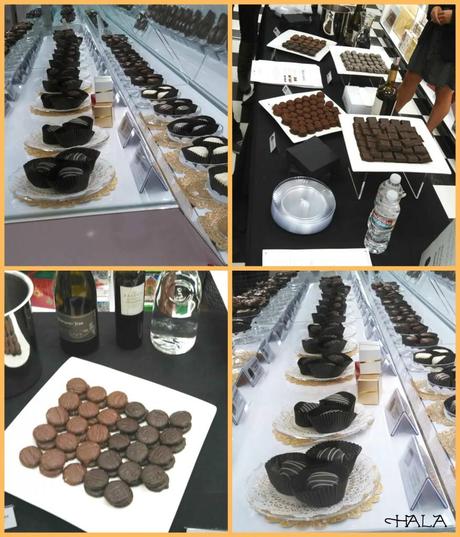 That is why every See's Candies Shop you pass around the Holidays (Thanksgiving, Christmas, Valentine's, & Mother's Day) will have a gazillion people waiting in long lines, just to order a box of candy heaven. The See's Candies Company noticed the long lines and in an effort to accommodate every shopper in a timely fashion created their first ever high volume concept store right here in the heart of Orange County, California. It is located in the Tustin Marketplace just off of the 5 fwy, South of the 55 fwy.
This store is specifically designed to get you in and out and on with your life. With not one, like most See's Candies Shops but TWO candy packing counters- one for '2lbs & under orders' (or as I like to call them, Amateurs), and one for '2lbs & over orders' (for the more serious Chocoholic- like myself), and four check out registers waiting to ring up your purchase, this store can handle quite the crowd. While moseying around the store and eyeball drooling over practically everything I saw, they were offering a dozen assorted chocolates paired with their appropriate wine counterparts to sample. I couldn't wait to dive in, I hadn't eaten a thing all day in anticipation!! Sometimes my life is really rough, ya know?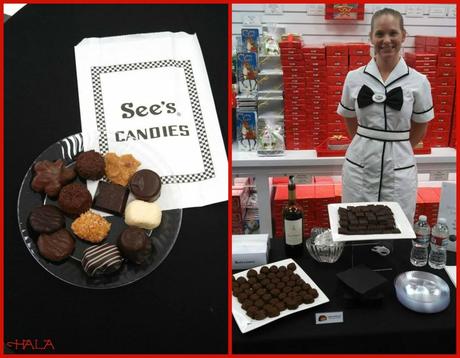 I started my tasting in the savory section…
The Chocolate—Milk Pecan Buds. Wine Pairing—2010 Rowland Tebb Pinot Noir, Durell Vineyard. Oh. My. Goodness. Have I just died and gone to heaven?? I think I have. This rich, sweet, nutty confection was a complete surprise. I'm not a big nut lover but this was absolutely delicious and the sweet red wine had no bitter after taste. It was just smooth all the way down.
The Chocolate– Dark Raspberry Truffle, Milk & Dark Bordeaux, Milk & Dark Caramel Patties. Wine Pairing—2009 Easton Wines Zinfandel, 'Obscura,' Late Harvest, Rinaldi, Fiddletown. The Dark Raspberry Truffle was my favorite out of this group. It has a strong sweet and tart berry taste and smelled so yummy too. I was slightly surprised at the Milk & Dark Bordeaux they both have a warm, round, taste that takes over your mouth and leaves you wanting more. The Milk & Dark Caramel Patties are perfect if you're looking for a chewy treat.
The Chocolate– 62% Dark Chocolate Bars. Wine Pairing—2012 Trig Point Merlot, Diamond Dust Vineyard, Alexander Valley. The Dark Chocolate (filled with antioxidants, who doesn't love chocolate that makes you look younger?) has a very strong sharp taste to it. It went perfect with the wine. Sweet and slightly bitter they combined to take the edge of off each other.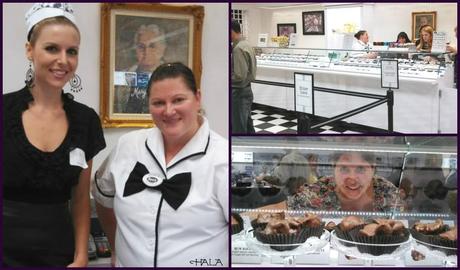 … and then I worked my way to the sweet and fruity section which included…
The Chocolate– Scotchmallow, Dark Raspberry Cream, Key Lime Truffle. Wine Pairing– 2012 Cea'go Muscat Canelli, Del Lago, Clear Lake. The Scotchmallow is the more sophisticated version of a S'more. The chocolate has a nice crunch when you bite into the soft mallow inside. The Dark Raspberry Cream has a little bit of bite to the dark chocolate that is nicely matched with the super sweet berry filling, Mmmmmm. The Key Lime Truffle was the absolute dark, or should I say white horse of the tasting. This is not a candy that I would have chosen for myself but ultimately won me over. When you bite into this white chocolate confection it's subtle, that is until the key lime hits your tongue. With an absolute burst of sweet, tart, and tangy it will take your taste buds for a ride. This combined with a sip of the wine, (which was perfectly paired) just enhanced the flavors tremendously. It was by far the most surprising and satisfying treat of the night. One word- Ahhhhhmazing!
The Chocolate– Apricot Delight, Peanut Brittle. Wine Pairing—2009 Cargasacchi Vineyard Late Harvest Pinot Grigio, Invincible Sun, Sierra Madre Vineyard. The Apricot Delight tastes like a burst of summertime in your mouth! The toasted coconut gave this truly delightful treat great texture. Beyond sweet and fruity it made you long for a Mai Tai and a sunset. I absolutely enjoyed eating this goody. The
Peanut Brittle is just the right density, not too hard or soft it has a nice crunch and a salty nut finish.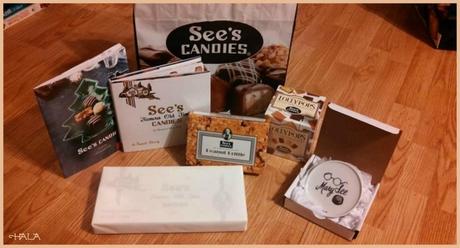 The Oh So Delicious Swag Bag of Sweets that See's Candies was so kind to send us home with!

All in all I feel like I have eaten my body weight in chocolate, and a renewed love of See's Candy. I'm satisfied and yet I want more, maybe that's why See's gives away more than 1 million pieces of free chocolate every year. So the next time you pass a See's Candies shop pop in and ask for your free treat, maybe you'll find an unexpected one that you'll fall in love with like I did.
To Connect More with See's Candies you can find them here:
See's Candies Website          Facebook            Instagram