For my first day as a true tourist in NYC I decided to go to the MoMA to see the Cindy Sherman exhibit. I've been wanting to go for a while but becoming a master came in the way. The line for tickets was 30 minutes long AND it was raining but I had a book so I waited it out. Once inside it was INSANE, so many people all over the place. The most frustrating part of my experience today was the amount of people taking photographs of the art. It was annoying having to wait for people to take their photos in order to walk to another part of the museum. And not only that but a lot of people would simply look through their camera lens/ display screen, snap their photo and walk away. I even saw people standing in front of a piece of art looking at all of the photographs that they had perviously taken!!! It was a very strange sight to see and it annoyed me greatly. For me, viewing art is an emotional experience and I love to look at the intricacies of the piece, but most of the people at MoMA were almost robotic, taking photos and moving on without examining the piece in front of them. And for what? To transfer the photos to their computer later and maybe look at twice in the future? To add them to facebook to show to their 100 friends? I couldn't even get close enough to look at Van Gogh's, The Starry Night, but I've already been to the MoMA on a less busy day and have been lucky enough to look at it closely. But more than just that, this is the digital age! All of the pieces that people were taking photos of are available to look at ON THE INTERNET already!!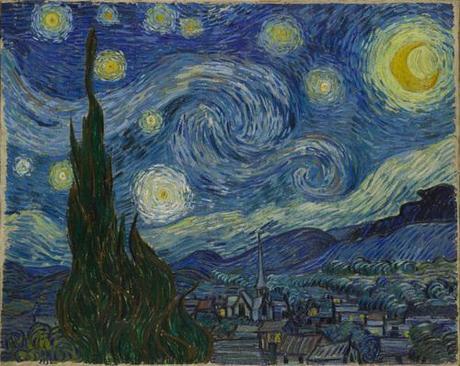 See I just found this on the MoMA website. It obviously doesn't look good as it does in person, And neither will the photos that people are taking of it. It's something that should be experience by looking through the human eye and not through the lens/display screen of a digital camera. 
Two amazing exhibits on right now are the Cindy Sherman exhibit that I went to see explicitly, and the Taryn Simon's A Living Man Declared Dead and Other Chapters 1-XVIII. They were actually both very similar. Cindy Sherman uses herself as a model to create portraits of characters and places in an exaggerated and beautiful way, while Taryn Simon traveled the world to obtain portraits of family members while explaining their personal stories. I saw Taryn Simon's after Cindy Sherman's and was really blown away. Having seen Cindy Sherman's you know that her portraits are characters, and it takes away from the reality behind her stories. Taryn Simon's are striking because of their realness. MoMA does a good job at making both exhibits highly accessible to people outside of the NYC area, clicking the links above will take you to the exhibits' websites which include photos, explanations, and videos. 
It's definitely worth checking out the MoMA if you have a chance and buy tickets online to avoid the line! 
Remember: see with your eyes not with your lens!
x