We need to have a helpline where anybody can call and anonymously discuss their issues regarding Borderline personality. This is probably an extreme kind of state for a patient suffering from it to come out successfully and share her story so boldly and bravely with the whole world. Otherwise people having any kind of disorder or health issue keep hiding it not only from public but their close relations thus complexing their personality and lifestyle. Kudos to Author Shabri Prasad Singh to pen down her story so beautifully and transparently. In fact, this is not a book with a fictional story. This is real life journey of a person who had to face dire consequences in life and not able to cope up with those gets to the border of mental disturbance level thus widening void in her life and delving into drugs, liquor, and sex.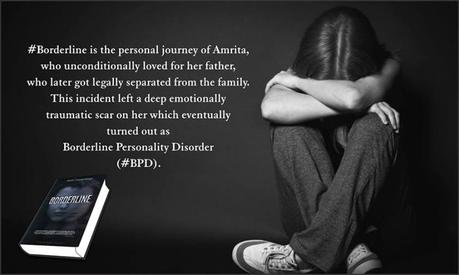 But as they say, if it is human mind that takes a person to the darker side of life, it is the heart and mind that kicks back to conscious to realize that something is wrong and needs a correction. This is what happens with Amrita, the lead character that represents Shabri Prasad Singh in Borderline. In fact, it is her personal journey. The book is about Borderline Personality Disorder (BPD). But the difference here is that it comes out from the person who was a victim of it and had a courage to face it mindfully. Amrita admires her father most in her life. He, in fact, was her mentor, motivator, and a pillar of courage. A legal seperation of her parents keeps haunting her. The pain aggrevates with her mother remarrying and father passing on. Losing her father at an early age was the biggest setback for her.
Shabri Prasad Singh is a role model for many
It happens in life when disturbances make you vulnerable. And, in fact, depending on the severity of those disturbances deciphers the level of vulnerability. It is true that when you are vulnerable, it becomes easier for others to taken advantages. Otherwise also, you get prone to fall victim to the bad sides of society. This, in turn, does not relieve you from the disturbances had in first place. Rather, it acts as a catalyst to increase them further in your life. Borderline is a blod attempt in that regard to showcase the extremeties of mental and physical state of a person (Amrita, in this case) due to psyschological disorder Borderline. As a matter of fact, author Shabri Prasad Singh has taken it up quite well. And let me tell you, that is not an easy task at all. It takes a lot of inner strength to face it openly.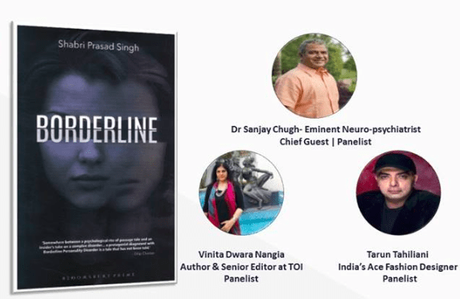 Shabri Prasad Singh's therapist and eminent Neuropsychiatrist Dr. Sanjay Chugh was there at the event as a chief guest and panelist. He says, "I am delighted to be launching Shabri's first novel. India is a huge country, but the ratio of number of psychiatrist and trained psychologist for 3 lac- 6 lac patients is 1. It is important to raise the awareness about the necessity for a solid and a strong mental health infrastructure in this country. And what Shabri has done, we need to appreciate her for the effort and openness about this illness. I am sure with right amount of awareness spread through right channel; there will be elimination of myths around mental illness."
Shabri Prasad Singh has changed perspective towards mental illness
Also on the dias was another eminent personality. It was fashion designer Tarun Tahiliani. While putting his points forward in the panel discussion, he says, "Audience should get motivated from her, and be able to change their perspective towards mental illness." Third panelist, Vinita Sawara Nangia, is an autor and senior editor at Times of India. She says, "I came across some sentences and thoughts in the book that are very beautifully sorted. This would come out from someone who is mature and who has gone through a lot of ups and down in her life. The words are very beautifully put in together."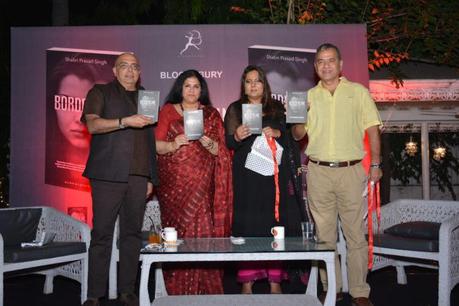 Finally, Shabri Prasad Singh says, "This book is a lot about me. Through personal experience I believe help and medicine is needed when someone has a mental problem. There is no need to be ashamed and hide the fact, live with the illness, Live with dignity, seek help and speak up if you find someone you know who has issue. I worked through the illness for years; I thought I could not do anything, I wanted to run away and die but that was the weak me." She also discloses that the only character whose real name remains intact in her fiction story Borderline is Dr. Sanjay Chugh. In fact, as she reiterates, Dr. Chugh is one of the key person helping her heal and gain self confidence. It is because of him that she has been able to see the proverbial light at the end of the tunnel.
Shabri Prasad Singh vouches for Acceptance and Consitency as the key to battle out Borderline
Probably some sweet relations need to last long in Shabri Prasad Singh's life. Her relationship with Dr. Chugh is probably one of those. In fact, it is far beyond a relationship between a doctor and a patient. He is a mentor, guide, and motivator to her. As a matter of fact, Shabri has become a role model for many others who are passing through the painful phase of Borderline Personality Disorder. Rather she has been able to counsel a few suffering the same. As Dr. Chugh says, "I am sure that Shabris first book on her personal experiences and her talking about the least talked about Borderline disorder will help her create awareness about this common issues that people ignore or have not been able to understand."
"I was able to go through the ordeal and come out with aplomb only because of the help that my therapist and psychiatrist Ms. Purnima and Dr. Sanjay Chugh gave me. Dr Sanjay Chugh is like my god father and thank you so much for all the help. He is the one who taught me acceptance and consistency is the key to battle it out. I owe him my life and this book." concludes Shabri. It is, in fact, beginning of another phase of Shabri's life. This book itself will be able to transform lives of many. At the same time, she is always there to counsel anyone suffering from the same.
Releasing a book on her own sufferings has proved to be the final phase of recovery
The book launch was on October 6 at Hotel Diplomant, New Delhi with a number of celebrities joining the courageous deed by Shabri. She is a philosopher and fighter by heart. Growing in cities like London, Delhi, and Chandigarh was good enough to acquire immense knowledge about various cultures and traditions. And then Shabri Prasad Singh had her studies in the city university of New York having major in Antropology and Psychology. She is a keen learner of mind and behavior. She loves painting and cooking but her dearest passion is writing. Her closeby friends call her a free spirit and a wanderer. In fact, she advocates freedom of speech, equality, love and harmony. This is her first book and there is a lot more to come.