Shaking It Up at the Hard Rock Cafe
*I was unable to attend this awesome event over at the Hard Rock Cafe as I was on a media trip, so my girl Mary over at Along Comes Mary, graciously was able to cover it and report back to us! Thanks Mary!*
By Mary Lansing
(*Disclosure: I was The Hard Rock Cafe's guest in place of Erin Miller. All opinions are my own & thanks to HRC & Erin for having me!)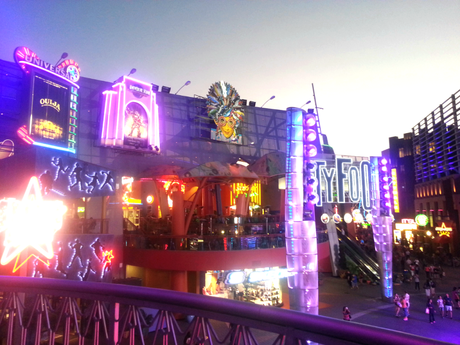 Have you ever been to The Hard Rock Cafe? As someone who is both a LA native & self-proclaimed music lover, I am a little surprised that I have only recently begun going to this awesome restaurant. Each location has its own special touch; whether its Michael Jackson's fedora at Hollywood Boulevard, a dress worn by Courtney Love in Las Vegas, or a famous ZZ Top car smack in the middle of the bar at Universal City Walk's, they give each spot its own flavor!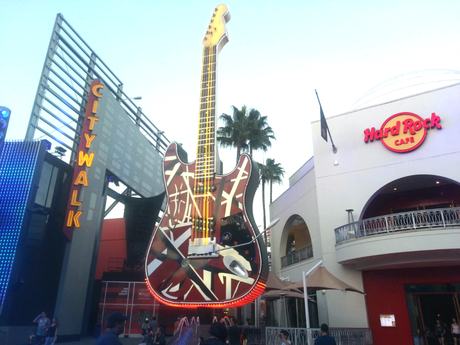 Thanks to Erin, I headed out recently to The Hard Rock at Universal Studios City Walk for an amazing night showcasing their new, eclectic SHAKE IT UP private bartending classes. Perfect for a birthday party, bachelorette or bachelor night, or simply a fun way to gather up all your friends, these private group classes invite you & your guests to be one on one with some of HRC's best bartenders, literally teaching you how to make your own concoctions…& oh yeah, keep 'em to drink following!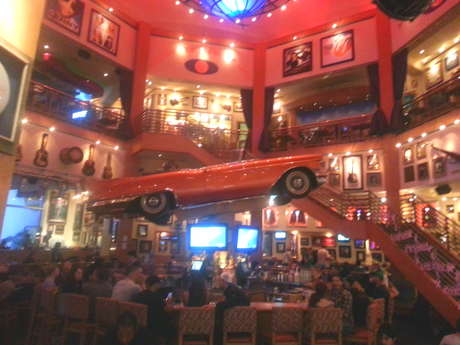 For your soiree, you're reserved the entire upstairs loft overlooking the hustle & bustle below your eyes at The City Walk's location. Outside, you can relax & people watch all visiting the outdoor promenade. We were shortly after introduced to "Moose" & Rob. 2 of HRC's star bartenders, who couldn't have been more fun to show us the ropes as we attempted to make a Gin Martini, Vodka Martini, Margarita & HRC's infamous "Hurricane" drink.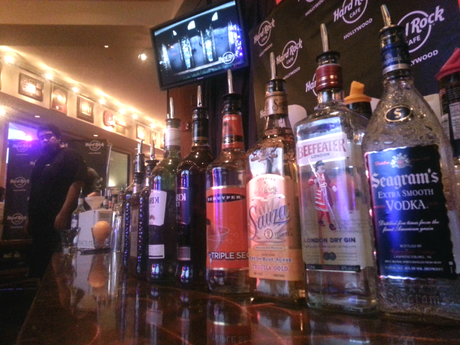 How did I do? Well, lets just say that I won't be applying to work at Hard Rock anytime soon! But, it was extremely fun to learn just what goes into your favorite drinks; while my vodka martini was much too strong, the guys do step in to make ones to show you how they should taste; so, you're guaranteed to have a well made drink if you're not a pro yet

As a margarita lover, it was interesting to learn just how true & pure HRC makes theirs; I had some in Las Vegas & thought they were the best I'd had in a long time, now I understand why. It's all about a good quality mix, fresh lime juice & the best tequila they have.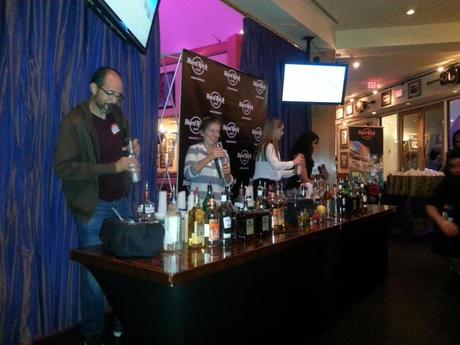 I also enjoyed how interactive the evening was; we all talked & learned from one another. Each drink has so many tidbits to learn about; like, the first margarita was served in 1948, but the name still remains unknown. And, did you know if you order a "Gibson Martini" there will be a pearl onion in it?! Another cool thing I learned is that most martinis are now all about the vodka; I am not a gin drinker, so I have usually shied away from ordering a martini, so, now I know, all I gotta say is, vodka martini!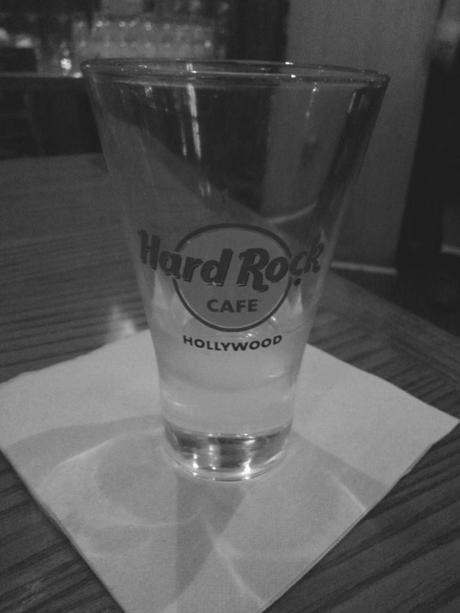 What's a fun night of drinks & bloggers without food?! HRC knows how to serve up some hefty sized appetizers. I am in love with their nachos, while the bruschetta & wings were very popular among the crowd, too. If you're interested in hosting your own SHAKE IT UP event, which is only $42 per person as a stand alone or just $65 per person which includes a three-course meal, are currently being offered at both Hollywood locations, all you have to do is check out their web-site at hardrock.com/hollywood for more info, then give a call to them at 323-606-7150 & tell 'em you're ready to SHAKE IT UP!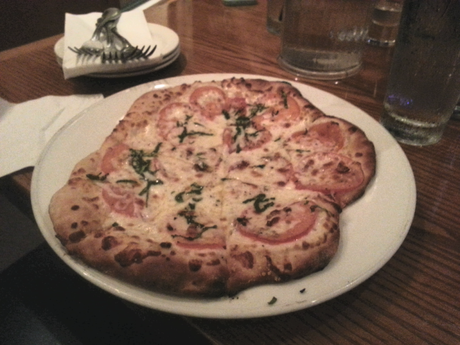 Are you ready to Shake It Up?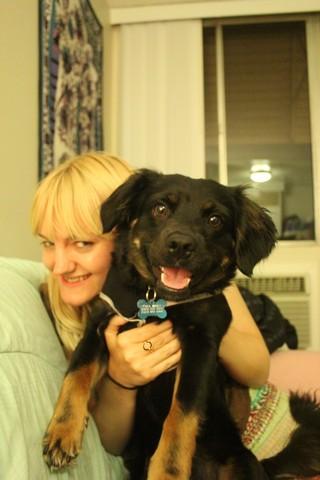 *Mary Lansing* is a 20 something year old living in Sunny Southern California with her boyfriend, Mike & dog, Hammond and runs the blog, Along Comes Mary. She is a Gluten Free Pescatarian, and her occupation in life is having as much fun as possible as well as occasionally working in the technical side of theatre, along with her day job in Sales & is also Assistant Editor for an up-coming documentary on Diabetes (She's been a Type 1 since 8 years old).