SHRM India concludes its 5th annual HR Conference and Exposition 2016. In fact, it was the largest HR conference in India. There are few stunning facts to share about the prestigious SHRM India annual HR conference. Firstly, there were around 100 global speakers. Secondly, there were more than 25 knowledge sessions having full attendance and attention. Thirdly, more than 1000 delegates were there to attend this two-day conference. And finally, more than 450 organizations were participating and showcasing. In addition, there was the announcement of winners of SHRM India Annual HR Awards. So much of happening was obviously more than enough to attract the HR fraternity across India.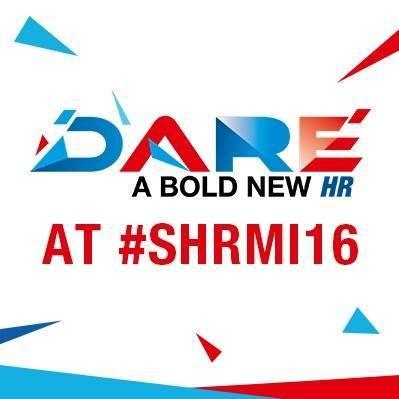 SHRM is Society for Human Resource Management. It is world's largest association that dedicates to human resource management. And that was the theme of the annual conference & exposition. The two-day conference and exposition were a grand success. In fact, SHRM India provides a golden chance to attend and listen to the leaders from various countries.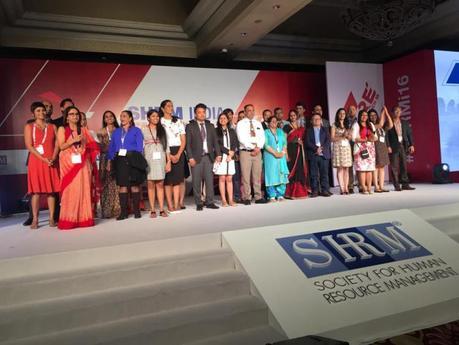 The theme this year was "DARE – A Bold New HR". The highlight was on the rapidly evolving HR practices. And of course, these practices need to be refreshingly daring and different. There is a tectonic shift in people management practices. But these require the HR professionals to think out of the box. There has to be a push to the edge to strike the perfect balance between expectations and optimum throughput. SHRM India Annual Conference & Exposition 2016 also brings unique opportunities to network and start a long term engaging journey with fellow delegates. In addition, you get a bouquet of impactful sessions. The spotlight was on the millennials at this year's event. This generation's penchant for risk taking and bold moves challenge traditional HR practices. It also redefines the scope and spectrum of HR management.
SHRM India 5th Annual HR Conference and Exposition
CHRE hub on the first day had a participation of around 130 HR heads from various corporate. Immediately after the welcome address by Achal Khanna, CEO, SHRM India, there was a fabulous performance. This was by the Children of Salaam Baalak Trust. At the end of the day, after HR awards distribution, it was time for some heart-touching music. 'Alive Indians' band and 'Unsung Heroes' NGO from Bengaluru gave a magical performance. During the day there were quite interesting and intriguing sessions. These were  Busting the Myth of the Open Organization; The Bold New HR: Courageous and Business Savvy; Shifting Gears: The Talent Acquisition & Metrics Story; Performance cycle and the bell curve; the final verdict; A salute to the spirit of Daring!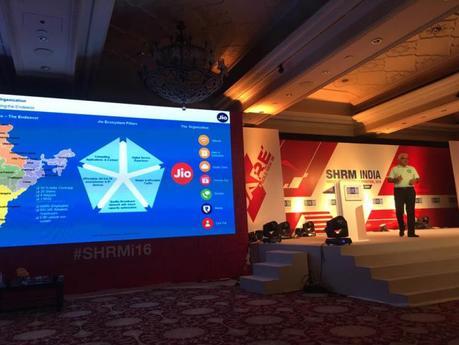 The keynote address showcases how Daring to Dream is the key driver of innovation. It is also the main ingredient to achieve big in life. This was the prime message of the keynote address by Pramod Bhasin, Founder, Genpact. As we all know, Genpact is a pioneer of the business process management in India. Next few engrossing sessions were about myths surrounding open organizations, the culture of political connection, hierarchy versus organizational backbone,  and organizational success. The role of HR in organizations was the point of discussion. A BOLD and new HR is emerging which is the key driving force behind a business. Also, it is important to understand how HR can create value impacting bottom-line of an organization.
SHRM India 5th Annual HR Conference and Exposition
Similarly, the second day of the event was packed with equally interesting sessions. The sessions  like The Face of Talent in the 21st Century; Employee Stress is stressing your bottom-line; 'It's time for YOUR feedback, HR!! The Performance Appraisal of the HR Department; Dare to Dream! The 'Jio' Story; the Olympic Mindset were quite interactive and exciting. The key insights emphasize on coming out of your organizational shell and look at the global HR trends.
The event witnessing the largest gathering of top Chief HR officers (CHROs) from a wide spectrum of industries, creates an ideal platform for discussion and analysis of the best HR practices. Sanjay Jog, CHRO, Reliance Jio, talks about the challenges of doing business differently. It takes a lot of courage, willpower, along with sweat and blood to take that bold move and become the 'first mover'. Reliance Jio is one such step with the conviction and inspiration that the company uses to drive its people. The drive is towards thinking better, bigger, and bolder.
Amitabh Kant, CEO, NITI Aayog explores what it takes to positioning and branding of India as a pioneer tourism attraction globally. Next was a breakout session on 'Employee stress is stressing your bottom-line: A deep dive into how to de-stress Corporate India'. The session looks at major employee complaints and how such grumbles led to employees leaving an organization.  And how organizations can achieve a stress-free workplace.
SHRM India 5th Annual HR Conference and Exposition
Achal Khanna CEO, SHRM India emphasizes the need for organizations to be Bold in their HR practices. "The world today is no longer one of the yesteryears that we remember. Much has changed in the way businesses are conducted and the world itself is in a state of constant change. It, therefore, would be counterproductive for organizations to remain stuck in the best practices of say 2005 or 2010. Better and innovative metrics to measure employee performance are evolving, and organizations must be Bold enough to change with the changing times," says Khanna. She also exhorts the CHROs to be bold, daring, and  innovative. If this happens, HR best practices can easily become worthy of emulation globally.
Premlesh Machama, MD, CareerBuilder, says, "Concepts around Human Resource & Talent Acquisition over the last couple of years have been evolving at a rapid pace. It has increasingly become important for leaders and practitioners to share & exchange evolving trends, best practices, challenges and way forward in this domain. Events like these organized by SHRM are the best platforms for such exchanges and immensely help everyone to share & learn from each other. Platforms like these work as facilitators in enabling the evolving change."
Among the eminent speakers who attended the conference were Pramod Bhasin, Founder-Genpact & Chairman- The Skills Academy; Amitabh Kant, CEO – NITI Aayog; Sanjay Jog, CHRO; Reliance Jio; Karl-Heinz Oehler, Managing Director–Denison Consulting; Alpena Parida, Managing Director – DY Works + Idiom, Anuranjita Kumar, Managing Director, CHRO – Citi South Asia; Abhijit Bhaduri, Ex CLO, Wipro; Glenn Dietrich, Director, Smarter Workforce, IBM Asia Pacific; Vicky Roy, Photographer, Forbes 30 under 30 2016; Deep Karla, CEO, Make My Trip; Gavin Freeman, Sports and Business Psychologist & Author; and Ritu Anand, Dy. Head Global HR & Talent Management, TCS.
SHRM India 5th Annual HR Conference and Exposition
Besides so many talks, discussions, and interactions there were two notable launches during the conference this year. Firstly, it was a collaborative study by SHRM India along with Career Builder on "Talent Acquisition & Automation". The in-depth study focuses on the hiring metrics, their usage, impact and the level of technology usage within the hiring function. Secondly, it was a launch of "Talent Assessment Tools in India, 2016". This is a collaborative study between SHRM India and MeritTrac that focuses on the various aspects of assessments such as usage, tracking, integration with other tools, obstacles in usage and the future focus.
SHRM India also announces the winners of its annual awards for excellence in human resource management and innovative practices.
Sr. No Category name Position/Organization name
1 Excellence In Social Media – People Practices Winner – IDFC Bank Limited
2 Excellence in Talent Sourcing & Staffing Winner –  Mercer Consulting (India) Pvt. Ltd.
3 Excellence in Community Impact Winner – Shree Cement Limited
4 Employer with Best Employee Health & Wellness Initiative Winner – Wipro Limited
5 Excellence in HR – South Asia (Excluding India) Winner – Brandix Group
6 Excellence in Developing Leaders of Tomorrow Winner – Aditya Birla Financial Services Ltd.
7 Excellence In Diversity & Inclusion Winner – Wipro Limited
Another fantastic attraction at the conference was the launch of 'The Digital Tsunami', a book by Abhijit Bhaduri, CLO, Wipro. This book carries quite useful insights on the rapid transformation taking place in today's digital era. It signifies how new business models and new rules of business and laws governing them are emerging by the day. And how experience in the past ceases to be a relevant guide for the future. The book promises a good read for all.
SHRM India 5th Annual HR Conference and Exposition
The 5th SHRM conference and Exposition 2016 came to a conclusion with a closing keynote address from Mr. Gavin Freeman – a well-known business and sports psychologist. As a matter of fact, the topic was 'How to develop an Olympic mindset'. In fact, the keynote explores deep insights into performing under pressure. Moreover, it highlights how an individual can develop a resilient, focused, disciplined and motivated approach to life and work.
About SHRM
Founded in 1948, the Society for Human Resource Management (SHRM) is the world's largest HR membership organization devoted to human resource management. In fact, representing more than 285,000 members in over 160 countries, the Society is the leading provider of resources to serve the needs of HR professionals and advance the professional practice of human resource management. As a matter of fact, SHRM has more than 575 affiliated chapters within the United States and subsidiary offices in China, India and United Arab Emirates.