I told yah fellas.. number of churchgoers are slowly depreciating.  Maybe because its Monday! and what comes next?? Uhmm... a pretty little excuses like "I felt sick", "I thought it was Sunday?!", "I have headache", and a lot of Monday sickness you could imagine hehe..
Its freezing cold by 3:00am, it'll gets through your bones. FYI, streets here are decorated with "Belen" as part of the festive celebration.  I grabbed the chance to took photos of the Holy Family on our street.  It was placed right beside our Welcoming Arc, made from a nipa hut about 4ft in height with lights and lanterns all over.  This one actually won the Grand Prize on our district.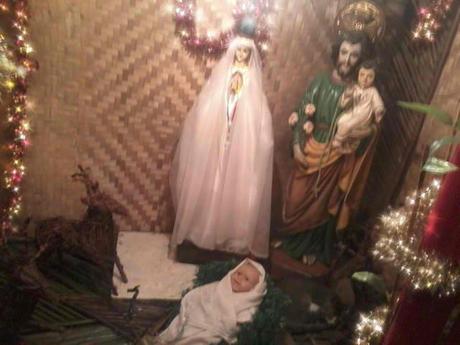 See there's two(2) baby Jesus, I wonder why??
Today's homily was about God's miracle for Zechariah & Elizabeth whom given a son inspite of their old age.  One of the Brother in church led the sermon and shared a miracle story from his immersion, a couple was given a gift of son regardless that the wife is already ligated.  He then asked everyone if whoever believes that the sun will no longer shine upon us? (no one raised their hands), Who believes that the sun will rise later? (many agreed).  Of course, who would have wanted to live in darkness? but the question is a logic showing that majority of us still believes in the context of "reality" and the "impossible" thing was stucked in our wildest dreams. Lessons learned---Believe and It Shall Happen! that's the promise of God.