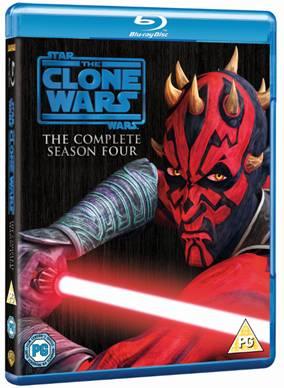 Today, the 22nd of October sees the release of Star Wars: Clone Wars The Complete Season Four on Blu-ray and DVD which contains over five hundred minutes of stunning high-definition animation as well as a host of behind-the-scenes bonus materials, the complete collection explores the untold stories of "a galaxy far, far away" and reveals the magic behind the making of the cutting-edge series.
We were lucky enough to receive a preview copy of Clone Wars, much to my husbands delight as he is quite a Star Wars fan. We have yet to watch the complete series but from what we have seen so far it definitely lives up to expectations and we are looking forward to watching the rest.
Created and executive produced by George Lucas, the first-ever TV production from Lucasfilm Animation explores the tumultuous time between Episodes II and III, expanding the scope of Star Wars beyond anything seen in the feature films. Featuring the voices of Matt Lanter (90210), Ashley Eckstein (Her Universe apparel line), Dee Bradley Baker (American Dad), James Arnold Taylor (Johnny Test), Catherine Taber (Just Like Heaven) and Tom Kane (Avengers: Earth's Mightiest Heroes). The fourth season also features a formidable line-up of guest stars – including Jon Favreau (Iron Man), Simon Pegg (Star Trek), Sam Witwer (Being Human), Clancy Brown (The Shawshank Redemption), Katee Sackhoff (Battlestar Galactica) and Jaime King (Sin City).
In its critically acclaimed fourth season, the battle to save the galaxy reaches new heights of peril and new depths of darkness. The valiant Jedi Knights and clone troopers defend exotic planets from enemy forces. They wage war underwater, battle across a night-shrouded world and take on the merciless Death Watch. Our heroes are tested like never before as Anakin is haunted by the realities of his past, Ahsoka fights to free her peopleand an undercover Obi-Wan braves a deadly bounty hunter tournament. Season Four culminates with the shocking return of a villain from the past: the ruthless Darth Maul, who will stop at nothing to achieve vengeance.
The epic action and timeless characters of Star Wars surge on in Star Wars: The Clone Wars The Complete Season Four. Bonus materials include a collectible poster and five new video commentaries, which include director, cast and crew interviews. Exclusive to the Blu-ray disc, The Jedi Temple Archives provides in-depth access to an extensive database of creative materials – including early test animations, concept art, 3D turnarounds and more than twenty deleted/extended scenes.
"Season Four allowed us to expand the series on many levels and achieve things that once were impossible," says Supervising Director Dave Filoni. "It all culminated in the return of one of the most exciting characters from the Star Wars Saga – Darth Maul. To bring a classic character back to life, and know that his future is not yet defined, is really exciting."
Special Features:
The Battle of Mon Cala - Dive into the depths of animation production as Supervising Director Dave Filoni and key members of his crew discuss the challenges of creating this complex series of episodes, full of underwater warriors and deep sea action.
Darkened World of Umbara - Supervising Director Dave Filoni and key members of his crew shine a light on the shadowy battlefields of Umbara, discussing the technical hurdles in creating this epic arc, as well as the storytelling challenges of placing Captain Rex and his loyal soldiers in this most difficult of situations.

Obi-Wan Undercover - The truths behind the deception are revealed as Supervising Director Dave Filoni and key members of his crew chat about the creation of this storyline full of betrayal, reversals, and shady underworld figures.
Slaves of Zygerria - Supervising Director Dave Filoni and key members of his crew discuss the development of a story that began life as a comic book before being transformed into an action-packed animated drama.

Star Wars: Clone Wars The Complete Season Four  is available to purchase from a number of retailers including Amazon and Play.
 *Disclaimer: I received a pre-release copy of Star Wars: Clone Wars The Complete Season Four in exchange for publishing this post.