Just yesterday, Zoey came home from school with beautiful butterflies, pretty flowers and the sun drawn all over the backs her hands with colourful pens. At nearly 5-years-old she already has an obsession with tattoos along with makeup and manicures. Therefore I knew she would be over the moon when she saw the FabLab goodies that had arrived earlier that day.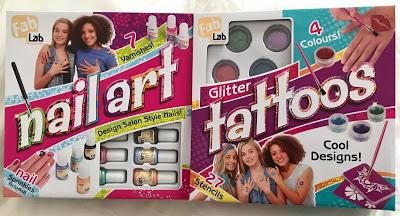 The FabLab Range
The FabLab range from Interplay is not just fun but also allows kids to get creative and safely experiment with cosmetics that are 100% non-toxic and designed specifically for children. The good news is that everything is easy and quick to apply and washes or peels off without the need for makeup removers when done. You can create rainbow and unicorn hairstyles with the FabLab Hairlights, sparkle up with the FabLab Glitter Tattoos and get creative with your own nail art with FabLab Nail Art.
FabLab Glitter Tattoo Kit
The 
FabLab Glitter Tattoo Kit
 is fantastic, it comes complete with 4 different color pots of glitter, a bottle of body glue and 27 awesome design templates so something for everything. All the products are fully tested and contain no harmful chemicals.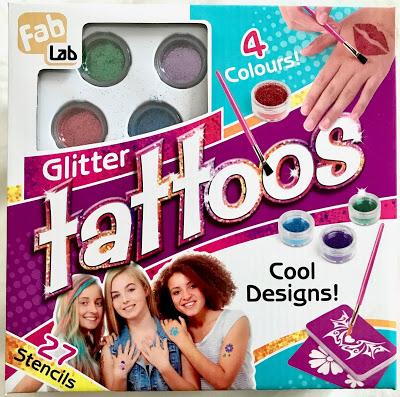 Zoey was so excited when she saw the glitter kit she couldn't wait to pick a design and get herself "glittered". She picked a really pretty butterfly design and we put the tattoo process to the test. The instructions are well detailed and easy to follow.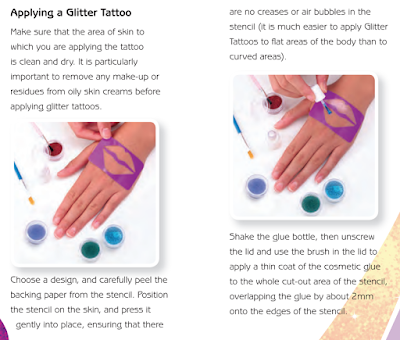 To create your glitter tattoo you simply place the template on your skin, brush on the body glue, allow it to dry for 30 seconds and then using the brush dab the glitter on.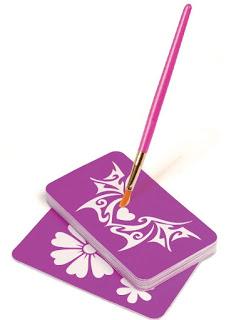 Word of warning, be careful not to get glue on the brush, so take care when applying the glitter, dab it on without pushing the brush on to the design itself. When you are happy the tattoo is finished, remove the template and brush away the excess glitter and ta-da you have instantly added some extra sparkle to your day. These glitter tattoos are perfect to complete a party outfit or ideal for festival goers. I think I may need to start experimenting with the designs - any excuse to glitterise.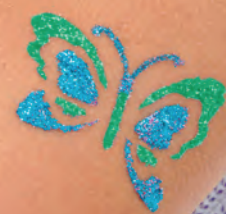 The designs are long lasting but easy to remove when required with water and soap. Zoey soaked hers in the bath which dissolved the glue and we were able to wipe it off easily.
The Fab Lab Glitter Tattoos kit has an RRP of £9.99 and is available to purchase online from 
FabLab
 and 
Amazon
 and in-store from 
Smyths
, Argos and other toy retailers. 
Fab Lab Nail Art 
I love the Fab Lab Nail Art kit just as much as Zoey. If like me, you love the idea of having pretty nails but wouldn't know where to start, you will be pleased to hear that it comes with a detailed color illustrated activity guide to help you learn how to create stunning nail designs. There are some great tips included as well to make sure you achieve impressive results.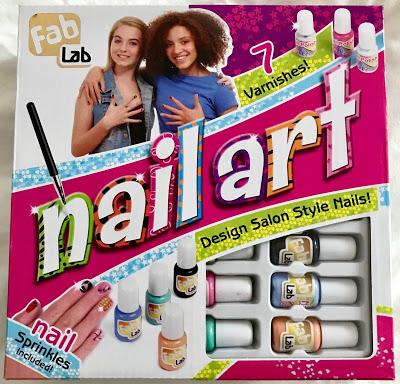 The kit includes transparent, hot pink, white, black, turquoise, blue and orange nail varnish, heart and star shaped nail sprinkles, a toe separator, an emery board and fine nail-art brush. All the varnishes are solvent free and non-toxic so perfect for kids.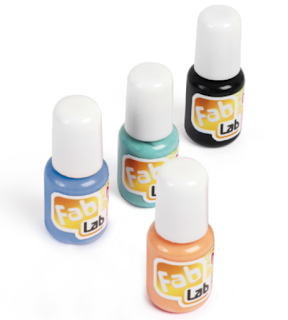 You can be as creative as you like with this kit, and once you get the hang of drawing designs with the fine nail-art brush your nails become mini works of art and can match any occasion or outfit you wish. Adding sprinkles is also a lot easier than I thought it would be too, you just add a dot of transparent polish where you wish the sprinkle to go, pick up the shape with the brush and pop it on, pushing it in place. Once you have finished accessorising and decorating your nails completely, brush the entire nail with the transparent polish to protect it and you're ready to dazzle all around with them.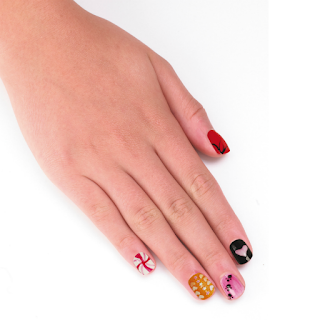 As the polish peels off it is easy to remove when wanted and you can start decorating your nails all over again. Zoey, for one, can't wait for school to break up for Easter so she can wear nail varnish every day.
The Fab Lab Nail Art kit has an RRP of £9.99 and is available to purchase online from FabLab and 
Amazon
and in-store from 
Smyths
,
Argos
 and other toy retailers.
*Disclaimer: I received  FabLab Glitter Tattoos & Nail Art kits for review. All views and opinions are my own and unbiased.