My three kids adore animals, especially dogs and cats so they were delighted when a Teksta Newborn  Robotic Kitty arrived for review.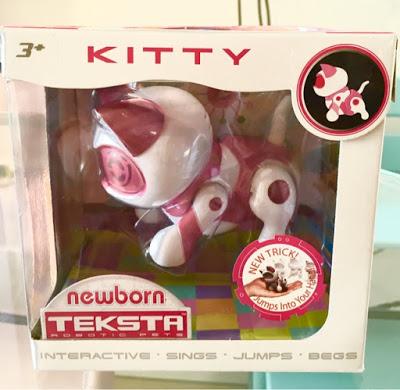 Zoey in particular, fell in love with the little pink kitty instantaneously, pink being her favorite color it was no surprise really. She kept saying, "she's so cute" and there was lots of cuddling and kisses going on as they bonded. The boys were not deterred by the pinkness and could not wait to get playing with her either.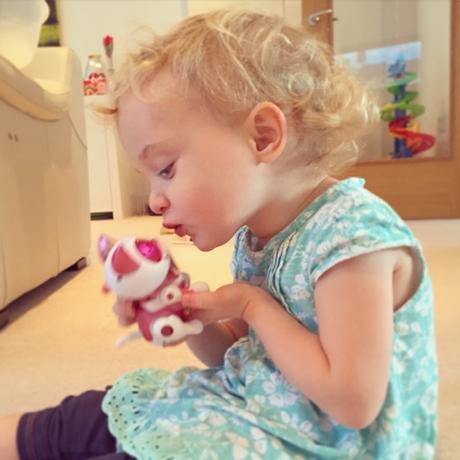 Teksta Newborn
A lot of you are probably familiar with the Teksta Robotic Dog and T-Rex which has been around a few years and are very popular with kids of all ages. The range has now been expanded to include this new generation of micro robotic pets that are smaller, more interactive and animated than ever before. Newborn Teksta Kitty is a sweet and adorable life-like robotic Kitten that responds to your voice and touch.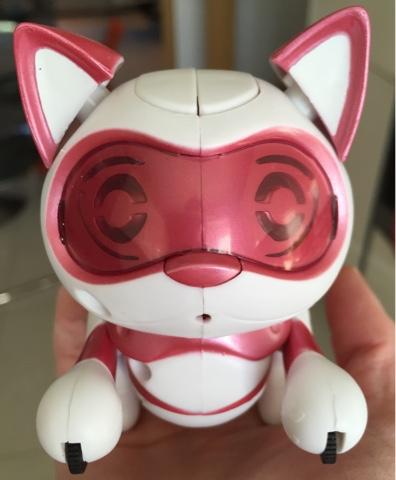 The Teksta Kitty has three main modes; she can very impressively jump into your hand, she can sing and she can also beg.
To activate jump mode you simply move Kitty's legs forward, press and hold the Jump keep on top of her head, hold you hands out and then talk to her and she will jump upwards into the palm of your hand.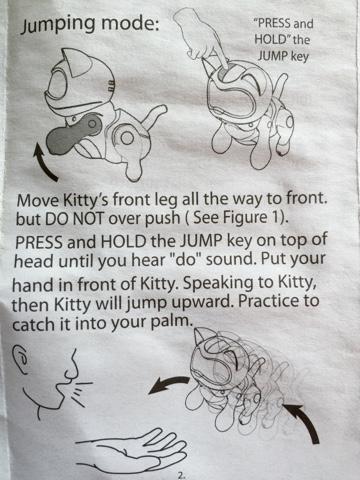 Similarly to get her to beg you move Kitty's legs all the way back and place her sitting down on a flat surface. You then clap or speak to her and she will react by either meowing or standing up.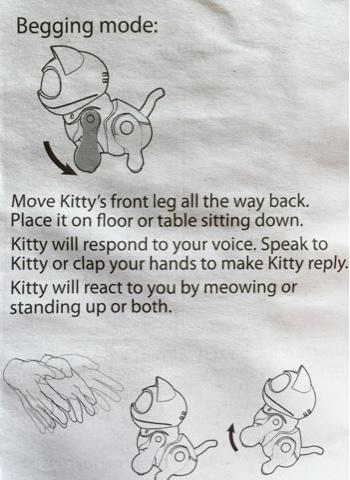 Singing mode was another fun feature which was activated by moving her front leg to the front and then pressing the singing key on the top of her head. To get her to sing you just speak to her or clap your hands and she will start singing a very sweet little "meow, meow" song.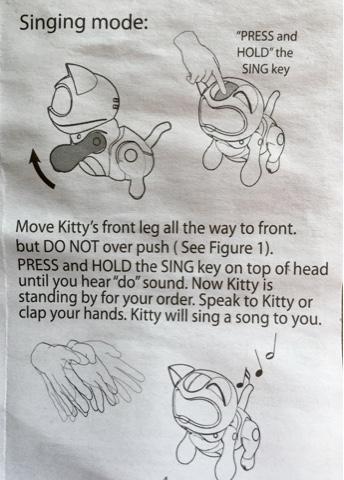 The Teksta Newborn Kitty is very well designed and modelled on a real life kitty cat. To make her behave and act even more like a real little kitty she is touch sensitive and makes happy sounds when you pet her head which is adorable. She also has wiggly ears and a little waggly tail, all of which makes her behave just like a little eight week old kitten so perfect for animal loving children.  
Our Verdict
My three children love our little Kitty, she is so sweet and cute you really can't help but smile at her. I, for one, love watching them play with her and genuinely had a lot of fun having a go at testing out the little kitty's features myself.
All kiddies were massively impressed with her jumping ability and were desperate to have a turn at getting her to jump into their hands which even the twins, Zoey and Zachary (who are 3 next month) had no problem getting her to do again and again. One thing I thought was very cute was how she falls asleep and starts snoring if you leave her idle and forget to switch her off. The only problem was that our puppy Tuco was getting a tad jealous of all the attention Kitty was getting and I think he may have been worried she was stealing his limelight with her tricks, especially when she began to sing which was the source of much fun and laughter when Tuco decided to join in with his barking rendition - it was at that point I was glad she had an off button as it was getting pretty noisy.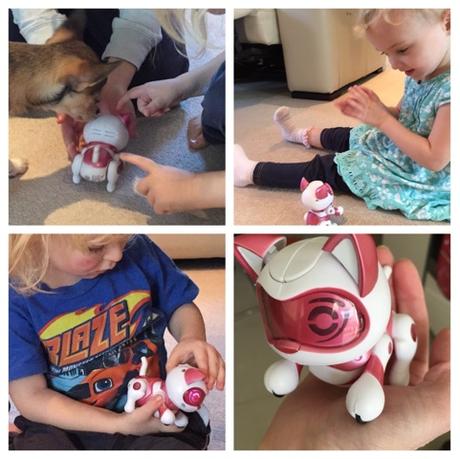 Teksta Newborn  Robotic Kitty and Puppy are available to buy at all the usual toy retailers, priced at £19.99. They are suitable for children aged 3+ and require 2 x AAA batteries which are not included.
*
 Disclaimer: I received a Teksta Newborn Kitty free for review purposes. All views and opinions are my own and unbiased.