The Barbeque Company is one of the nice places for Buffet Lunch and Dinner in West Delhi. And if you consider real value for money, it would be probably among top 5. At times, I have seen the quality (and quantity) deteriorates at the closing hours of Buffet at some restaurants. So, if you are late to enter, you might have to compromise with the quality, and maybe, quantity at those places. But that is not the case here. The quality and quantity, both stay at their best, throughout. Hence, reaching late is not a worry point. As my title says, three nice things about this place are Ambiance, Food, and Space. There are two floors. Ground floor can accommodate around 130-140 persons. Similarly, the first floor has a seating for around 120-130 persons. In all, around 260 people seating is a nice proposition.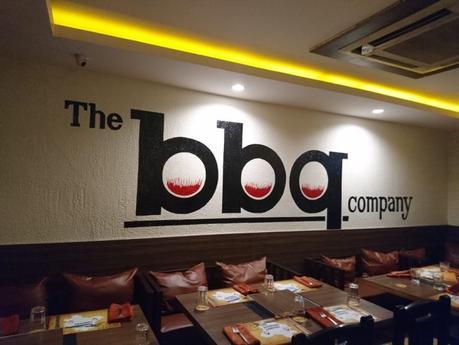 There are three private seating enclosures on the ground floor of The Barbeque Company, Jail Road. And one on the first floor. The ground floor enclosures are good enough for accommodating 12-16 persons each. The one on the first floor is a little larger. It can accommodate around 20-25 persons. Hence, if you have a private group, you can all sit together in an enclosure accordingly. Depending on the size of your group. In the buffet section, there are usually two sections on normal days. These are veg and non-veg. But during the festive season of Navratri, a third section is there – Navratri special items. Same is true for the starters too. Though there is not a huge variety of dishes in all the three sections. But none the less, they are not short of any expectations in terms of taste, variety, and quantity.
The Barbeque Company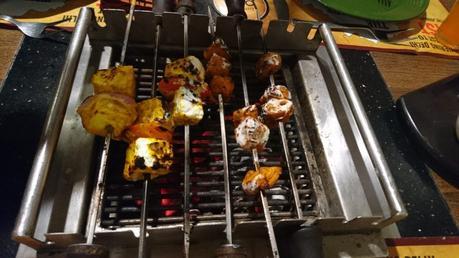 Every dish in every section is worth tasting at The Barbeque Company. And yes, for the preparation of Navratri dishes, there is a separate kitchen. I still feel the delicious taste of Kache Kele Ki Barfi in Navratri Menu. Starters, not to miss are Crispy Corn and Mexican Pineapple. Dahi Ke Kebab is also quite tasty. But not as ultra-soft as at some other places. Chicken Sweet Corn Soup was excellent. Both in terms of taste and ingredients. If you love Chinese, there are two dishes in the main course. Curry Pakora, Corn Palak, and Dal Makhni are also quite tasty. Overall, looking at the price, it is always worth going for buffet lunch or dinner at The Barbeque Company that we also know as The BBQ Company. Did I mention, there is a mini-grill on your table?