The Headquarter is not a kid anymore in the field though this is just a 14-month-old in this field. I could experience a good level of Maturity, quality, presentation, and service. That all directly indicates a high level of Professionalism and the precision with which they carry out their operations. Tables are big enough with a wide spacing between one another. That gives you a good amount of space to enjoy. The center row tables are ideal for groups with 4 or lesser members while the side tables can accommodate up to 9 members per table. This place is good for large gatherings and parties though individual guests are always welcome. Hookah is out of a question now after the imposing of a ban by Delhi administration during the month of September this year. They have an outdoor seating that is lengthwise just parallel to the bar inside.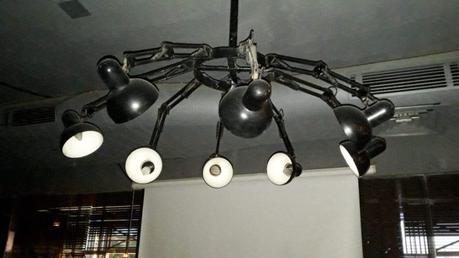 The rule is if even on third inspection visit they find it at any restaurant premise, it will call for a permanent sealing of that property. The outdoor sitting arrangement at The Headquarter has a metro track just in front. Though indoor is completely no smoking zone, outdoor you can enjoy smoking along with your food and drinks. It has quite a large bar counter on the right side of the entrance. They serve a good variety of liquor and cocktails. The restaurant is on the second floor. There is a lift though hardly capable of carrying 3-4 persons. The entrance on the second floor is like a small iron gate. Inside you get a feel of sitting in a large engineering or manufacturing environment looking at the decors on the walls. Interiors are good, precise, and neat. Everything matches so well with each other thus creating a composite theme.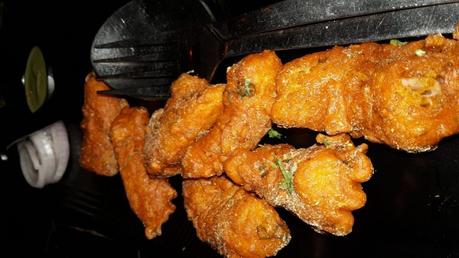 The Headquarter Well Equipped For Corporate Meets
An LCD projector hanging on the roof of The Headquarter and a big screen around 40-50″ on the wall makes it an ideal place for a corporate meet or any meeting of that sort. Every place has a different kind of people with different set of likings in food. That is one of the biggest contributors to any restaurant. A restaurant in one locality, say Chanakyapuri, can't just copy the theme and menu of a restaurant in CP. The same applies here too. A continuous assessment of guest's behavior and their likings is a part of the management here. That is the reason that you may not find a few of the items from menu unavailable.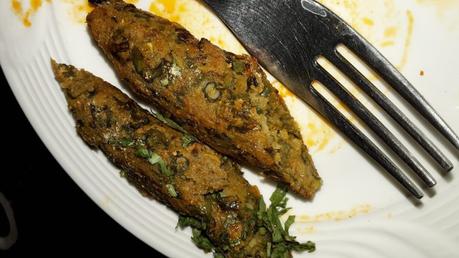 A new menu is on the way shortly with appropriate additions and subtractions of dishes at The Headquarter. Like in the upcoming menu Parsi food items may completely vanish as the demand for that particular cuisine is almost negligible in and around this locality. Then why display a dish in the menu and tell the guest it is unavailable. Even if a single guest demands it and doesn't get it might give a wrong signal to the guest to interpret a number of negative things. We could not get Parsi dishes, Feta Cheese Salad, Khasta Roti, Fungi Pizza, Navratan Pulao, and Kaju Matar Ki Tikki. And all these dishes belong to different cuisines as you can see. But whatever we had qualifies to get good marks in all the sections. Like taste, presentation, preparation, freshness, and service.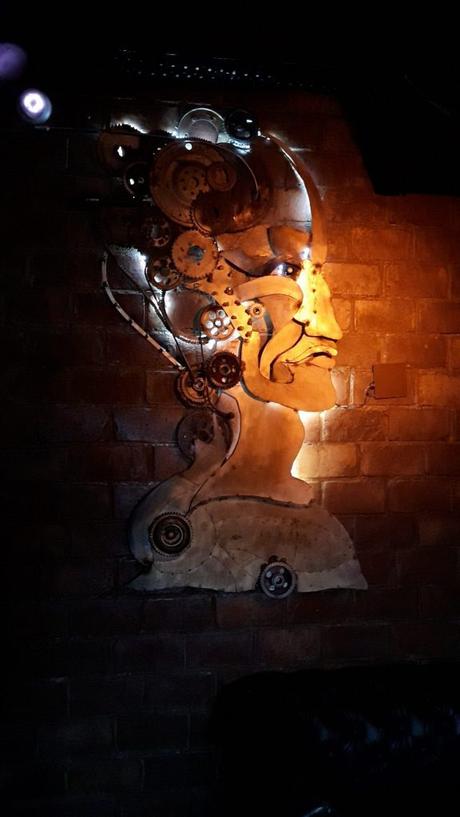 Food is Good at The Headquarter
In mocktails, we had Adams Apple and Strawberry Basil Mojito at the Headquarter. Though you will find apple pieces in the former but seems to have a high level of sweetness that overtakes every other taste. Thus it just looks like a glass of sweet water with pieces of apple. Later we also had Strawberry shake and Kit Kat Chocolate shake. Both are fine in presentation and taste. In Appetizers we had Tandoori Paneer Tikka, Dahi Ke Kebab, Tandoori Garlic Masala Fish Tikka, Veg Seekh Kebab, Cummin Chicken Tikka, and Amritsari Fish Tikka. Fish Tikkas are a little over-salty. Dahi Ke Kebab is soft but not fragile as we find at many other places. Paneer Tikka is outstanding. Veg Seekh Kebab and Chicken Tikka are also good to try.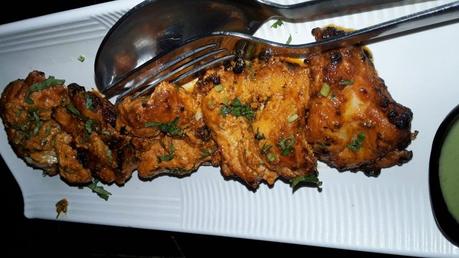 From the Soup section, we had The Vintage Tomato and Basil Soup and Cream of Chicken Soup. Both soups are special. The latter one is quite thick. Farm Fresh Pizza has good toppings having real freshness. But to have a real thin crust pizza you will have to wait for some days till the new menu comes in place. Green Golden Salad is good to go for with the North Indian main course. A better care is in the asking for cutting the salad. Few pieces of carrot had signs of ignorance. In the main course, we had Paneer Dhaniya Adraki. That is fresh with a thick delicious gravy. In fact, it is a must try dish. Mix Veg Raita is good to accompany. Laccha Prantha is fine.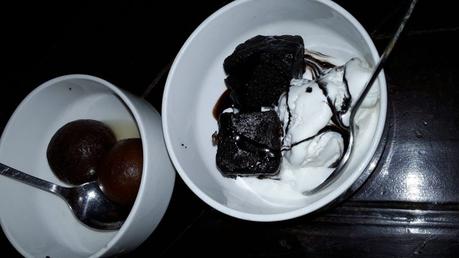 The Headquarter Undergoing Transformation
In Desserts, you have an option among Walnut Brownie, Ice Cream, and Gulab Jamun. Ensure to get a hot Gulab Jamun in case you intend to go for it. Cold one will not taste good. Brownie and Ice Cream can go as a combination and go well with each other. The Headquarter is undergoing some huge transformation with the insertion of new Chef recently.