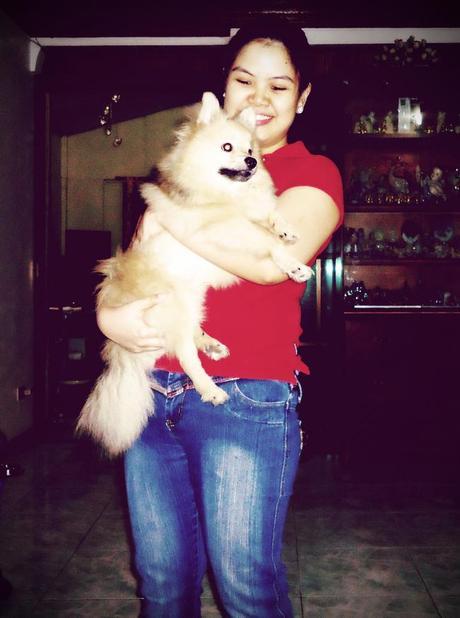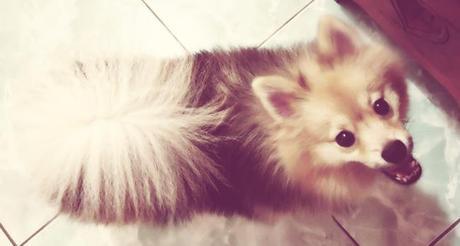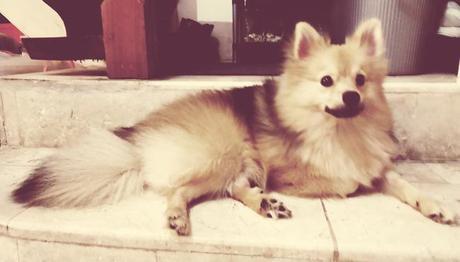 When I woke up early morning last Monday…
And as I was headed downstairs from my room at the 2nd floor of our house…
I saw Dave sleeping at the foot of the stairs.
He opened his eyes when he heard my footsteps…
And then watched as I climbed down the steps.
So just a short update –
Dave doesn't sleep in my room anymore.
Because we figured out that if we weren't room mates…
We both were able to sleep better…
Most especially him…
Because he didn't have to rush to my bed every time he hears me sneeze or cough.
I think he always felt compelled to check on me whenever that happens…
And that disrupts his sleep.
So I thought it would be better if he slept downstairs…
Alone.
Anyway, back to my story…
So yes, Dave stayed at the foot of the stairs.
He does that because he is hopeful that I will return.
And he probably wanted to make sure that he welcomes me when that happens.
And ever since Dave and I weren't room mates anymore…
This is also a beautiful moment I look forward to every morning –
Seeing Dave eagerly awaiting me…
His excitement when he finally sees me again…
His tail-wagging and licking when I've reached the lowest part of the stairs –
I could tell that he's the happiest dog on earth…
And I couldn't help but feel loved because of this dog's patience, trust, and hope in me.
Hasten, O God, to save me; come quickly, LORD, to help me. – Psalm 70:1
"Patience is a virtue…"
Don't we all know about that saying?
But sometimes, I must admit…
The mere act of waiting can become burdensome…
Most especially when it comes to major life events…
Like a single person desiring to finally meet the right person for marriage…
A couple trying to conceive for years and is yet to succeed…
The chance to be promoted at work after years of hard work…
A loved one who lost his/her way and us hoping that s/he'd find his/her way back.
But as for me, I am poor and needy; come quickly to me, O God. You are my help and my deliverer; LORD, do not delay. – Psalm 70:5
When our prayers take so long to be answered…
Our hope seems to become futile.
And our trust in God ends up on shaky ground.
I, myself, am guilty of that.
There was a point in my life when…
I no longer wanted to pray…
Because I felt like God wasn't listening.
And even if I prayed…
All those bad things still happen.
So why should I pray?
Tomorrow, I'll be facing the exact unwanted situation anyway.
Yes, I lost hope…
And stubbornly went my own way.
So I say, walk by the Spirit, and you will not gratify the desires of the flesh. For the flesh desires what is contrary to the Spirit, and the Spirit what is contrary to the flesh. They are in conflict with each other, so that you are not to do whatever you want. But if you are led by the Spirit, you are not under the law. – Galatians 5:16-18
But sadly, that didn't make things better for me.
In fact, that made my life worse…
And because I no longer relied on God…
My feelings of anxiety and uncertainty were suddenly magnified…
And everything was chaos…
Because I could no longer hope for a bright future…
The future which only a wise and all-knowing God could give.
But the fruit of the Spirit is love, joy, peace, forbearance, kindness, goodness, faithfulness, gentleness and self-control. Against such things there is no law. Those who belong to Christ Jesus have crucified the flesh with its passions and desires. – Galatians 5:22-24
And then I begin to think…
Why can't I have that much patience, hope, and trust in God…
The way Dave has patience, hope, and trust in me?
Because God knows best and He knows EVERYTHING.
And when the day comes that what we are asking from God is (are) fulfilled…
Wouldn't that day be full of rejoicing and merriment?
Because it came at a time that is best for us…
At that perfect time that God planned for us.
Then the LORD replied:
Write down the revelation and make it plain on tablets so that a herald may run with it. For the revelation awaits an appointed time; it speaks of the end and will not prove false. Though it linger, wait for it; it will certainly come and will not delay. – Habakkuk 2:2-3
Linking to Soli Deo Gloria and On Your Heart Tuesday